Juventus Lyrica offers free Robert Schumann concert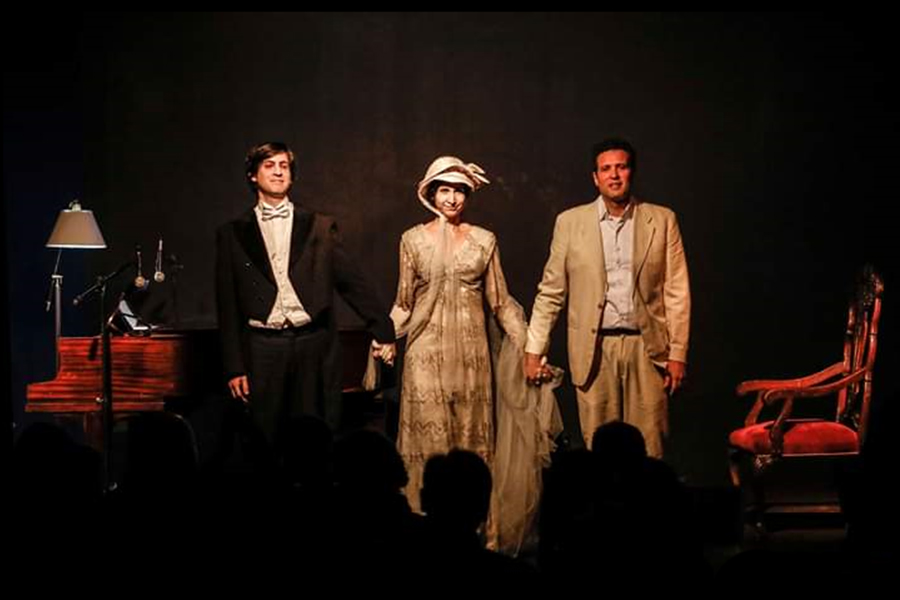 With staging by Ana D'Anna, Poet's Love is presented, Robert Schumann's cycle of songs about poems by Heinrich Heine, with Ernesto Bauer (baritone) and Matías Galíndez (piano), and comments from Santiago Kovadloff
.

Juventus Lyrica closes the year with a free recital at the Kirchner Cultural Center, this Sunday 9 at 19. Baritone Ernesto Bauer sings Dichterliebe (love of a poet), songs by CJ Heinrich Heine and music by Robert Schumann.
Within the program include Impromptu D. 899 No. 3 in G flat major by Franz Schubert, Faschingsschwank aus Wien opus 26 No. 4 (Vienna Carnival) and Waldszenen opus 82 No. 9 Abschied by Robert Schumann.
The tickets are sold out.
.
ABOUT ERNESTO BAUER
Ernesto Bauer was born in Buenos Aires. He trained in vocal technique with Oscar Schiappapietra, Nino Falzetti and María Rosa Farré, and in repertoire with Susana Cardonnet. He studied chamber music with Guillermo Opitz. He was perfected in opera with master classes by Renata Scotto and Claudio Desderi. He sang at theaters Colón, Argentino de La Plata, Avenida, El Círculo de Rosario and Vera de Corrientes, among others. His most sung roles are Silvio de Pagliacci, Giorgio Germont of La traviata, Rigoletto, Sharpless of Madama Butterfly and Danilo de Die Lustige Witwe (The Merry Widow). He also played Don Giovanni, Macbeth, Falke, Lescaut, Donner and Taddeo. It was directed by Carlos Vieu, Alejo Pérez, Mario Perusso, Javier Logioia Orbe, Antonio Russo, Hernán Schvartzman, André Dos Santos, Guillermo Brizzio, Roberto Paternostro and Pedro Pablo Prudencio, among others. In 2017 he took part in the productions of Die Rosenkavalier and Andrea Chénier (Teatro Colón) and La bohème, (Teatro Avenida, Círculo de Rosario and in Asunción del Paraguay with the company of Uninorte). In 2018 he sang Die Fledermaus in the Teatro Avenida, La traviata in the theater of the city of San Martín and La bohème and Rigoletto in the theater of the BCN – National Central Bank of Paraguay.
.

ABOUT MATÍAS GALÍNDEZ
Matías Esteban Galíndez graduated from the National Conservatory of Music Carlos López Buchardo as Senior Professor of Music in the Piano specialty. He obtained a degree in Musical Arts in the DAMus, Department of Musical and Sound Arts of UNA. It was his teacher Inés Gómez Carrillo. Scholarship by the Chamber Music Foundation by Guillermo Opitz, he specialized in the repertoire of the German chamber song and participated in numerous concerts for that foundation. He collaborated with Argentmúsica, an institution dedicated to the dissemination of works by Argentine composers. He has given recitals as a soloist and instrumental and vocal chamber music in the most important venues of Buenos Aires. He works as a piano accompanist in the vocal and repertoire department, Lied and as a piano teacher at DaMus-UNA and Manuel de Falla Municipal Conservatory. He is a pianist trainer in the opera association Juventus Lyrica. Conforma with the soprano Lorena Cisneros a duo dedicated to the repertoire of chamber music, and especially to the investigation and interpretation of Argentine repertoire.
.
ABOUT ANA D'ANNA
Ana D'Anna graduated from the Higher Institute of Art of the Teatro Colón, where she graduated with a gold medal (Hina Spani Award). He studied theater with Goly Bernal, Julio Castronuovo, Hedy Crilla and Augusto Fernandes, and music with Guillermo Graetzer (harmony and composition), Leo Schwarz and María Kallay (singing). She trained in dance, mime and clown with Igón Lerchundi, Roberto Escobar, María Fux and Beatriz Amabile. He began his studies in drawing and painting with Elena Visnia and continued at the School of Painting of Guillermo Roux, where his teachers were also Teresa Dürmuller and Anna Rank. He also perfected himself with Ernesto Pesce. He offered singing recitals in Argentina, France and Spain, and recorded four albums. His songs were published in two books (one of them illustrated by Raúl Soldi) and many of them have been interpreted by Domingo Cura, Mercedes Sosa, Amelita Baltar, Los Arroyeños and Eduardo Falú, among others. In 1998, she created Juventus Lyrica and since 1999 she works as its artistic director. Since then he has directed 37 of the 95 operas that the Association produced. In the years 2004, 2006, 2007, 2010 and 2011 she was nominated for the ACE Award (Association Chroniclers of the Show of Argentina) to the best reggio for the operas Don Giovanni, Tosca, Rigoletto, The Merry Widow and La Cenerentola, and in 2009 he won it for his regime of The Marriage of Figaro. She was also nominated in 2006 by the Association of Musical Critics of Argentina for the Régie de Falstaff by G. Verdi and in 2010 she won it for La Cenerentola. In 2009 he also received a special mention of this entity for his work for The Spinster and the Thief by Gian Carlo Menotti. His version of Don Giovanni, presented in Holland during 2012, received the Place de l'Opéra award as one of the best productions of that season. He recently directed El Bat, Gianni Schicchi and Pagliacci in the Juventus Lyrica season. She also received the Atrevidas award in 2006 and in 2005 she was appointed Honorary Member of the CAMU (Argentine Council of Music) under the UNESCO.

.
ABOUT SANTIAGO KOVADLOFF
Santiago Kovadloff was born in Buenos Aires in 1942. Graduated in Philosophy from the University of Buenos Aires, he is Doctor Honoris Causa at the UCES, honorary professor at the Autonomous University of Madrid and member of the Academic and Scientific Committee of Ben Gurion University of the Neguev in Israel. He is a corresponding member of the Royal Spanish Academy and a member of the Argentine Academy of Letters and the National Academy of Moral and Political Sciences. He is currently a private professor of philosophy and lecturer, a permanent collaborator of the newspaper La Nación and a member of the advisory board of Criterio magazine.