Premiere of "Trilogía + 1" marks the return of the artistic bodies of the Municipal de Santiago to shows with public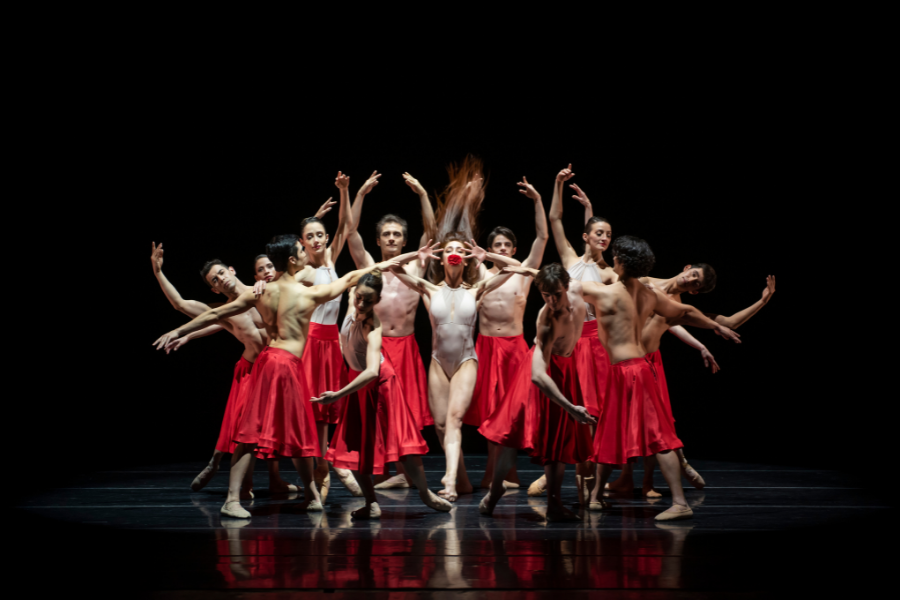 After several weeks of white march that included rehearsals open to the public under strict sanitary protocols, on Wednesday September 15 at 6:00 p.m., the artistic bodies of the Municipal Theater of Santiago will resume the face-to-face shows with the premiere of "Trilogía + 1" , which is part of the celebrations for the 164 years of history of this fundamental cultural center for the national performing arts.
Until October 2, the Santiago Ballet, in Luis Ortigoza's debut as artistic director, will present the premiere in Chile of Réquiem para una rosa, by the Belgian-Colombian choreographer Annabelle López Ochoa; Tres Preludes, by British choreographer Ben Stevenson, in a re-montage of Sara Nieto, former star dancer of the Santiago Ballet; Carmen pas de deux, by Marcia Haydée, former artistic director of the same corps de ballet; and the world premiere of La 5ª, by the national choreographer Esdras Hernández, which will be accompanied musically by the Santiago Philharmonic Orchestra, under the direction of Pedro-Pablo Prudencio.
"This return has many meanings. It is historical because it marks the beginning of a new stage where face-to-face and digital will dialogue so that we can reach all possible audiences, overcoming the different access gaps that we face; and because we meet again with an audience that has also been transformed. We have a path ahead to pave together to project the Municipal Theater of Santiago for another 164 years ", says Carmen Gloria Larenas, general director of the Theater.
Luis Ortigoza, artistic director of the Santiago Ballet, in turn points out: "For my first title I wanted to work with choreographers and new works, as has been the tradition in the Santiago Ballet. This is also a very significant ballet program for me, the company and the Theater because it is a first step in returning to the stage and moving an audience that has given us so much affection during the pandemic. That is what has motivated us to do our best in these times and to hope for a new beginning. "
The works of "Trilogy + 1"
Annabelle López-Ochoa has developed various choreographies inspired by women, such as Frida, Doña Perón and Chanel. A label that will also have the Requiem for a Rose, a work guided by the music of F. Schubert where he explores the transitory nature of romance, bringing 12 dancers on stage in the form of a bouquet of red roses, who with a bold and fluid movement revolve around a single beat performed by dancer number 13: Venus, the goddess of love, beauty and desire.
The Three Preludes, meanwhile, are a 1969 choreography by Briton Ben Stevenson based on a selection of preludes by S. Rachmaninoff, this time traced by Sara Nieto. It is a subtle and romantic pas de deux centered on two dancers who fall in love in a dance studio, which has been performed numerous times by companies around the world, including the American Ballet Theater in New York, the Opera Ballet of Paris and the Ballet of the Theater of La Scala in Milan; and which was recognized at the Varna International Ballet Competition in 1972.
Added to this work is Carmen pas de deux, a choreography by Marcia Haydée with music by G. Bizet and costumes by Pablo Núñez. Here, the popular story of Prosper Mérimée is transformed into a work especially created for the Santiago Ballet, which accounts for the relationship between Carmen, a free woman above all things, and Don José, a man who transforms his life with the obsession of owning it. With this piece, Andreza Randisek, the first star dancer of the Santiago Ballet, says goodbye to the stage.
The trilogy closes with La 5ª, a work by Esdras Hernández set to music with Symphony No. 5 by L. v. Beethoven, performed from the stalls by the Santiago Philharmonic Orchestra. The famous musical work will be directed by Pedro-Pablo Prudencio, in a new arrangement of the musicians in the Theater that will allow a more immersive experience for the public located on the ground floor. For its part, the choreography tells the story of a society that is crumbling as a result of human pride and addresses the possibility of reformulating humanity in a more just way, while raising a song of hope.
Ticket prices for this season 2021 maintain a 15% discount on the value announced in 2020. Tickets for "Trilogía + 1" fluctuate between 3,000 and 44,000 pesos and will be available for sale, starting on September 13 at www.municipal.cl and through telephone sales. Those who have a virtual card will also have an additional 10% discount on the advertised value.
Days and times of the functions:
Wednesday 15 September – 6:00 p.m.
Thursday 16 September – 6:00 p.m.
Tuesday, September 21 – 6:00 p.m.
Wednesday 22 September – 6:00 p.m.
Thursday 23 September – 6:00 p.m.
Saturday 25 September – 5:00 p.m.
Monday, September 27 – 6:00 p.m.
Tuesday, September 28 – 6:00 p.m.
Wednesday 29 September – 6:00 p.m.
Thursday 30 September – 6:00 p.m.
Saturday 2 October – 5:00 p.m.