Il turco in Italia of Rossini returns to Municipal of Santiago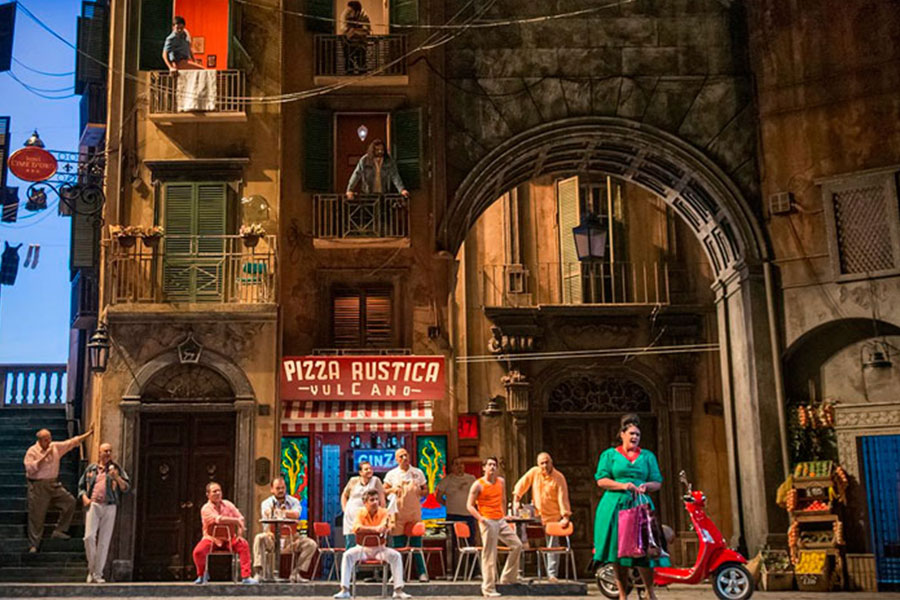 23 years after its premiere in Chile and in co-production with the Capitole de Toulouse, this entertaining Rossini comedy is back on the Santiago stage, in a staging of the prestigious Regisseur Emilio Sagi that has a spectacular and realistic set designed by Daniel Bianco, which reproduces with multiple details a lively street in Naples (pictured, photo by Patricio Melo). Set in the mid-twentieth century, the production also has a Pepa Ojanguren wardrobe and lighting by Eduardo Bravo, and will be presented with two deliveries throughout six functions, between Friday 14 and Saturday 22.
.
Under the direction of the Spanish master José Miguel Pérez-Sierra at the forefront of all the functions, the opera has two rossinian interpreters of unquestionable international prestige in its international cast, the Italian baritones Pietro Spagnoli and Alessandro Corbelli, who respectively play the protagonist, Selim , and the elder Don Geronio. Together with them, the American soprano Keri Alkema as Fiorilla, the Brazilian tenor Luciano Botelho as Don Narciso, the Chinese baritone Zhengzhong Zhou as the Prosdocimo poet and the Chilean Daniela Ezquerra and Francisco Huerta, as Zaida and Albazar. In the so-called star cast, the cast is predominantly local, since except for the Argentine tenor Santiago Bürgi (Don Narciso), all other performers are Chilean: Ricardo Seguel (Selim), Patricia Cifuentes (Fiorilla), Sergio Gallardo (Don Geronio) , Patricio Sabaté (Prosdocimo), Yaritza Veliz (Zaida) and Diego Godoy-Gutiérrez (Albazar).