Teatro del Bicentenario of San Juan celebrates its second anniversary with a lyrical Gala open to public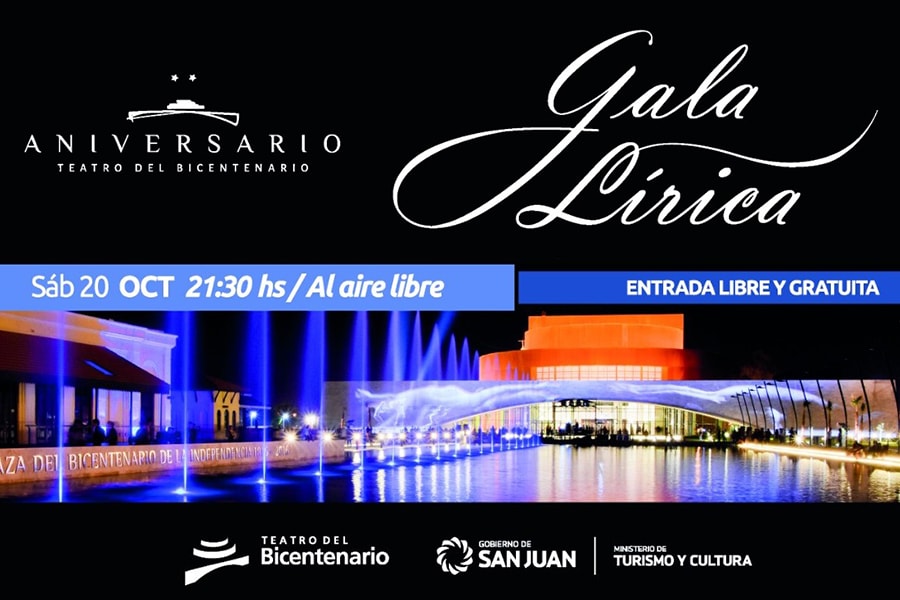 From October 20 to 28, San Juan dresses up for the anniversary week of the Bicentennial Theater. Art, dance and music to celebrate the first two years of the cultural pole of that Argentina's region
Next Saturday, October 20, the second anniversary ofis celebrated the Bicentennial Theater, with this motive, the Ministry of Tourism and Culture organizes the "Lyric Gala" in the open air, in the esplanade of the entrance of the theater, an event in the which will participate the University Choir, with its director Jorge Romero, and the Symphony Orchestra of the UNSJ, directed by Emanuel Siffert; besides San Juan artists invited.
Under the stars, all San Juan people can enjoy a unique evening, open to the public in which the special guests invited: the Argentine soprano, Verónica Cangemi; and the renowned tenor, Duilio Smiriglia and the mezzo-soprano Sanjuanina, Romina Pedrozo; they will interpret a lyrical repertoire, going through national and international rock. In addition, invited San Juan artists will provide the perfect setting for an unforgettable night.
In this context, the same October 20, the Bicentennial Theater opens the doors to the public to the exhibition Anniversary of the Theater, whose thematic axis will be the own production María de Buenos Aires, the opera tango of the 2018 season.
The sample, willing in the main hall of this cultural center will contain all the scenery made by sanjuaninos and will be complemented with photos and videos of the function. This exhibition will transport us to relive one of the marvelous shows that marked the 2018 season of the Bicentennial Theater of San Juan and that can be enjoyed every day, from 10 am to 8 pm, with free admission.
On the other hand, on October 25, the Theater receives Paloma Herrera and the Stable Ballet of the Teatro Colón that she directs. With accessible tickets that go from $ 150, the public can enjoy the impeccable technique and virtuosity of this ballet.
Days later, and with two performances, October 27 and 28, Hernán Cattaneo will display his music in a unique symphonic concert. Cattaneo, one of the undisputed figures among DJs from international stages, will make history in the TB since he will be responsible for bringing the dance sound for the first time to the Bicentennial Theater and will merge symphonic melodies with electronic music.