Auditorio del Sodre wins at Hong Kong Dance Awards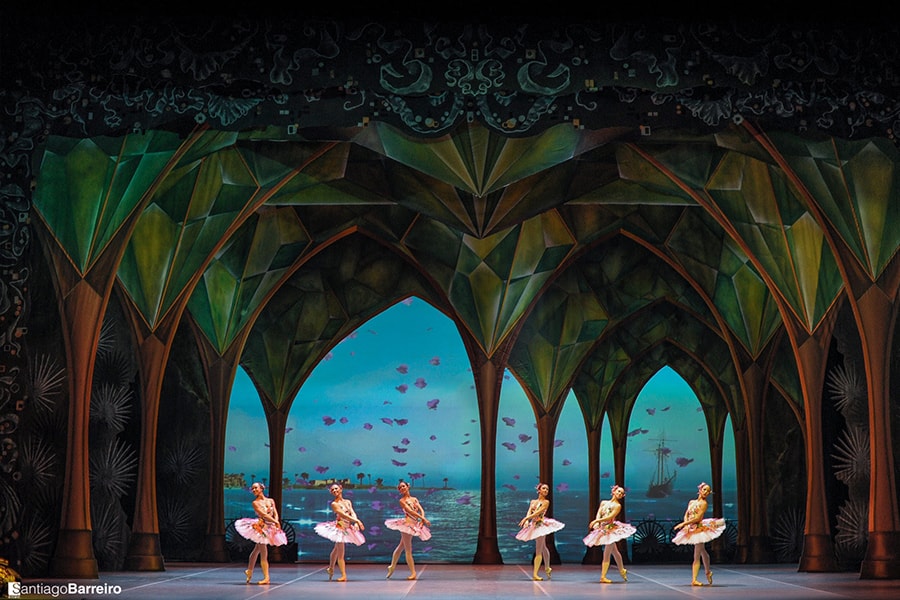 Hugo Millán was awarded at the 20th Hong Kong Dance Awards for the design of costumes and set design for the production of El Corsario that he originally created for Ballet Nacional Sodre 
.
On Friday, November 3, 2017, the Hong Kong Ballet premiered the work El Corsario with costume design and scenery by Hugo Millán, which included 16 curtains made in the workshops of Auditorio Nacional del Sodre. The Asian public appreciated the work of design and hand painting, carried out for five months by the curtain team of the Auditorio Nacional del Sodre, led by Gustavo Petkoff, which was worth the nomination to the Hong Kong Dance Awards.
.
This award, reaffirms the impulse that has led the Sodre to the workshops of production of the Auditorium, opening the doors for the future development of artistic work from Uruguay to the world.
From next Thursday, May 17th, when El Corsario is premiered by the Sodre National Ballet, the original version of the award-winning curtains and stage set in Hong Kong can be enjoyed on the main stage of the National Auditorium.
.
Hugo Millán is a renowned Costume Designer and Set Designer, graduated from the School of Applied Arts Pedro Figari, develops activity in graphic design, graphic and audiovisual production. At the same time, he trained as an illustrator and costume designer at the Center for French Fashion in Montevideo, and started out in textile design and clothing. Teacher of the Industrial Design Center of Uruguay, the Margarita Xirgú Multidisciplinary School of Dramatic Art (EMAD), and the ORT University of Uruguay.
.
He integrates work teams under the direction of directors such as Graciela Figueroa, Mariana Percovich, Nelly Goitiño, Eduardo Schinca, Hector Manuel Vidal, Ruben Yanez, Alfredo Goldstein, Jorge Denevi, Maria Azambuya, Jorge Curi, Dumas Lerena, Fernando Toja, Jorge Bolani, César Campodónico, Maria Varela and Paola Vendito. His works have been awarded and recognized since 1992 in different areas of the performing arts (theater – National Comedy and independent projects-, carnival, opera, ballet and music). Among the most recent ones, stands out for the National Ballet Sodre the costumes of The Swan Lake (Season 2013), costumes and scenery of The Corsair and Don Quixote (Season 2014), costumes and set design by Giselle (Season 2015), costumes and stage design of Paquita (Season 2016), costumes and scenery of Theme and Variations (Season 2017).