Brazilian theaters meet to discuss the development of the opera industry in Brazil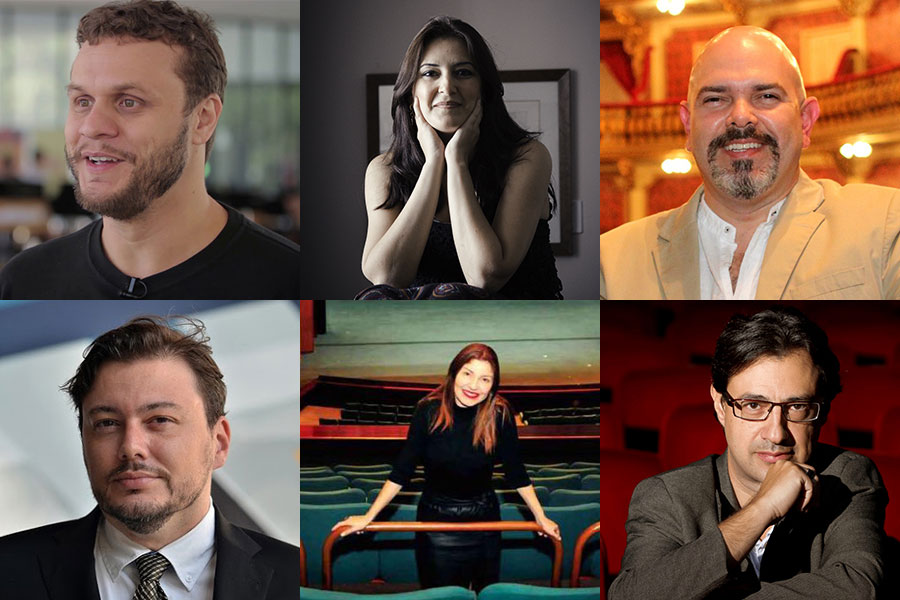 This Friday, May 22 at 1:00 pm in Chile / 2:00 pm in Brasilia, the webinar "Brazil and the development of the opera industry" will be held. It will include representatives from Festival Amazonas de Ópera, Theatro Municipal de São Paulo, Theatro da Paz de Belém, Theatro São Pedro de São Paulo, Palácio das Artes Fundação Clóvis Salgado of Belo Horizonte and Cia. Ópera São Paulo.
Five Brazilian opera houses and an independent company will participate in the webinar "Brazil and the development of the opera industry", promoted by Ópera Latinoamérica (OLA) next Friday, May 22 at 1:00 p.m. in Chile (2:00 p.m. Brasília) .
The virtual debate will address the opera market in Brazil, the possibilities of networks and strategies to overcome the current crisis, bringing together representatives of Festival Amazonas de Ópera, Theatro Municipal de São Paulo, the Theatro da Paz (Belém), Theatro São Pedro (São Paulo), Palácio das Artes (Belo Horizonte) and Cia. Ópera São Paulo.
Since the theaters closed with the initiation of social isolation measures, OLA has held a series of online seminars and conferences so that all segments of opera production can share questions, reflections, ideas and solutions.
"For the Palácio das Artes, dialogue with other institutions has been an important experience, facilitated and encouraged by OLA. This is another moment of exchange and reflections on the role of institutions for the development of a strong, inclusive and democratic opera market ", evaluates Eliane Parreiras, President of the Fundação Clóvis Salgado, Director of the Palácio das Artes.
Ricardo Appezzato, Artistic Manager of Santa Marcelina Cultura – Theatro São Pedro, highlights that it has been very rich to expand dialogue with institutions in Latin America and other parts of the world. "I think this is an excellent way to continue to improve the artistic quality of shows and to strengthen educational institutions, which are an important part of the opera production chain," he says.
Flavia Furtado, Executive Director of Festival Amazonas de Ópera, argues that the genre has one of the largest production chains within artistic manifestations, and also drives other sectors of the economy, such as tourism. "We need to be seen as a strategic sector in the post-pandemic economic recovery," he says.
To date, OLA has held more than fifteen online events, which have been attended by guests such as Royal Opera House, Opera Vision, Seattle Opera, Teatros del Canal de la Comunidad de Madrid, Teatro Real de Madrid, Gran Teatre del Liceu de Barcelona , Los Angeles Opera House, Palau de les Arts, Teatro La Maestranza, among other opera houses.
The webinar this Friday May 22 with Brazilian OLA members will be the first to focus on the single-country opera industry.
"We see the enormous potential that Brazil has to grow in the performing arts market and position itself against the rest of the world. We will give our full support so that theaters and companies work more united and connected. The key to greater international circulation is the creation of national networks and circuits. It is at the national level that skills and competencies can be strengthened and then exported to the rest of the world, "says Alejandra Martí, Executive Director of OLA, who will be the mediator of the seminar.
Daniel Araújo, Director of Theatro da Paz, plans a forum for technical opera professionals. "It is time to give voice to the technique, it will be the first time that these professionals will be able to be heard constantly, within a broader thought about the establishment of an opera industry," he defends.
"Theatro Municipal de São Paulo has opened up to new artistic languages ​​to know and diversify its audiences. But without neglecting innovations within their traditional languages, such as opera, concert music and ballet. Recently, he programmed the opera Prisma, by the American Ellen Reid, and commissioned for the first time in its history a new opera based on the work of Plínio Marcos ", reveals Luiz Coradazzi, Director of artistic advice at the institution.
Paulo Esper, General and Artistic Director of Cia Ópera São Paulo, points out that the driving force of the company is the "Maria Callas Contest", open exclusively to Latin American singers to give a jump start to their careers.
Ópera Latinoamérica is an international collaboration space that works to share best practices in the opera sector and has been promoting circulation and exchange in Latin America for 13 years.Theatro Municipal de São Paulo and Festival Amazonas de Ópera are founding members of the organization.
For more questions, write to us at info@operala.org
ABOUT FLAVIA FURTADO
Graduated in Foreign Trade, Flávia Furtado is also a pianist and studied in Brazil with Linda Bustani and in Belgium with Heidi Hendricks. She is the executive director of the Amazon Opera Festival and has actively participated in the dissemination and expansion of the Brazilian opera market with political and institutional organizations within and outside the country.
ABOUT RICARDO APPEZZATO
Ricardo Appezzato has a master's degree in music from the Federal University of Minas Gerais. He studied his Specialization in the area of ​​Business Administration at FAAP. Bachelor of Music with an Instrument Specialization – Percussion from UNESP. In 2014, he was invited by the British Council, through the Transform program, to join the Brazilian delegation at the ABO Conference (Association British Orchestra) in London. In 2016, he was part of the Yunus Corporate Action Tank Social Business Development program, promoted by Bank of America Merry Lynch in association with Yunus Brazil. He is currently a member of the board and Artistic Manager of Santa Marcelina Cultura, the Social Organization responsible for the management of Theatro São Pedro, School of Music of the State of São Paulo – Tom Jobim and Guri Santa Marcelina.
ABOUT DANIEL ARAÚJO
Daniel Araújo has a master's degree in lyrical singing from the University of Missouri-Columbia (USA). He was superintendent of the Carlos Gomes Foundation (2007-2010) and currently directs the Theatro da Paz and the Belém Opera Festival.
ABOUT ELIANE PARREIRAS
She has worked in cultural management for 25 years, with experience in public and private institutions. She was Secretary of State for Culture of Minas Gerais (2011-2014) and President of the Fundação Clóvis Salgado (manager of Palácio das Artes, Serraria Souza Pinto and CameraSete- Casa da Fotografia) in 2009 and 2010. In the Private Initiative she was General Manager de Cultura do Sesc em Minas (2017-2019) and Executive Director of the Usiminas Cultural Institute (2002 to 2009). Since 2019 she is again president of the Fundação Clóvis Salgado.
ABOUT LUIZ CORADAZZI
Cultural manager for 23 years, with a master's degree in music business management from the University of Westminster, he worked at institutions and projects such as TV Culture, British Council, T4F, Baccarelli Institute and Campinas Symphony. He is currently Advisor to the Artistic Director of the Municipal Theater of São Paulo, where he also directed, as a consultant, strategic planning based on the Theory of Change.
ABOUT PAULO ESPER
He began his singing studies in 1984. In 1991 he created the Cía. Ópera São Paulo, today with more than 1,500 shows, and he also created the "Maria Callas Brazilian Singing Contest" this year in its 18th edition.