First National Meeting of Orchestra Executives in Mexico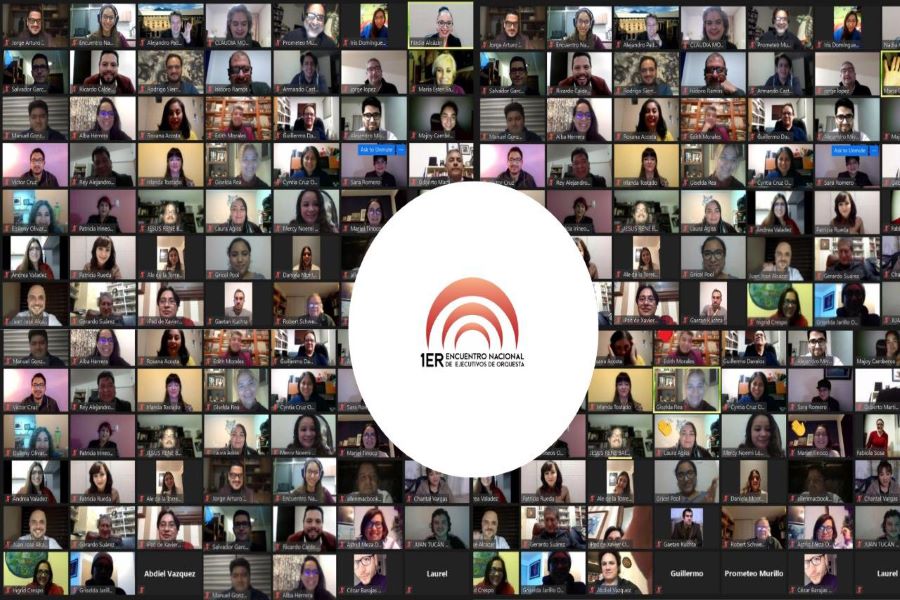 For the first time in Mexico, on January 19 and 20, the First National Meeting of Orchestra Executives was held. Its purpose was to facilitate a means of collaboration, encourage bonding, have spaces to share experiences and generate learning among Mexican orchestras in their internal performance areas.
37 Mexican orchestras were part of the First National Meeting of Orchestra Executives, held in mid-January through the Zoom platform. The event was organized by the Árinder company and its program included presentations by internationally renowned exhibitors, as well as talks so that the participants could get to know each other and exchange points of view as well as generate collaboration links.
Among others, the Chamber Orchestra of Fine Arts, the Camerata of Coahuila, the Philharmonic Orchestra of Jalisco, the Orchestra of the Fine Arts Theater, the Symphonic Orchestra of Mining and the Xalapa Symphony Orchestra participated. Along with special guests, including the Opera Studio Beckmann, the Santander Ensemble of Performing Arts and the Cervantino Festival, there were 105 participants.
In his inaugural speech, Jorge Arturo Alcázar, president of the organizing committee and Managing Partner of Arinder, stated: "One more challenge that we live in our field is to raise awareness so that culture is understood as a primary and strategic activity, indispensable in the human formation and in the fight for a better society. Culture generates jobs, it is a living part of the economy, it generates development and well-being. We are a responsible and productive sector that contributes significantly to the growth of our country. "
The presentations were given by Dr. Ernesto Piedras, who spoke about "Economy, Cultural and Creativity: An Integral Development Engine", highlighting the current situation of the pandemic and the unprecedented crisis that we are experiencing in Mexico and the world. Dr. Ana Lucía Recaman, meanwhile, addressed the topic "Cultural Marketing from a Systemic Perspective", highlighting the importance of the cultural and creative economy and interdisciplinary intervention as a vital axis.
Both provided information and tools for a greater and better understanding of the environment and context in which cultural organizations develop their activity.
The National Meeting of Orchestra Executives in Mexico will be held annually and in each of its editions the commitment to deliver a database with information on the participants will be assumed. It will also continue to promote all kinds of events, meetings and presentations throughout the year to cultivate ties and remain in search of cooperation mechanisms. In addition, based on the approaches and concerns expressed, the formation of an association is planned to serve as a framework for these meeting points and as a forum for expression and collaboration on issues of common interest.
In his closing message, Alcázar pointed out: "The current situation that the orchestras are experiencing, with the majority inactive or with intermittent activity, the dwindling budgets, and with several of them in danger of disappearing, led us to take a step forward to join forces . There are many ideas and knowledge to share. In such a complicated and dark moment, we cannot just be spectators; you have to go to action. "