The Academic Youth Orchestra of the Teatro del Libertador will present a musical program conducted by Santiago Ruiz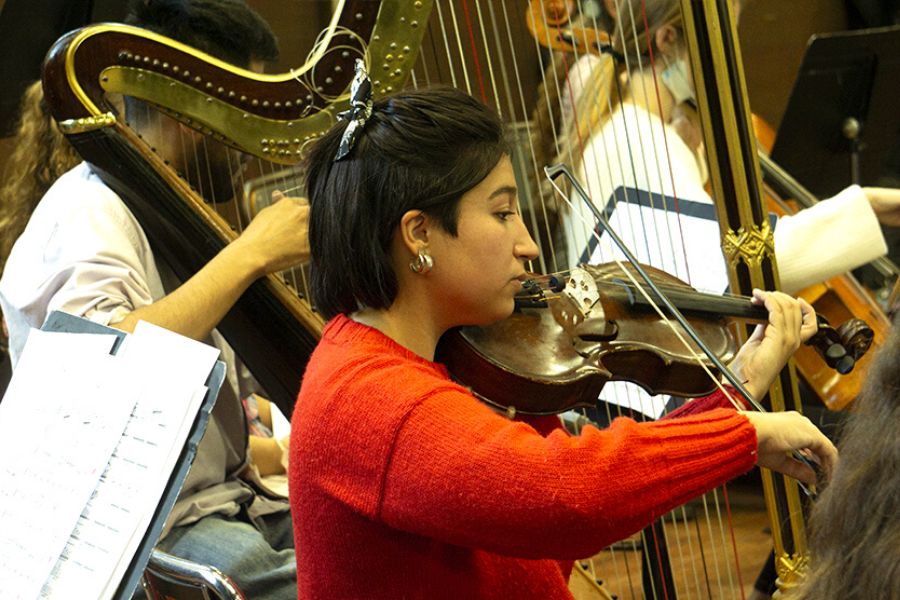 A demanding program in terms of technique and expressiveness is being prepared by the Teatro del Libertador Youth Academic Orchestra, with a performance scheduled for next Saturday, May 28.
Under the direction of maestro Santiago Ruiz as a guest, the Youth Academic Orchestra works on issues related to assembly as a whole, with a view to performing as an orchestra in full its next concert, on Saturday 28, at 8:00 p.m., at the Teatro of the Liberator San Martin.
"We began to work on fragments of the Unfinished Symphony, by Franz Schubert, with the aim of achieving a correct individual interpretation and the ensemble between the different orchestral groups, whose members occupy different places in space and play different roles within the music", Santiago Ruiz tells.
In the search for that unity and synchronization between the parts, "this first stage has to do with the general assembly of the pieces and the definition of the work directions that will be developed in the next rehearsals," adds the musical director.
All the preparation goes after an objective: "to offer a concert that has the technical and artistic characteristics of the works that we are developing", Ruiz specifies.
The complete program that will be heard is as follows: Andante Festivo, by Jean Sibelius, a work originally written for string quartet that the composer turned into an orchestral work, Five Greek Dances, by Nikos Skalkottas, a segment that expresses the grace and freshness of popular Greek themes, in addition, the Symphony No. 8 – "Unfinished", by Franz Schubert, an unfinished work like many others that the Austrian composer left unfinished and that today captivate as well as being a subject of study, to finish, the orchestra performs Edvard Grieg's Peer Gynt Suite, composed for the inspiring verse drama of the same name, written by Norwegian playwright Henrik Ibsen.
The value of the general ticket is 500 pesos. Seats can be purchased the week of the concert on the Autoentrada website and at the theater ticket office -Vélez Sarsfield 365, telephone 414 3412- from Tuesday to Saturday from 9 a.m. to 8 p.m.