Women in theatres: roles and challenges of the sector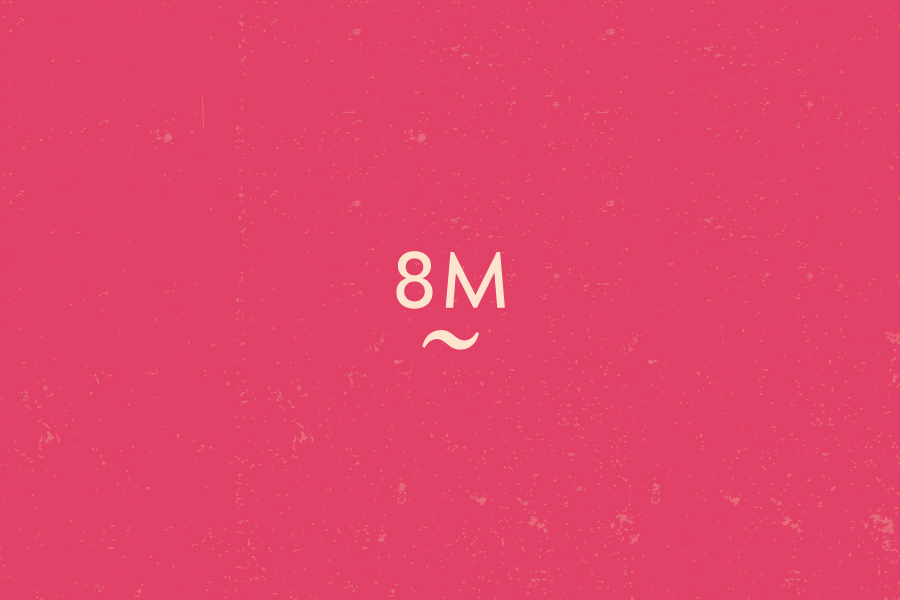 During Women's Month we highlight the work of women in theatres. A production coordinator, two executive directors, a National Ballet interpreter and a coordinator of audience department, told us about their experiences in the performing arts.
They also  their told us point of view regarding the role of women, and in this sense they agree that they have always been present, however, there is still a long way to go to make the work of the female gender visible in the sector.
We invite you to meet these women from different theatres in Latin America to find out about their experiences!
1. Anna Patricia Lopes, production coordinator at Theatro São Pedro of San Pablo Brasil, has a degree in social communication with a specialty in audiovisual and cultural management. She has 15 years of experience working in cultural organizations such as Fundação Padre Anchieta, Fundação OSESP and Santa Marcelina Cultura, and has participated in various productions of musical concerts and operas, such as La Boheme, directed by Arnaud Bernard; Carmen, under the stage direction of Filippo Tonon; Tosca, directed by the renowned Stefano Poda, among others.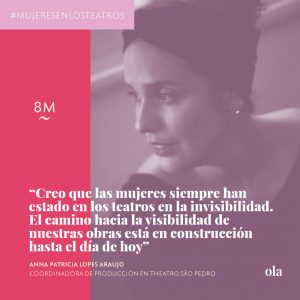 2.Pierina Lavanca, is executive director of the Sodre National Symphony Orchestra and the Sodre National Chamber Music Ensemble.
Pierina has worked at Auditorio Nacional del Sodre for more than five years; She started in the technical management team and also served as Coordinator of institutional projects together with the General Management. She previously worked in the National Development Corporation in the operational and accounting management of various cultural projects with public – private participation.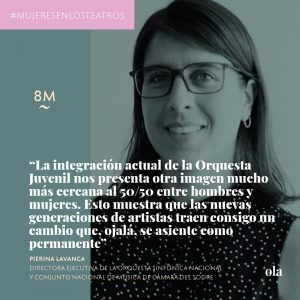 3. Gema Nataly Contreras is a performer with the Chilean National Ballet (BANCH). She has a Bachelor of Dance with a mention in Pedagogy from the Univeridad Academia de Humanismo Cristiano, she is also a performer, teacher and independent choreographer. This artist has developed a career as a professional dancer at Compañía Danza Espiral, Compañía Danza en Cruz, Ballet Municipal de La Florida BAM, José Vidal & Cía, Joel Inzunza & Compañía.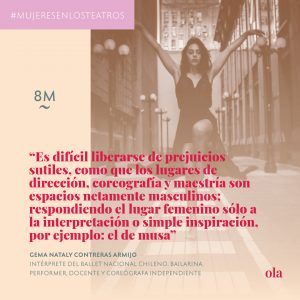 4.Flavia Furtado, executive director of the Festival Amazonas de Ópera. She has different facets that make her a well-rounded woman, since she is a pianist, cultural manager and commercial engineer. In addition, she is the founder and one of the directors of the Brazilian Forum of Opera, Dance and Concert Music.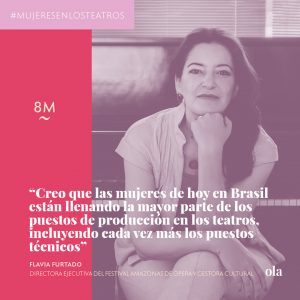 5.Melissa Giorgio Alcalde, coordinator of the audience area of ​​Gran Teatro Nacional, Lima-Peru, Melissa is a social communicator, cultural manager and actress.
Melissa herself has been linked to the cultural sector since 2003, the year in which she worked as a theatre producer and consultant on artistic and educational project management issues. Nine years later she created and implemented the Audience Training Programme of the Gran Teatro Nacional of the Ministry of Culture of Peru, recognized by the NGO Ciudadanos al Día as Good Practice in Public Management 2015 and 2016, a year later, this same program was recognized as ally for education by the corresponding Ministry.