Francisco Sánchez, stage director: "Everything that we are culturally emerges on stage"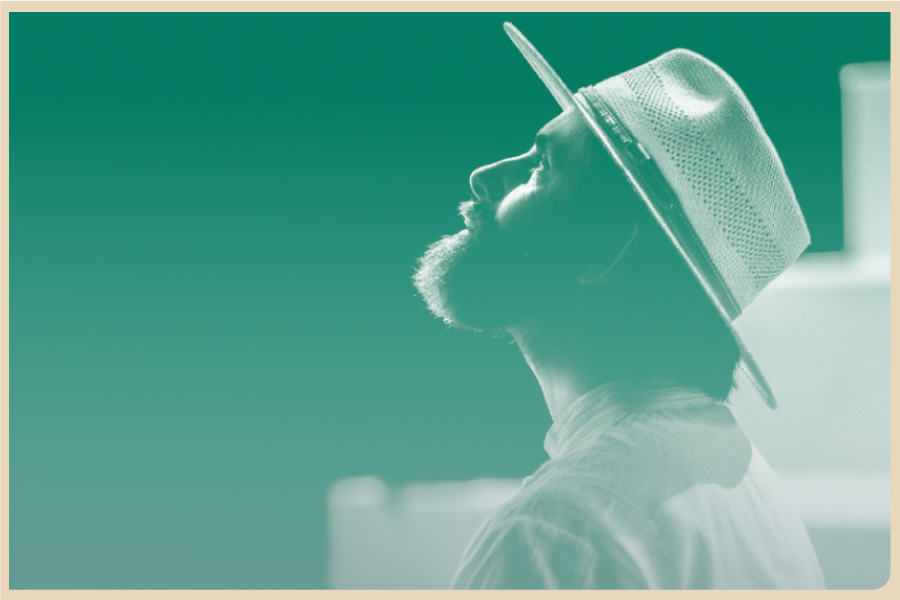 Actor, composer, musician, playwright and stage director, the artistic profile of Francisco Sánchez, member of the Escena Digital platform, is framed in that of the "total work of art". Twenty-one years ago he founded, together with his wife, Carolina González, the independent theater company Tryo Teatro Banda, which specializes in minstrelsy musical theater and the rescue of myths, legends and stories from Latin America and Ibero-America. In his works, an exploration towards the most visceral of cultures and forms of human expression emerges, always accompanied by music and constant play on stage. The sounds and instruments, the musical composition, the emotions and the performance, all the elements of the arts – as well as research and teaching – come together in the work of this Chilean artist.
It was through his experience at school that Francisco Sánchez, stage director and member of the Escena Digital platform, got closer to the arts and to what would soon become his professional vocation. "Since I was a child I conceived the arts as a unit. I have always felt that there is an artistic realm of the human being that has ramifications and variations", he explains.
Francisco made his artistic debut in the renowned circus play "The Seven Lives of Tony Caluga", which brought to immortality the well-known and beloved clown Tony Caluga, a character created by Chilean artist Abraham Lillo Machuca. Tony Caluga had his heyday during the 1960s in Chile and is considered an emblematic figure of Chilean popular culture. "It was quite a cultural phenomenon. I was just 22 years old and it gave me the feeling of being part of something extraordinary", says Sánchez.
Soon, the path of the minstrel and musical theater led Sánchez to study music and acting at the School of Theater and Institute of Music of the Pontifical Catholic University of Chile. With the clarity of combining theater and music, in 2000 Sánchez founded, together with his wife, Carolina González, the independent theater company under the name of Tryo Teatro Banda, a scenic troupe that works, among other topics, the rescue of identity history in the Ibero-American continent.
In this interview for Ópera Latinoamérica, Francisco Sánchez addresses his relationship with the arts, the path he traveled to come to focus on the minstrel, and the importance of developing and training audiences in Latin America.
What is your first memory in a theater? Can you describe the atmosphere or what you felt at that minute?
My first memory in a theater is in my school, which was called Notre Dame. There was a very good and important theater group that did works of collective creation, that is, the students did the works and the text. At that time, Professor Ignacio Canales was a very important figure in the entire training process.
I must have been in 4th grade (primary), around the year 1980, when I went to see the actors from the middle school (high school) who represented the annual play. It was a long-awaited event throughout the school, since it was the play that the expression team had prepared for almost the entire year. Students and people from other schools came and there was a lot of expectation.
What impressed me was seeing one of the actors get off the stage, in the middle of the lights and spotlights, and remove his makeup with a handkerchief. I found that to be the coolest thing to do, because there were a lot of people in the audience and it was an act as if they were movie actors.
How was your debut on the theater scene? With what work was it? How do you remember?
I was fortunate to participate in "The Seven Lives of Tony Caluga", a play by Andrés del Bosque, in which he was in charge of the music as a clown. The play was an unprecedented success and won many awards. We were in a circus tent near Plaza Dignidad (Plaza Italia, Santiago de Chile) and it was quite a cultural phenomenon. It had several performances and a large audience. I was just 22 years old and it gave me the feeling of being in something extraordinary. It was a lot of emotion.
From my first theatrical experiences at school I always acted, played and composed as the same expression, but now that has been transferred to the environment of a circus tent, in a famous, successful and very exciting play.
What has been the biggest challenge in your personal professional development? How did you approach it?
There are constant challenges to sustain an independent theater company over time, and each work that one creates is a great challenge. However, I think that the greatest personal challenge was the musicalization and orchestration of four classic stories covered by Gabriela Mistral for the play Gabriela Mistral Canta Cuentos: "The Sleeping Beauty of the Forest", "Little Red Riding Hood", "Snow White in the House of the dwarfs" and "Cinderella". We made this production in conjunction with the Foundation of Youth and Children's Orchestras of Chile (FOJI) and its director, Juan Pablo Aguayo. With him I managed to polish the quality of the musical work a lot.
I have always wanted to join the world of classical music with the theater. Taking a poetic text -I generally don't work with texts, but rather with themes that I am elaborating- and putting it to music, orchestrating it and singing it was a tremendous challenge as a composer and director. In the works, we have a classical orchestra and the actresses Annie Murath and Daniela Ropert, who sang "Snow White in the House of Dwarfs" and "Cinderella", respectively. For my part, I sang "Little Red Riding Hood".
Basically, it was telling a story, acting, musicalizing and staging, so all the disciplines were together. In general, the works of Tryo Teatro Banda are very demanding, but in the case of these classic stories the starting point was the musical composition. It is a recent experience that I feel like an achievement and makes me very happy.
How did I approach it? First, I studied the text and then I picked up the guitar and wrote a great song, like an aria. For example, "Sleeping Beauty in the Woods" lasts 14 minutes, the narration is sung, but when the characters have speeches in the text, it was spoken. So it's a great 14-minute song that I feel like I gave a special theatricality to then orchestrate it. Thus, the orchestra collects the musical experiences of my company's live music.
Identity through collective work
How did you come to the subject of musical theater and minstrelsy?
Since I was a child I conceived the arts as a unit. I have always felt that there is an artistic field of the human being that has ramifications and variations. You can work with different materials, but the essence is the same.
When I was little I liked both music and theater, so it seemed natural to me to play instruments in a play. Later I studied acting and music a little and I began to realize that having this specialty -acting and playing music- was something curious, that it always had a space, understanding that music is at the service of theater and complements and dialogues with it. . That clarity was very important and when I started working professionally, that ability gave me many possibilities. In fact, in 2016, I went to Florence, Italy to study opera directing, musical dramaturgy and opera libretto and took classes with regista Vivian Hewitz.
About the minstrel, I worked with Andrés del Bosque in the show "The Seven Lives of Tony Caluga" in 1994. Andrés is an actor, director, playwright and professor who does a lot of research. He was researching clowns and their acting techniques. There I included the clown band as a musician in that play-circus.
With Andrés we work on singing to the human and the divine, a tradition of Chilean music and poetry that connects us with the Chilean guitarrón and the ancient poetry of Spanish ballads. When you find the troubadour, you also find the minstrel, because he is the traveling artist who sings and tells stories with his instrument. The minstrel has that ideal of an artist who sings and plays and can practically do whatever he wants (juggling, acrobatics, shadow puppets, tightrope walk, etc.). He is an actor who uses many tools to tell stories. That identification for me and my company is fruitful and infinite.
In the case of Tryo Teatro Banda, the work of rescuing identity stands out. Do you think that the cultural origin of a person influences the ways of making art? Has it had any influence on your case? Which one?
The company touches on the theme of identity from history. The theater tells stories, so we chose to take the stories of our Chilean, Latin American and Ibero-American people. They are stories that can also be found with native peoples, languages, musical instruments, sounds and traditions.
It is an interest that also has to do with healing. When working with the identity of the history of Chile, for example, historical injustices, racism and classism emerge. The theater denounces and strips everything. It is an attempt to work with identities from a sense of justice.
Naturally, the cultural aspect of a person influences the type of art he does, it is something absolute. In the case of Chileans, it is to explore how we speak, how we communicate, whether we dare to debate or not, how brave we are when discussing or maintaining an idea. Everything that we are culturally emerges on stage. Theater and music allow that culture to be channeled towards something more universal, where all humans are connected and share an essence. The cultures are characteristic, like the "condiment", but the matter is the same.
Personally, a powerful cultural influence that I had was the Oruro carnival in Bolivia. My gaze changed. I went nine times to the carnival, four as a musician and the others as a spectator. It is the cultural capital of Andean South America and it was a huge influence, so big that the last great show of Tryo Teatro Banda, "Tragicomedia del Ande" (in which I worked a lot with the composer Sebastián Errázuriz, who did the orchestration), was born as an idea after the first time I went to the Oruro carnival. There the Bolivians sing and dance to tell their story. It was almost like being in front of an opera, with its own characters, costumes and sets.
But there is also Italy, when I traveled to study. I took advantage of touring and visiting opera houses in Florence, Pisa, Genoa, Rome. I was traveling by train reading the history of operas and then going to see them in these Italian cities. It was an unforgettable experience.
Thinking about Latin America, what is your diagnosis regarding the diffusion of arts and cultures? Are there pending tasks? What dialogues should be established?
The pending task is the formation of audiences, that people understand what the theater is, that they like to go and are willing to pay a ticket just as they go to a McDonald's or pay a ticket to the movies. That people know the theater and music, that they experience the benefit that it brings to their soul and that therefore they want it. The emphasis must be placed on the artists wanting to take musical theater everywhere and that there are possibilities to do so. I think that is what is lacking in Latin America. Circulation, diffusion, access to the theater. That it is not an elitist thing with expensive tickets, but that there is a policy of both the artists and the authorities, that there is theater everywhere and all the time. That would make this art flourish in every corner.
If you had to choose five works, composers, albums, artists or operas to live on a desert island, what would they be?
I would live with Brahms's clarinet quintet, with Beethoven's seventh symphony, with Stravinsky's "The Firebird", some work by Mozart that could be the clarinet concerto, the Pavane for the deceased infanta by Ravel and with the Offering Bach music.