Contemporary opera premiere at Teatro Solís in Montevideo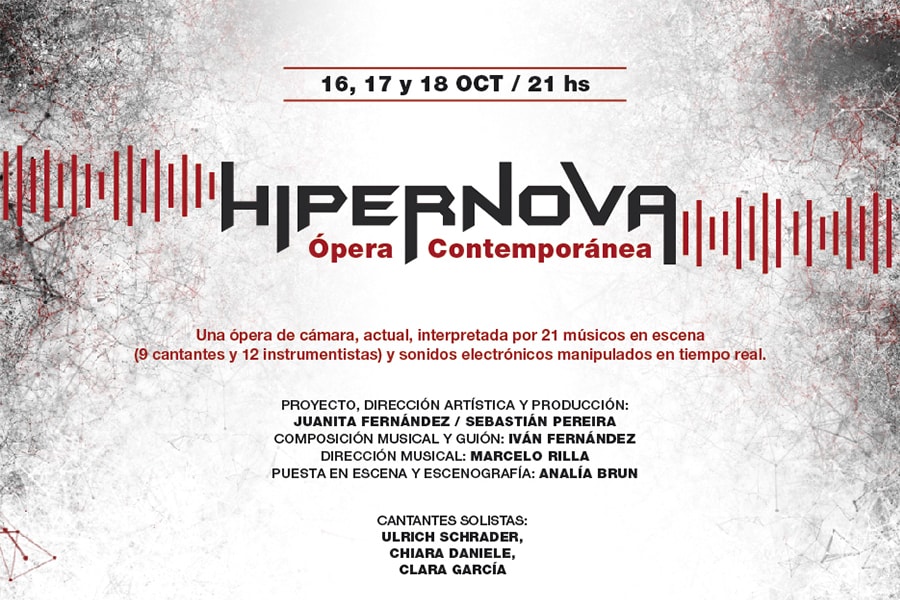 Hipernova is a Uruguayan opera with a current camera, performed by 9 singers and 12 musicians on stage, accompanied by electronic sounds manipulated in real time. The contemporary proposal will be presented on October 16, 17 and 18 in the Sala Zavala Muniz of the Teatro Solís in Montevideo
Hipernova explores the journey of the protagonist, from his home to one of the most dangerous regions of the universe: a star that is about to become a hypernova. * In an era where human beings have conquered star systems and achieved space travel, a planetary system faces extinction by the next explosion of a star 100 times more massive than the Sun. With much effort and use of almost all its resources, this multiplanetary community has managed to develop a system that can divert the immeasurable amount of energy that the supermassive star will throw after exploding. This will save its own system, but it will cause a neighboring system – with which they maintain commercial relations and share some customs – to be totally destroyed. It is in this context that the protagonist must decide which system survives.
The Project, artistic direction and production is by Juanita Fernández and Sebastián Pereira, producers and artistic directors of Púlsar – Conciertos Contemporáneos. The musical composition and script are by the Uruguayan Iván Fernández, with the musical direction of Marcelo Rilla and the staging and scenery of Analía Brun.
The solo singers are Ulrich Schrader, Chiara Daniele, Clara García. While the Choir is composed of Sol Franco, Irene Hernandez, Alice Méndez, Jorge Damseaux, Felipe Lamolle, Javier Toledo.
The instrumentalists are: Pablo Somma (flute), Fabián Pietrafesa (clarinet), Lorena Nader (bassoon), Matías Craciun (violin), Leticia Gambaro (viola), Lucía Gatti (violoncello), Ignacio Santos (double bass), Juan Olivera (trumpet) ), Agustina Motta (trumpet), Ricardo Arbiza (trombone), Juanita Fernández (percussion), Sebastián Pereira (percussion).

* A hypernova is a theoretical type of supernova that would occur when very massive stars (masses greater than 100 solar masses) collapse at the end of their lives. (Photograph taken by the Hubble Space Telescope).



ABOUT THE COMPOSER

Iván Fernández La Banca was born in Salto, Uruguay in 1976. He studied piano in Maldonado and at the age of 18 began working as a ballet accompanist at the Municipal School of Maldonado. In 1998 he moved to Montevideo to enter the University School of Music where he studied Composition, graduating in 2009.

Since 2001, he has premiered several works in Montevideo, many of them for percussion and electroacoustics. His works have an aggressive and expressive character, often with great tension. In his compositional technique, the use of mathematics and cybernetics is very present, where he seeks to implement the relationships between expression and sound objects. Some of his works have been created entirely through programming. However, the use of these techniques does not take away from an intuitive approach to creation. His compositions fluctuate many times between the structured and the intuitive.

Among the works that have had better reception are: Fon (2003), electroacoustic; Magneto X (2004) for 3 percussionists; The Effort of the Immortals (2007) for 5 percussionists; and Requiem for a Solitaire (2010) for 1 percussionist.

In 2013 he traveled to Belgium where he premiered two works: Estudio Compositivo no 5 (2007) for piano and Ubicuo for marimba and 4 percussionists. The Compositive Studies are premiered in Therán, Iran in 2016 by the pianist and director Geert Callaert.

Iván currently lives in Montevideo where he works as aaccompanist balletat the National School of Ballet, SODRE and as an independent teacher. He is working on several projects that relate music and programming. Among them, an API in Java / C ++ to create music through programming and graphic utilities for Csound.

ABOUT PÚLSAR – CONTEMPORARY CONCERTS
Concerts have been programmed for four years, focusing on contemporary music, in the Zavala Muniz theater of the Solís Theater.
There have been more than 60 musical performers, and more than 700 spectators, in a proposal that seeks to expand and bring together audiences of new music, artistic innovation and contemporary languages.
Its producers and artistic directors, Juanita Fernández and Sebastián Pereira, have worked intensely as entrepreneurs around contemporary music. They have participated as interpreters in the most important theaters, festivals and contemporary music cycles of the region.
The cycle aims to attract and gather the public interested in contemporary art and its new expressions, languages ​​and proposals. In this sense, we also target the public of other contemporary artistic disciplines, which have developed more visibly, such as dance, theater, visual arts.
At the same time, it is in our interest to approach the public willing to connect traditional repertoires with the music of the last century, arriving at the production of new proposals, such as the one presented here.
Buy your tickets in the following link.
Hipernova at the Solís Theater