Der Rosenkavalier, Strauss' comedy returns to Municipal de Santiago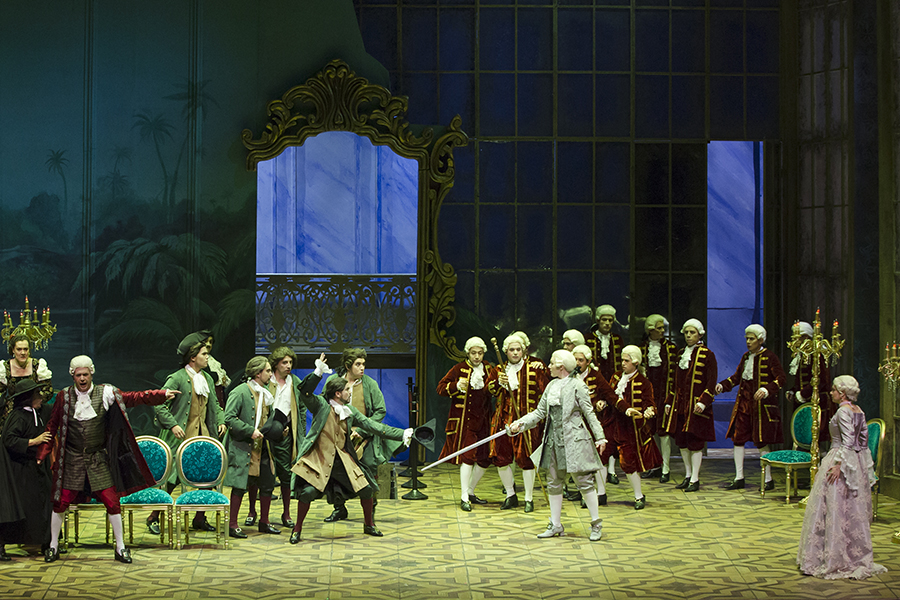 This coproduction of the Opera of Colombia, the Teatro Mayor Julio Mario Santo Domingo and Municipal de Santiago is presented from June 12 to 19 at the Municipal de Santiago, with musical direction of maestro Maximiano Valdés and scenic proposal by Alejandro Chacón.
.
Named by Richard Strauss as "comedy for music", Der Rosenkavalier returns to the Municipal of Santiago after 32 years of absence, in a coproduction of the Ópera de Colombia, the Teatro Mayor Julio Mario Santo Domingo and Municipal de Santiago – National Opera of Chile.
.
The story of Der Rosenkavalier is simple: La Mariscala, a mature woman and prey in a marriage without love, has as a lover the young Octavian. Baron Ochs asks La Mariscala, who is his cousin, to ask for the hand of young Sophie, daughter of the new rich Faninal. La Mariscala entrusts Octavian with the task, but upon meeting Sophie, Octavian falls in love with her. The young man sets a trap for Baron Ochs, who ends up abandoning the idea of ​​marriage. The marshal renounces her lover and accepts that Octavian and Sophie are happy.
.
With a libretto by Hugo von Hofmannsthal and music by Richard Strauss, Der Rosenkavalier is an elegant reflection on maturity, the passing of time and the sublimation of desire, which also has comic intrigues, changes of identity, a sumptuous orchestration, delicate and with numerous and cheerful rhythms of waltz.
.
A scenic proposal by Alejandro Chacón and musical direction by Chilean maestro Maximiano Valdés, which promises to be one of the milestones of the season.
.
In the international cast, the mezzo-soprano Sophie Koch, recognized as one of the best performers of the young lover of the Mariscala at present-a role she has also sung in the most important theaters of the world-plays Octavian for the first time in the Municipal Santiago. On the other hand, the soprano Celine Byrne sings the role of La Mariscala; bass-baritone Jürgen Linn acts as Baron Ochs; Elbenita Kajtazi plays Sophie and the Chilean baritone Patricio Sabaté plays Faninal.
.
For the stage director, Alejandro Chacón, this "is a unique opportunity to see an opera that does not show much. So far, in the 161-year history of the Theater, it has been programmed three times. In addition, it is the most fantastic music that has ever been made and contains, perhaps, the greatest musical fragment of all. "
.
Six functions will be offered, between June 12 and 19. Tickets from 4,000 pesos. More information and ticket sales through www.municipal.cl
.
Artistic Team
Musical Direction: Maximiano Valdés / Pedro-Pablo Prudencio
Régie: Alejandro Chacón
Stage: Sergio Loro
DesignCostumes: Adán Martínez
Lighting: Ricardo Castro
.
Santiago Philharmonic Orchestra Santiago
Municipal Choir
Director: Jorge Klastornick

Voces Blancas – Children's Choir of the Municipal de Santiago
Director: Cecilia Barrientos
.
Cast
.
Mariscala, Princess María Teresa de Werdenberg: Celine Byrne / Paulina González * Octavian, called
Quin-Quin: Sophie Koch / Evelyn Ramírez *
Baron Ochs de Lerchenau: Jürgen Linn / Johannes Stermann *.
Sophie: Elbenita Kajtazi / Catalina Bertucci *.
Lord of Faninal, father of Sophie: Patricio Sabaté / Javier Weibel *.
Marianne, the housekeeper: Marcela González / Paola Rodríguez *.
Valzacchi, an Italian schemer: Paul Kaufmann / Francisco Huerta *.
Annina, her companion: María Luisa Merino / Gloria Rojas *.
Police Commissioner: Jaime Mondaca / Cristián Lorca *
Butler of La Mariscala: Pedro Espinoza / Rony Anc avil *.
Faninal butler: Claudio Cerda / Brayan Ávila *.
A Notary / A Servant: Francisco Salgado.
Tabernero / Animal seller: Gonzalo Araya / Pablo Ortiz *.
A singer: David Junghoon Kim.
A dressmaker: María José Uribarri.
Three noble orphans: Francisca Muñoz , Constanza Olguín, Florencia Romero.
Four Lacayos de la Mariscala and four waiters: Jorge Cumsille, Gonzalo Quinchahual, David Rojas, Felipe Ulloa.
Six lackeys of Ochs, four musicians and two coachmen: Pedro Alarcón, Diego Álvarez, Nelson Durán David Gaez, Ismael Latrach , Cristián Moya.