Culture available to everyone at Teatro Bicentenario de San Juan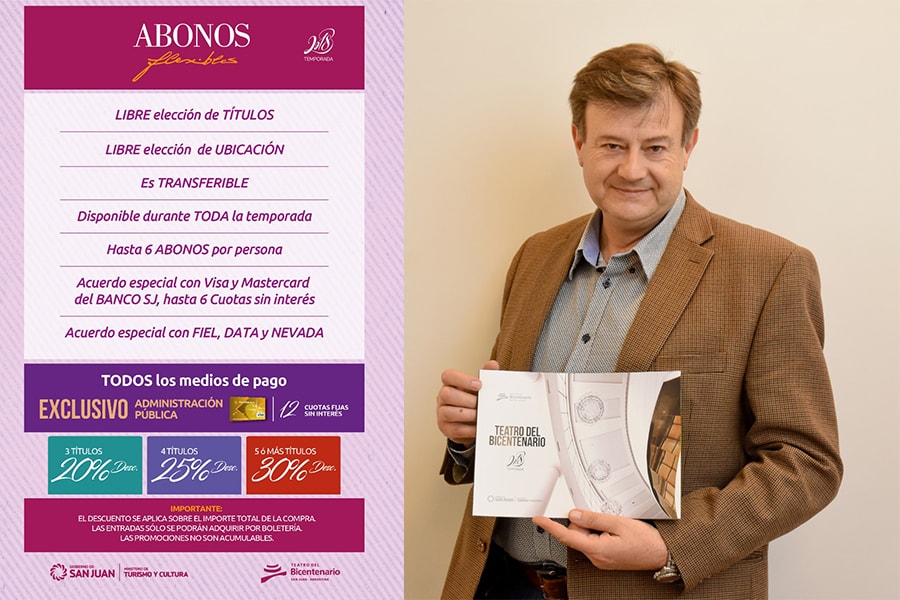 The Government of San Juan, through the Ministry of Tourism and Culture, presents the Sanjuanino Theater Flexible Payment System.
.
This is a benefit plan so that more viewers can enjoy the 2018 Season of the Bicentennial Theater, offering significant discounts for own production titles and co-productions.
.
Characteristics of the Flexible Subscription:
Free choice of titles
Free choice of location
It is transferable
Available throughout the season
Up to 6 subscriptions per person
It can be paid with all means of payment
Special agreement with Visa and MasterCard of Banco San Juan up to 6 installments without interest.
Special agreements with FIEL, DATA and NEVADA cards.
.
The Flexible Payment offers: a 20% discount on the acquisition of 3 titles; 25% in 4 titles and 30% in 5 or more titles, and can only be purchased at the Bicentennial Theater Box Office from Monday to Saturday from 10 am to 8 pm.