Four operas in the 2020 lyric season of Gran Teatro Nacional of Perú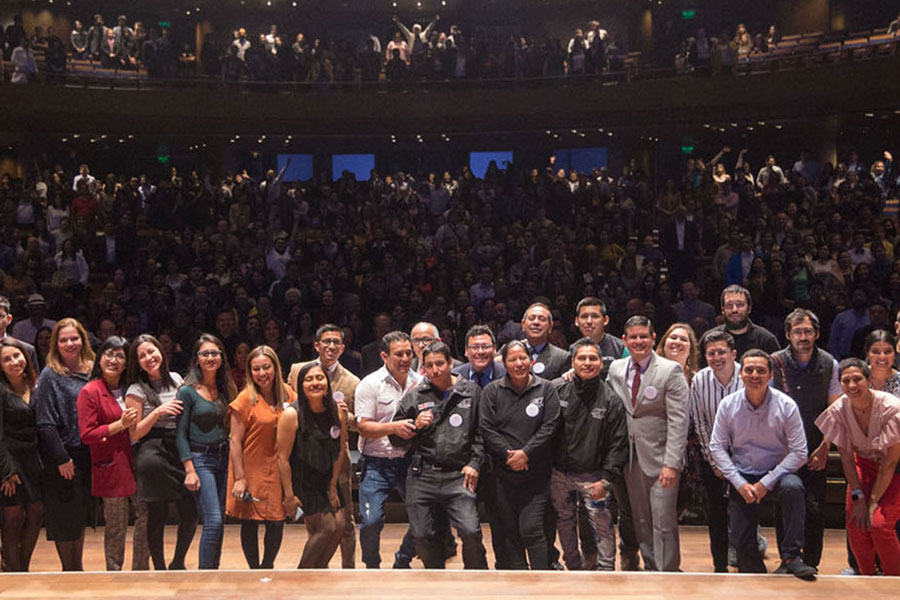 Carmen returns to the stage during the Festival Granda; a co-production with the Teatro Colón in Buenos Aires takes the stage to El Cónsul; four functions of La Périchole; a concert by Peruvian tenor Juan Diego Florez and a family opera of the classic The Little Prince are the 2020 bets Gran Teatro Nacional. 
The Ministry of Culture of Peru announced the 2020 Programming of Gran Teatro Nacional, a calendar that will maintain its policy of promoting the performing arts by bringing them closer to different audiences, will strengthen the development of festivals in alliance with strategic institutions and will promote previous training activities to the Bicentennial of the independence of Peru.
The protocol ceremony was in charge of the director of Gran Teatro Nacional, Mauricio Salas Torreblanca; and it was attended by public and private sector personalities, diplomatic authorities, artistic entrepreneurs and entertainment figures.
There will be more than one hundred soloists and 50 national and foreign groups delighting with music (classical, baroque, jazz, pop, rock, cumbia, Andean and Latin American), traditional dances from Peru and the world (11 companies, including the National Ballet of Cuba) , opera, circus, theater, family teaching functions and experimental sessions.
The 2020 Programming of Gran Teatro Nacional will record its most emotional moments with the operas Carmen during the Granda Festival on April 22, 24, 26 and 28; The Consul, a coproduction of Gran Teatro Nacional with Teatro Colón of Buenos Aires from August 23 to 27; and La Péricholi by Jacques Offenbach on 09, 11, 14 and 16 October. The symphonic orchestras of Cusco (September 23), Trujillo (April 8) and the prestigious Rundfunkchor Berlin & Concert Koln (October 17), and the presentation of Orquesta Juvenil Sinfonía por el Perú on September 15 will also shine on the modern stage of Lima.
A season of the family opera has been scheduled for children El Principito; the show for babies Frondoso, a co-production of the Grand National Theater and La Plaza; and, at the request of the public, the triumphant return of The musical adventures of Sisi and Lala with a new story about the world of the circus.
For eighth consecutive year, the National Elencos of Peru: National Choir, Symphony Orchestra National, National Ballet Symphony Orchestra National Youth Bicentennial, Ballet Folklorico Nacional and National Children Choir (celebrating its 25th anniversary of creation), will offer unforgettable seasons at affordable prices .
If you want to receive this and other information in your email, subscribe to our newsletter here.
This 2020 Programming also highlights the musical cycles Café & Concierto, Jazz Week, Musical Centers Week (which will be held free in the foyer), Peña Nights and the second edition of the Outside Fest (February and March) with the recognized local bands Barrio Calavera, Plutonium of High Grade, DJ Shushupe, Collective Circus Band, Cosa Nuestra & Tito Manrique, Diphonia, Liberato Kani and Cumbia All Stars.
The calendar also includes a series of activities in homage to our composer Chabuca Granda for the centenary of her birth, with the participation of national and international artists who will interpret her best works and unpublished themes. Likewise, a tribute to Ludwig van Beethoven for the 250th anniversary of his birth, recognizing his valuable legacy with a multidisciplinary proposal that will encompass the execution of his best classical pieces.
The list of foreign stars include violinists Viktoria Mulova (Russia – May 11) and Sarah Chang (USA / Korea – August 1), pianists Martha Argerich (Brazil / Argentina – July 15) and Olga Scheps (Russia – June 2), violin master Joshua Bell (November 14), Venezuelan conductor Gustavo Dudamel with the Mahler Chamber Orchestra (August 4), Peruvian tenor Juan Diego Flórez (November 12), the novelist Italian Alessandro Baricco (December 9), award-winning jazz performer Pat Metheny (March 23), singer Misia (Festival Fado Lima 2020) and the British-Australian band Dead Can Dance (May 21).
In world music, the visit of the Spanish divas has been confirmed Raphael (June 30 and July 1) and José Luis Perales (October 21 and 22), the Argentine singer-songwriter Nito Mestre (July 2) and the rocker Kevin Johansen (26 of February). Peruvian artists Tony Succar (winner of two Grammy Awards – August 29 and 30), Manuelcha Prado (November 13), Julie Freundt (March 31 and April 1), Diosdado Gaitán Castro (May 6), will be added Chimango Lares (May 9), Novalima (May 13), D1 Dance Company of Vania Masías (May 19 and 20), Pepita García Miró (June 18), Amanda Portales (September 24), Gianmarco Zignago (16 , 17, 18 and 19 November) and trio of Lucho, Ernesto Hermoza Willy Terry (08 November).
Adults will enjoy the theatrical performances of Les Luthiers (Argentina – August 08 and 09), Guillermo Calderón (Chile – September 1 and 02) and the circus montages of the successful French companies Bivouac and Cirque Le Roux and the Italian Finzi Pasca .