With Javier Camarena, Sonya Yoncheva and three casts, Teatro Real premieres Il pirata by Bellini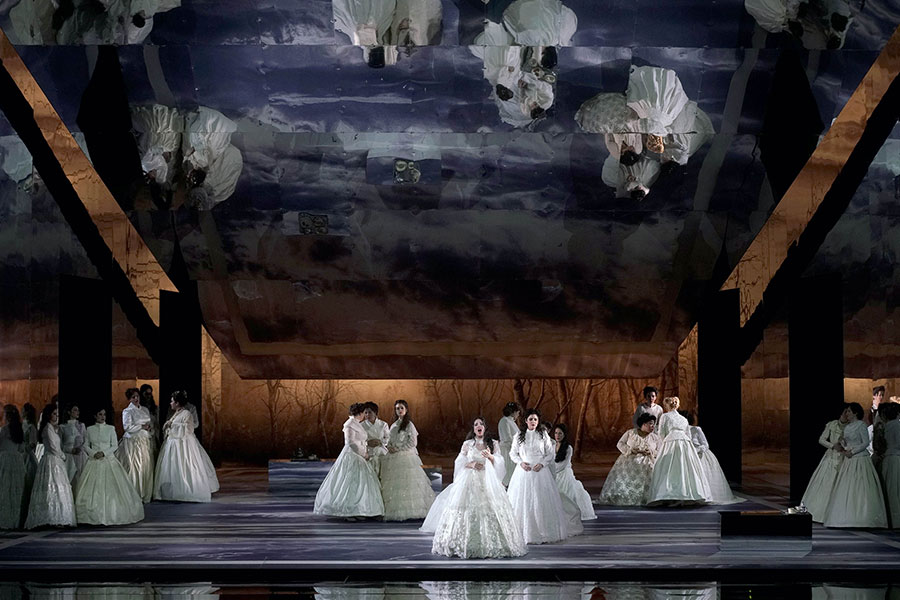 This co-production with Teatro alla Scala of the Belcantista title arrives on the Madrid stage with three leading protagonist trios. Emilio Sagi assumes the direction of the scene, while Maurizio Benini takes the baton in front of the Choir and Orchestra of Teatro Real.
Teatro Real will present, between November 30 and December 20, 14 performances of Il pirata, by Vincenzo Bellini, in a new co-production of Teatro Real and Teatro alla Scala in Milan, where it premiered last year.
It was precisely in this temple of the Milanese lyric where the premiere of the score took place in 1827. Vincenzo Bellini (1801-1835), then with 26 years, already had two operas under his belt, both premiered in Naples, but the success of Il pirata opened the doors to a neat and brilliant career as an operatic composer, reaped by his premature death in Paris, with just 34 years.
This little represented Belcantist title, whose two main roles are of extreme difficulty, will be offered for the first time in Teatro Real with three different leading trios: the tenors Javier Camarena, Celso Albelo and Dmitry Korchak in the title role of Gualtiero; the sopranos Sonya Yoncheva, Yolanda Auyanet and Maria Pia Piscitelli as Imogene; and baritones George Petean, Simone Piazzola and Vladimir Stoyanov as Ernesto. They will be seconded by tenor Marin Yonchev (Itulbo), bass Felipe Bou (Goffredo) and soprano María Miró (Adele).
In this new co-production of Il pirata, Emilio Sagi refuses any realistic approach to the script, creating a pictorial and symbolic framework adapted to the dramaturgy of each scene, so that the tragic future of the characters, devoid of all artifice, flows musically.
Maurizio Benini, a great expert in the Italian lyrical repertoire, who at the Teatro Real has directed Tosca (2004), L'elisir d'amore (2006) and Il trovatore (2019), will be placed again in front of the Choir and Orchestra Headlines of the Teatro Real debuting a score that gradually recovers its rightful place, beyond the virtuosity and beauty of its melodies.
With Il pirata, Bellini begins a fruitful artistic communion with Felice Romani (1788-1865), a poet and dramatist of great notoriety who would sign the libretto of seven of his ten operas, including the famous Norma.
Romani starts from the gothic drama Bertram, or The Castle of Saint Aldobrand by the Irish writer Charles Maturin (1782-1824) and creates a libretto of dark, stormy and fatalistic romantic sap, with a love trio in which they sigh for the love of Imogene his former lover Gualtiero – a ruined nobleman, impetuous and passionate transformed into a pirate; and her husband and father of her son, whom she married to save her father's life, and to whom she owes obedience and faithfulness.
The tragic end, with the murder of the husband, the atonement of the lover and the cathartic madness of the hapless heroine, reveal the germ of the great romantic melodrama, which Bellini also sketches in his music, of deep melodic breath, strong expressive contrasts and a eagerness to link and articulate the recitative, arias, cavalries, duets and choirs, in favor of the dramaturgical fluency of the plot.
This same concern goes beyond all music, which attempts to sublimate hyperbolic feelings and passions through a devilish vocal writing, especially for the two protagonists: Gualtiero, who already has the contradictions of a Byronian hero, must vocally combine an elegiac song, the Aulic bravery and intrepid virtuosity; and Imogene, self-sacrificing wife and mother, must suffocate his corrosive love until the explosion of madness and reverie, alternating long and exceeding melodies with interval vaults that permanently express his inner struggle and mood contrasts.
Perhaps the extreme difficulty of both roles has contributed to the lethargy of this opera for almost a century, until in 1958 Maria Callas played Imogene in La Scala, next to Franco Corelli and Ettore Bastianini, who were not, however, their height. Some years later Montserrat Caballe has taken the witness, giving the tragic and deranged heroine of Callas a crystalline and almost supernatural, poetic and stylized song, with its unmistakable and very long fiati …