Teatro Nacional Sucre will broadcast theater plays and concerts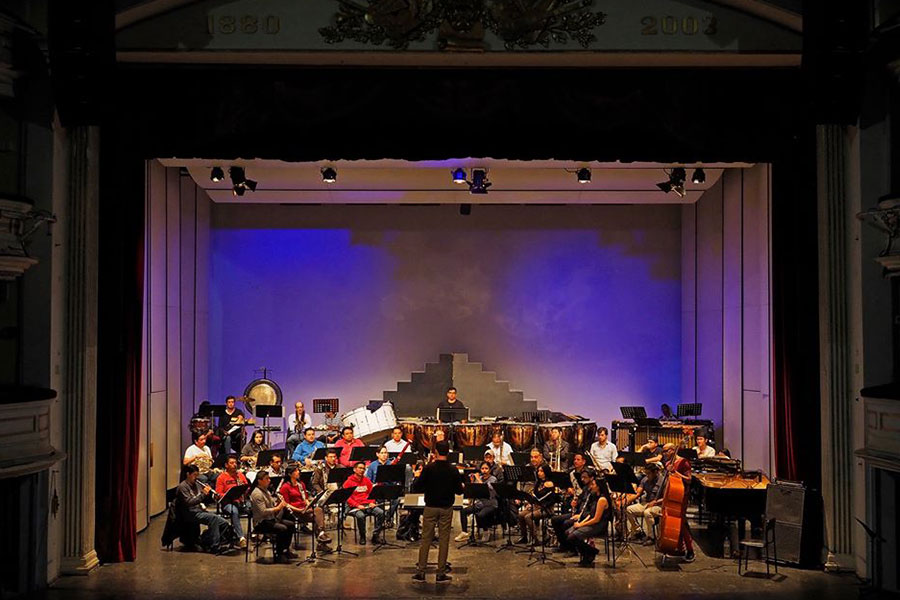 In its first week of operation, the digital initiative of  Quito's stage presents three broadcasts of great concerts, from classical Latin American composers to all the vitality of cumbia and rock.
In times of health emergency and in order to continue with its mission of sharing the performing and musical arts in Quito and Ecuador, Fundación Teatro Nacional Sucre will offer a programme on social networks of various concerts, dance works and theatre that have been held in the different spaces it manages.
Fundación Teatro Nacional Sucre thus joins a creative initiative that various theatres and cultural centres around the world have adopted in times of crisis, with the aim of encouraging cultural consumption and reaching a wider audience. An alternative to enjoy various artistic proposals without leaving home.
Here is the schedule of concerts and shows:
Sunday, March 22, 7:00 p.m. The Metropolitan Symphonic Band of Quito, under the direction of Luis Alberto Castro, presents the masterful work Atahualpa by the Ecuadorian composer Luis Humberto Salgado.
 Wednesday, March 25, 7:00 p.m. The renowned Colombian singer Martha Gómez, together with the Argentine bassist Andrés Rotmistrovsky, offers us a concert with the Latin American songs that marked history. From Carlos Gardel to Luis Alberto Spinetta.
Sunday, March 29, 7:00 p.m. Enjoy the vitality of cumbia, rock and world music from Puerto Candelaria, a Colombian group led by Latin Grammy winner Juancho Valencia. Feel the euphoria of this sound journey from your home again.
Wednesday, April 1, 7:00 p.m. The National Symphony Orchestra of Ecuador offers a concert dedicated to one of the greatest composers of universal music and the creator of the most representative works of classical dance, Pyotr Ilyich Tchaikovsky, under the direction of Álvaro Manzano.
Friday, April 3, 7:00 p.m. Santana Experience is a journey through the most emblematic songs of Carlos Santana, performed by the legendary Ecuadorian musician and producer, Ramiro "El Negro" Acosta. Check out this tribute to Santana, an icon of music and the ideals that came together in the hippie generation, including: peace, free love, environmentalism and rock.
Saturday, April 4, 7:00 p.m. Within the framework of Ecuador Jazz 2019 Festival, enjoy the concert of the Daniel Toledo Quartet, a contemporary jazz project led by the Ecuadorian double bass player Daniel Toledo and the Polish pianist Piotr Orzechowski.
Sunday, April 5, 7:00 p.m. At the Sixth International Choir Festival "Voices from the Middle of the World" enjoy the choral work of various national and international groups. Event where Ecuadorian musical repertoires adapted for the choral format stand out and shine.
Monday, April 6. 19h00. Ibioko Trío gives an outstanding presentation at Ecuador Jazz 2019 Festival. Discover his musical proposal that explores the fusion of Latin American rhythms with elements of jazz. On this occasion, the trio consisting of Daniel Pacheco on piano, Aryam Varona on bass and David Nicolalde on drums present their own compositions and original arrangements of songs from the popular repertoire.
Tuesday, April 7. 19h00. A dialogue between traditional Ecuadorian music and jazz is the proposal of the Cuenca de Jazz group, made up of Lucas Bravo on piano, Christian Torres on double bass and Pedro Ortiz on drums. Enjoy your concert with the invited saxophonist and clarinetist Su Terry, at the Ecuador Jazz Festival 2019.
Wednesday, April 8, 7:00 p.m. Feel the beauty and joy of traditional Korean dance with the 36 virtuous dancers of the Metropolitan City of Incheon Dance Theater. Original and exciting choreographies that dialogue between tradition and the avant-garde.
Connect to the broadcasts of Teatro Nacional Sucre in Quito on its YouTube channel.