Relive the production of "Madama Butterfly" premiered by the Compañía Lírica Nacional de Costa Rica in 2019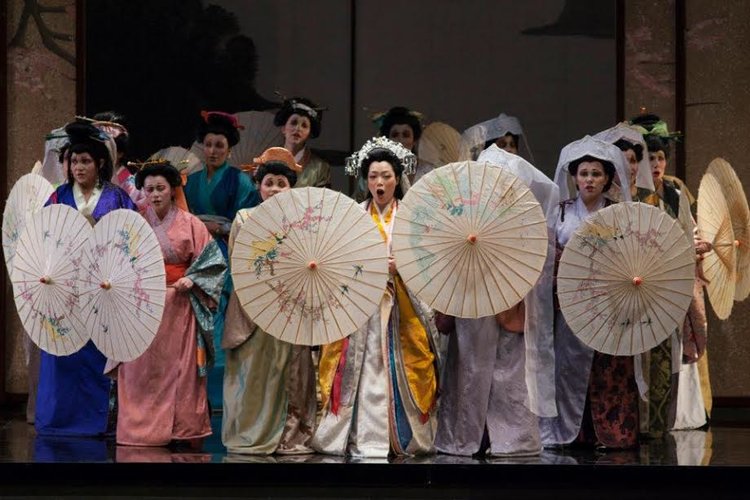 In 2019, the Costa Rican organization presented Madama Butterfly at the Melico Salazar Theater in San José in a co-production with the Colombian Opera. We present the record of one of the functions carried out at that time, which had the musical direction of Ramiro A. Ramírez and the stage direction of Alejandro Chacón.
The recording made in 2019 by Costa Rica's Channel 15 for the opera Madama Butterfly, by Giacomo Puccini, a co-production between the National Lyric Company (CLN) of the Central American country and the Colombian Opera, is now available.
The 2019 production was the third time the CLN presented Madama Butterfly at the Costa Rica. The first was in 1998, while the second was in 2005.
The production will feature the musical direction of the Costa Rican Ramiro A. Ramírez, an artist with a recognized career whose list of productions includes operas such as The Bat, by Johan Strauss II, in 2000; Macbeth, by Giuseppe Verdi, in 2001; Tosca, by Puccini, in 2002; Verdi's Falstaff in 2007; Fausto, by Gounod, in 2008, and Così fan tutte, by W.A. Mozart, in 2009.
In addition, the production had the stage direction of the Argentine Alejandro Chacón, who collaborated with the Compañía Lírica Nacional in 2004 and 2013.
As for the cast, this version of Madama Butterfly featured the voices of soprano Gloriela Villalobos in the leading role of Cio-Cio San, accompanied by José Luis Ordoñez in the role of Pinkerton. For her part, the mezzo-soprano Marianela Mora embodied Suzuki and Tomás Castellanos played Sharpless.
"For this production we have made an alliance with the Colombian Opera, as part of our affiliation with the international non-profit organization Ópera Latinoamérica, of which the CLN has been a part since 2017. This same production will be presented at the Julio Mario Theater Santo Domingo, Bogotá, in March 2019″, José Manuel Aguilar, artistic director of the Compañía Lírica Nacional, explained in the framework of the premiere.
"This collaboration allows us to save production costs and other expenses, considering the difficult budgetary situation we are going through. We have looked abroad in search of collaboration from other countries, which minimizes production costs and fees, being in this It is much cheaper to import artistic resources than to create them in our country," Aguilar added on that occasion.
Enjoy the recording of this Madama Butterfly production here: