Interview with Mario Chang and María José Morales Querido Arte, Opera Company Guatemala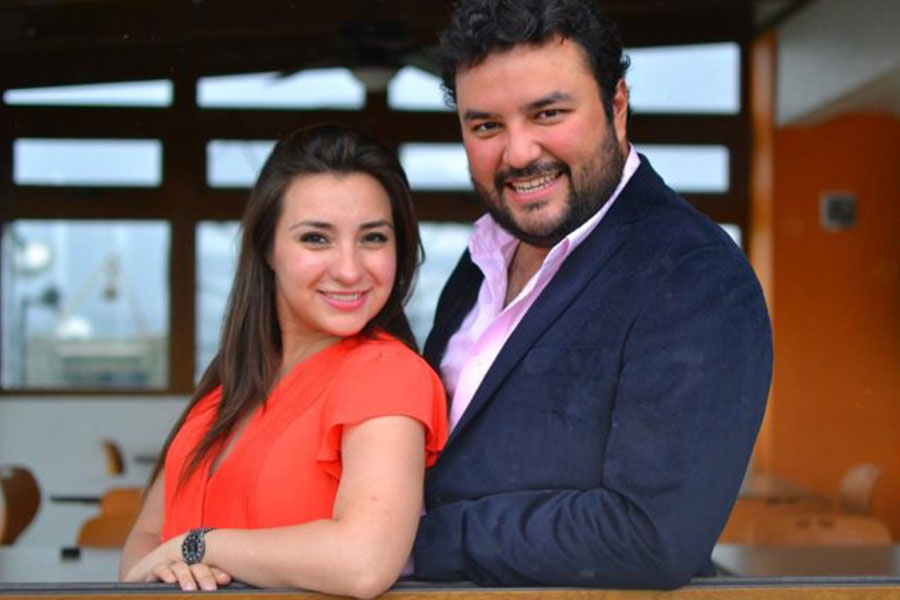 "Through opera and education we support the transformation of Guatemala" María José Morales y Mario Chang founders of Querido Arte.
Querido Arte: Opera Company of Guatemala was founded in 2016 by tenor Mario Chang and the soprano María José Morales. Both born in Guatemala, sought through this initiative to develop, train and disseminate opera in Guatemala. 
Its dream is to make Guatemala a reference in Latin America and the world through high quality productions. True integral development projects, that have a positive impact on society, transforming lives through opera.
Mario and María José talked with us about the company's initial process, its effects on the community, their motivations to be part of OLA and a bit of their professional careers. 
What was the motivation that led you to found Querido Arte and what are the main objectives of the Foundation? 
Querido Arte born with one objective in mind: to make Guatemala a reference in Latin America and the world through high-quality productions, integral development projects for artists, presentations that rescue the tradition and beauty of opera and events that positively impact our culture and society, transforming lives through music … ONE OPERA AT A TIME.
Querido Arte is a product of the need to develop as singers and also, as a response to the lack of development opportunities. We (Mario and Majo) had a dream that was impossible to follow because the lyrical environment was almost non-existent in our country. We had a golden age about a century ago, in an opera house called Teatro Colón (or Rafael Carrera) where opera seasons were presented and, as grandparents and books told us, people used to whistled 'La Donna e Mobile' in the streets. It was a common custom to be able to attend the operas to see the great productions in that beautiful theater. 
Unfortunately, the place was damaged by an earthquake and then demolished by the next president. Thus we lost a great chapter in our cultural history and valuable decades for the development of opera in Guatemala.
The years that followed between 1923-1998 were years where foreign zarzuela and opera companies came to present their seasons. They came, presented and left. The State of Guatemala never created a permanent orchestra or company that would function as a lyrical company and neither did it follow up on the training of artists and opportunities. A long internal armed conflict did not contribute in the mood, to the development of this branch of art in its splendor.
In 1998 a Guatemalan baritone named Luis Felipe Girón May began a revival in the field of opera together with a group of businessmen. In this way, foreign companies began to come to Guatemala more frequently and opera productions began to be presented more frequently. These productions were presented in outdoor locations in Antigua Guatemala and others. In 2006, the new National Theatre, Miguel Ángel Asturias Cultural Center (with a capacity of 2000 people and built in the '60s) presented for the first time on this stage, a Traviata, starting with this, a new round of large productions brought from abroad that ceased in 2011. 
Parallel to these efforts, there have been piano pocket productions and with small orchestras in other smaller places with laudable initiatives for the development of this art.
We started in 2009 with concerts, galas with orchestra, recitals, media tours and opera dissemination activities. It was in 2016 that we achieved with Querido Arte to get the necessary support to be the first lyrical company run by young Guatemalans with the aim of creating an industry that still does not exist. Thus we founded an opera choir, opera orchestra with a solid team work seeking to inspire, train, impact and expand this art form in our country.
Querido Arte turned 10 years old. How do you think the Company has benefited the lyric scene in Guatemala? What is the reality of opera in Guatemala today?
Since the beginning of Querido Arte, we have been able to observe many changes in the field of lyricism in Guatemala. First, the full capacity of the Grand Hall of the National Theatre had not been filled before for an event of this type (2000 seats). In the four complete productions we have made (Rigoletto, Elixir de Amor, La Bohème and La Traviata), the box office tickets have sold out completely, which sets a precedent and gives us an indicator of how opera market has been developing with each presentation.
Our operas are recorded, subtitled and broadcast on open National television, with which, we have reached thousands of people in the country who do not have the opportunity to attend the theatre, bringing culture to all corners of Guatemala.
We also have sustained growth in people who attend the auditions we open to be part of each project. Each year the applications we receive multiply. For example, in La Bohème which has been the biggest opera we have performed so far, we had an artistic and technical team made up of 405 people. All of them involved in each of the departments that we have created for the productions (staff, costumes, stage craft, lights, logistics, choir, orchestra etc.) These productions are giving work and opportunities to many young artists. For auditions, hundreds of applications arrive, which had not happened before.
We have also seen a change in the type of people who attend and participate in our projects. Most of the people who are looking for us are young people between 16-36 years old as well as the public that accompanies us for the presentations. That fills us with joy since it is a new generation that is being formed and is acquiring a taste for this art form.
Through the specific operas, the transformation of Guatemala is also being supported through education: all proceeds from the tickets sold from the operas go to the Ramiro Castillo Love Foundation, in its work to eradicate illiteracy in our country, which is still 12%. With the proceeds from the operas, scholarships have been given to women and children so they can learn to read and write and thus change their lives. All this is possible thanks to a group of visionary entrepreneurs, our dear sponsors and friends, who support us in this venture and the development of culture and education, which is the basis of a healthy society.
Querido Arte has ensured that we follow up on the training of the artists that participate with us and on looking for development spaces through the production of events where they can be developed, study and travel scholarships, technical workshops, classes with teachers and artists that visit us from abroad and opera appreciation activities. It has been a very nice task to be able to observe; how these young talents have been improving, not only in their voice, but in their integral formation, in their values ​​and commitment to their art.
Finally, all these achievements have also helped inspire other artists to have their own initiatives, motivated hundreds of young people to want to be part of this movement for the opera, and want to prepare to have a future in this field in any of the arts that involve this type of art (stage managing, costumes, scenery, musicians and singers etc.) Currently there are more Guatemalans putting high our country's name abroad and starting to have career opportunities, and that is something that makes us feel very happy and proud because it is definitely a very different reality from the one we lived 10 years ago. We definitely found a before and after.
Querido Arte has developed projects and programmes such as the Opera Club, A Christmas story, and special programs such as the Opera Camp and the Opera Kids. How are these initiatives born and how have the community and Guatemalan artists received them? 
In Querido Arte we believe in what we can transform through music and we believe that it has to be accessible to all Guatemalans. All these projects have been developed for different ages and for different purposes.
Most of these projects have educational and social impact purposes. For example: with A Christmas story we set up Christmas repertoire to sing in the public hospitals of the Capital bringing joy to the patients and medical staff of the place. With Opera Kids, we are training children between 8-14 years old who have an interest in opera with a repertoire suitable for their ages and as an introductory programme to music reading and lyric art. With the Opera Club, which is an opera appreciation workshop, we meet, give a dynamic talk to the group, watch the opera together and discuss it. La Serenata de la Asunción is a free annual concert of sacred music that we do in the Metropolitan Cathedral where dozens of artists participate and thousands of people attend. This year too, approximately 20 of our boys were accepted to be part of the World Youth Choir during Pope Francis' visit to Panama. Maestro Plácido Domingo on his visit to Guatemala invited us with our orchestra to accompany him in his concert. We were invited to Guadalajara this year to the first Zarzuela International Meeting of Zarzuela Association for the World, a project for the dissemination of  Zarzuela sponsored by Maestro Plácido Domingo. Among other projects we have.
In each of these activities we have had a great reception by the public and we try to turn them into traditions. Our projects are always welcome thanks to God, and more and more people want to join the activities. We are currently looking for funding to be able to maintain these programmes, support more people and specify other ideas to develop them throughout the year. All these initiatives have attracted new audiences and opened a world of musical possibilities for artists and for the general public.
What is the motivation to be part of OLA Network? Do you consider that networking is an ally for the future of the performing arts? 
Having been invited to be part of this network is a great honor for us, especially for being a young and emerging opera company in an environment that has no opera tradition. Having the advice, exchange, example and experience of the other members is invaluable to us and fundamental to our growth.
Networking is not just an important ally, it is essential for our art form to remain through time. It is the responsibility of all of us who love opera to be able to unite and create a strong community that helps make productions more accessible and more widespread, with better resources and exchanges, and that with these strategic alliances you can create projects that have a even greater impact in the region and in each of the countries.
In our particular case, a great ally since we need support, guidance and training to be able to grow and develop in an appropriate way.
Mario: Your participation in the opera is extensive internationally. You have performed on such important stages as the Metropolitan Opera of New York, Carnegie Hall, Washington National Opera, Frankfurt Opera, LA Opera and you have sung in galas and recitals in Puerto Rico, St. Petersburg, Tel Aviv, Berlin, Bonn, Ecuador, among others.  Why did you decide to return to Guatemala with a project that has a lot of entrepreneurship and a clear social role. 
I am completely in love with my country and opera. In Guatemala there is a lot of talent and there are very few spaces to develop. I always wanted to create a project to help the opera develop and support my colleagues so they can also fulfill their dreams. I feel a huge responsibility to create a platform for opera in Guatemala to grow. I have experienced in my own flesh, how music can change people's lives, as mine changed. We have seen it in many of the artists and collaborators of our projects: instead of being in bad steps, they are learning music late at night, we have seen how they have developed a sense of discipline, respect for others and sensitivity, how doors and possibilities have been opened and that is transformative. We have seen how we have been able to make productions of a very high quality, even without having such a solid infrastructure as other countries have, thanks to the desire that everyone puts in wanting to do things with excellence.
My dream is that everyone in Guatemala has the opportunity to experience the music and the effects and benefits it has and that everyone can have access to it. Before this platform did not exist where we are now and that gives us a constant challenge to continue innovating and implementing projects for the development of youth and culture. It also motivates me a lot to be able to open the way for others to develop their gifts to their fullest potential. We know that we can make a difference and leave a legacy with what we love to do one opera at a time.
I am a firm believer that culture should be a right that everyone should have access to and not a privilege reserved for some as many think.
María José: At the end of 2018 you debuted at Carnegie Hall in New York. You have sung in galas in Saltillo, Coahuila, Mexico; Blacksburg and Middleburg Virginia and New York, Frankfurt, Germany and Tel Aviv, Israel, San Salvador, Quetzaltenango, San Pedro Sula, Honduras and Guatemala City. Why did you take an entrepreneurial role and how was this experience being a woman?
I have always believed that if you have a talent, you have the responsibility to develop it and put it at the service of others and that is what pushes me every day to work for Querido Arte.
I have always been very active in the development of projects and in the production of events and opportunities. Parallel to my singing, I studied Graphic Design in Communication and Advertising which has allowed me to apply it to create a complete strategy for our dream of life with Mario: that our country can be a benchmark in opera. 
We have a national theater with great capacity, also people with extraordinary talents, youth and desire to do things well. We have the potential to be an important opera house and all these first steps are what motivate me to devise new projects for the development of company members and new audiences.
I had to open doors and convince many people that this is worth being supported, that has taken us a lot of time and effort because we have no tradition in our country for opera and at first they literally thought we were crazy! Being a woman in this field of cultural entrepreneurship has served me as a school to learn to express my ideas and projects with conviction and work hard to achieve them successfully. I have had to earn the respect of our sponsors, skeptical public, media and managers of state institutions demonstrating that things can be done well done when done with love, preparation and hard work. I have had to form a character, to take out all my leadership and be sure and defend what I believe. It has been a hard job to be Executive Director of Querido Arte but this project of life together with Mario has been one of the greatest satisfactions of my life. Seeing the progress that has been made in our field, seeing that my country is resonating outside and the changes that the boys have had in their lives, is one of the best things that have happened to me.