About opera and other herbs: Juan David Domínguez, "Sound is something magical"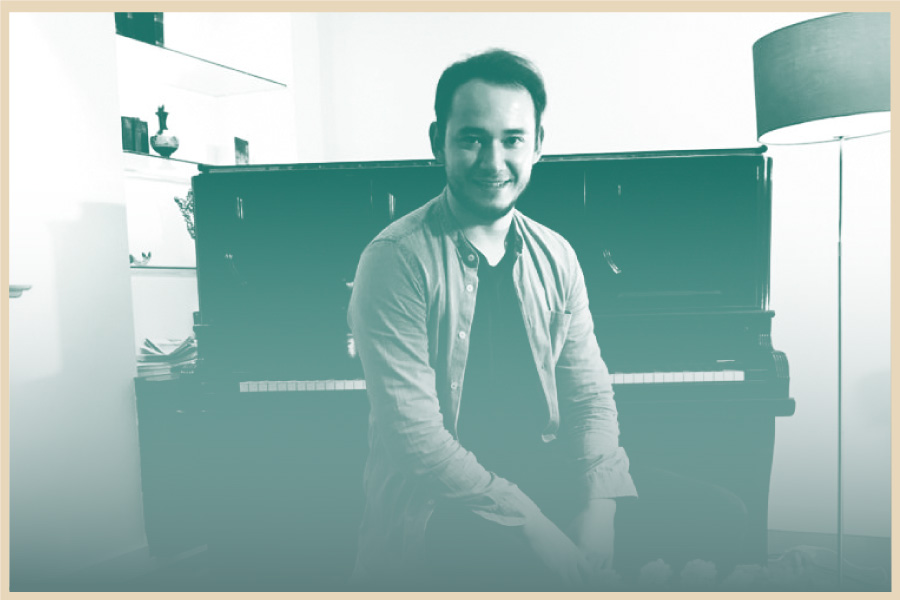 Colombian director, producer and pianist, Juan David Domínguez (Bogotá, 1991) founded the Bogotá Metropolitan Orchestra in 2019, together with the musical advisor, Carlos Ereú, a Venezuelan artist with 30 years of experience. Under his direction, the group has performed in spaces such as the La Castellana National Theater, the Fabio Lozano Auditorium, the Colombia Youth Symphony Orchestra Foundation Auditorium, United Church, CODEMA and the Children's Cardio Foundation.
About this and more, we will talk with Juan David Domínguez –a member artist of Escena Digital– in About Opera and other herbs.
Have you always wanted to be a conductor?
Yes, I always wanted to be a director. From before starting my formal studies at the age of 9, I saw musical groups and visualized myself playing and conducting. I've always liked the idea of ​​working with many people, I really don't see myself working alone. I like to be able to guide others, propose ideas and help the group carry it out. This creative and service spirit made me always want to be a conductor.
What do you like the most about music?
Sound is something magical. It has the ability to impact whoever composes it, executes it and whoever listens to it. Specifically in directing, having the option of building a sound unit from a collective is something that gives me goosebumps.
What is your favorite show?
Live concerts have several components, the musical quality of the artist, the handling of the stage, the interaction with the audience, the unrepeatable experience and of course the technical quality of sound engineering. When all those factors are at a high level, live events give me the best feelings.
What songwriter could you listen to every day?
Pyotr Ilyich Tchaikovsky, Russian composer of Romanticism.
What I like most about Tchaikovsky's music is his fresh eloquence. The ability to communicate your human insides in a way that engages the listener. He is not pretentious or pedantic in his communication, he is not exclusive, but in a refined way, he manages to reach the simplicity of a night and city conversation.
In contrast to his depressive internal struggles, it is said of Tchaikovsky that he was an excellent conversationalist and very often spent his nights in the bars of St. Petersburg where many people loved to have an interesting and fun talk with the composer.
What is your favorite theater?
In my short experience, the Teatro Mayor Julio Mario Santo Domingo, in Bogotá. There are countless things to highlight at the Teatro Mayor, from its physical plant to its human staff. From the Director Dr. Ramiro Osorio to the people who guide you in the accommodation. Also his artistic and technical excellence, programming, vision are very strong aspects in his DNA.
However, one of the aspects that I highlight the most is its influence on the artistic and social landscape in Bogotá and throughout the country. It seems to me that your reading of what culture and social development means has very realistic and tangible components. Its programming is designed in such a way that it generates dynamism, scope, impact and makes you feel a better person and a better artist.
Heroine or favorite hero?
If he is a musical hero or heroine I would say Johann Sebastian Bach.
Bach is the sample of genius in a common environment. For me, Bach is the example of how to be a person over being a musician. However, in the catalog prepared by Wolfgang Schmieder (BWV) there are 1128 works, in turn he was the father of 20 children. This shows a great emotional balance, great discipline and very strong habits that allowed him to be efficient.
Finally, not only are these numbers impressive, but his music has served as a study and inspiration for all the generations that have preceded him to the present and I honestly do not believe that this will change. "Bach" in German means "Stream", to which Beethoven referred saying "… it should not be called Stream but Sea".
What do you consider to be your greatest professional achievement?
Have the opportunity to found an orchestra, generate a leadership culture and dynamics within it and form a management team that works for its development and sustainability in the medium and long term.
The orchestra that I founded is called the Metropolitan Symphony Orchestra of Bogotá. It has already become common, among musicians and their followers, to call it "La MET de Bogotá". It is a titanic task at a musical, business and management level. As a conductor, it is essential to grow in these areas and more so in a territory where there is still much to do in terms of orchestral development, such as Colombia.
Who is the contemporary artist that you are most excited to see or listen to?
Valery Gergiev.
I recommend the formal structure that he makes visible with his interpretation, transmitting that musical naturalness in such a mathematical and exact way. As for his directing, even though he seems to be doing anything and that the musicians simply play alone, I have come to understand that his music is highly tied to the gesture of his hands and that there is a deep awareness between each gesture and music.
What do you consider to be the best city to experience culture?
Bogotá is a very culturally active city and every year hosts great musical and cultural productions of all styles, genres and nationalities. In addition to that, it is in a symphonic boom that attracts thousands of high-level artists throughout the city. For a young director, it is a city that offers the conditions to build a long-lasting career with international projection.