With Les contes d'Hoffmann by Jacques Offenbach, the lyric season of Teatro Colón concludes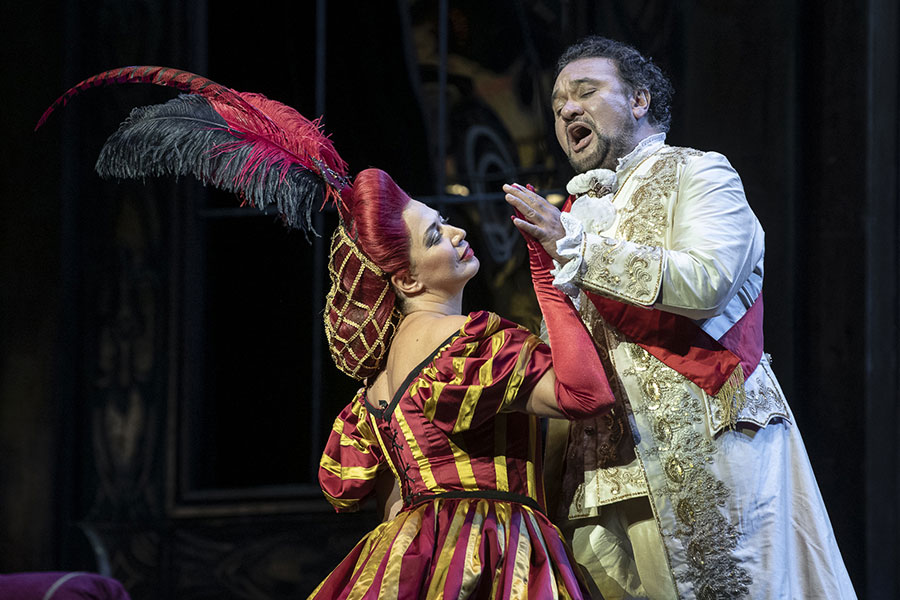 The new production of the Argentine Colosseum has the stage direction, set design and costumes of Eugenio Zanetti, and in front of the stable orchestra of the theater the teacher Enrique Arturo Diemecke. Mexican tenor Ramón Vargas will play the role of Hoffmann accompanied by Virginia Tola, Rachel Gilmore and Milijana Nikolic, among many others.
The 2019 lyric season of Teatro Colón comes to an end from Friday, November 29 at 8:00 p.m. with Les contes d'Hoffmann, the opera composed by Jacques Offenbach, with musical direction by Enrique Arturo Diemecke and stage direction, set design and costumes by Eugenio Zanetti.
.
This new production of Teatro Colón that celebrates the 200th anniversary of Jacques Offenbach's birth will have six performances on Friday, November 29 and Saturday, November 30 at 8:00 p.m. Sunday, December 1 at 5:00 p.m. and Wednesday 4, Friday 6 and Saturday December 7 at 8:00 p.m.
.
The opera is based on Les contes fantastiques d'Hoffman, theatrical piece by Jules Barbier and Michel Carré, who were inspired by some of the tales of the German ETA Hoffmann. On a night of drunkenness in the city, Hoffmann tells how he courted and lost three girls, his impossible loves: Olympia, a mechanical doll that only he really believes human; Giulietta, the courtesan who steals her reflection in a mirror; and Antonia, a young woman who sings until she literally dies.
This version will have the participation of two casts throughout its six functions: Mexican tenor Ramón Vargas will be Hoffmann in the functions of November 29 and December 1, 4 and 6 accompanied by Virginia Tola, Rachel Gilmore and Milijana Nikolic, among many others. While Rafael Álvarez will play the leading role in the functions of November 30 and December 7 in a cast composed of Paula Almerares, Oriana Favaro and María Luisa Merino Ronda.
.
On Sunday, December 1 at 5:00 p.m., the feature will be broadcast live of Les contes d'Hoffmann. To use the service, all you need is an internet connection and access www.teatrocolon.org.ar Then, click on the live titled tab located at the top margin of the page.
.
Locations can be purchased at the box office Teatro Colón, Tucumán 1171 (4378-7109), Monday through Saturday from 09:00 a.m. to 8:00 p.m. and Sundays from 09:00 a.m. to 5:00 p.m. They can also be purchased by phone at 5254-9100. Or online by entering www.teatrocolon.org.ar. Locations from $ 200.
Artistic Team
Musical Director: Enrique Arturo Diemecke
Stage Director and Stage Designer: Eugenio Zanetti
Costume Design: Eugenio Zanetti and Sebastián Sabas
Lighting Design: Eli Sirlin
Choreography: Irene Martens
Stable Orchestra of the Teatro Colón
Coro Stable of the Teatro Colón
Conductor: Miguel Fabián Martínez
Cast
Hoffmann: Ramón Vargas (29, 01, 04, 06) and Rafael Álvarez (30, 07).
Antonia: Virginia Tola (29, 01, 04, 06) and Paula Almerares (30, 07).
Olympia: Rachel Gilmore (29, 01, 04, 06) and Oriana Favaro (30, 07).
Giulietta: Milijana Nikolic (29, 01, 04, 06) and María Luisa Merino Ronda (30, 07).
Lindorf / Copelius / Miracle / Dapertutto: Rubén Amoretti (29, 01, 04, 06) and Homero Pérez
Miranda (30, 07).
Nicklausse: Sophie Koch (29, 01, 04, 06) and Adriana Mastrángelo (30.07).
.
About Enrique Arturo Diemecke
Artistic and Production General Director of the Teatro Colón since 2017, Maestro Diemecke has been 13 years as artistic director of the Philharmonic Orchestra of Buenos Aires and 31 years as artistic director of the Flint Symphony Orchestra, Michigan (United States) . Notable performer of Mahler's works, he has been awarded a Mahler Society medal for his versions of the composer's complete symphonies in Mexico, Colombia and Argentina. He was Artistic Director of the Ópera de Bellas Artes of Mexico in the 80's and 90's, where he directed more than thirty lyrical productions.
.
In 2007 he directed Werther at the Teatro Colón and Le jongleur de Notre Dame de Massenet with Roberto Alagna for the National Opera of Montpellier. With this same house and the National Philharmonic of Montpellier, he musically directed the operas The exiles of Siberia of Donizetti and Parisina de Mascagni. He directed Pagliacci de Leoncavallo and Carmina Burana de Orff at the Pacific Opera, and conducted the National Orchestra of France and Cecilia Bartoli, Jean-Yves Thibaudet, María Joao Pires and Pierre Amoyal for Les Victoires de la Musique Classique et Jazz. During 2007 and 2008 he arranged several productions for the Teatro de la Zarzuela in Madrid. He received the Grand Prix de l'Académie du Disque Lyrique of France on several occasions, including Bruno Walter Orfeo de Oro as "Best Opera Director" and the Orfeo de Jean Fontaine de Oro for "Best vocal recording".
.
He has been nominated for a Grammy for the concerts of Carlos Chavez. He has made recordings with the world's leading labels, including Sony, Deutsche Grammophone, Lyric, Dorian and EMI.
About Eugenio Zanetti
He is an artist with an outstanding international career as Director, set designer, painter and author.
.
Numerous staging, scenography and costumes in more than forty theatrical productions in Argentina and abroad and a brilliant work in more than thirty films, attest to a remarkable work in collaboration with personalities such as Pier Paolo Pasolini, Roland Joffe, John MacTiernan, among others.
.
Appreciated for his work on stage, Zanetti is also a notable painter with successful exhibitions in the country and abroad. For more than forty years, on three continents, he has performed a unique, vastly appreciated work, as evidenced by the numerous awards, including the Oscar of the Hollywood Academy and two nominations for the same award, the Art Directors Award of USA and the Drama Desk Award.
.
In Argentina he has received the Trinidad Guevara, Maria Guerrero awards, the award Tribute At the Mar Del Plata Festival, the Condor de Plata to the Trajectory, and several Talia and Estrella de Mar awards. He is also an honorary citizen of the city of Córdoba.
.
The Servant was his first collaboration with the Teatro Colón in the Experimentation Center season in 2011. In 2015 he directed the opera Don Carlo by Giuseppe Verdi and in 2016 he was in charge of the scenic direction of Fidelio de Beethoven.