With concerts by Plácido Domingo, CorpArtes launches its 2018 Season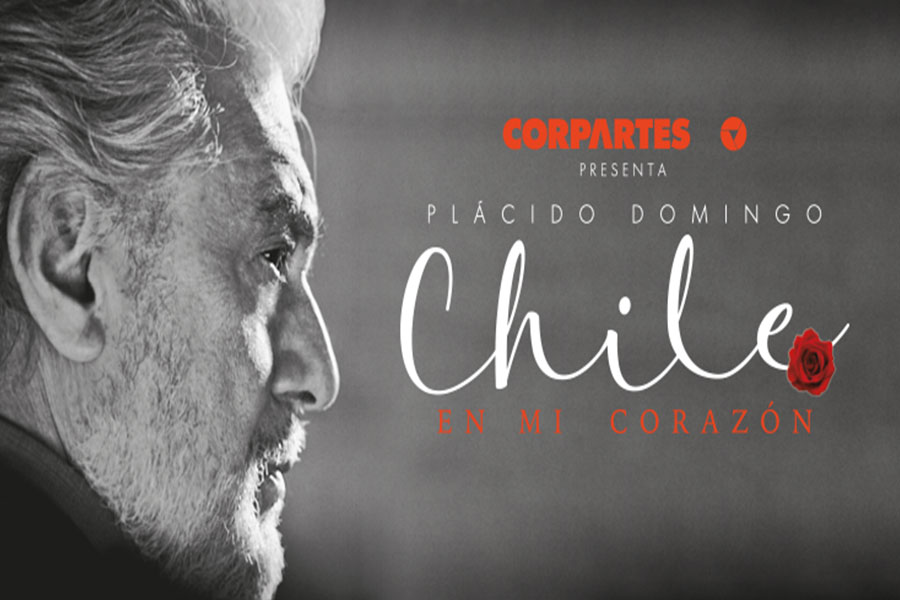 Fundación CorpArtes, in Santiago de Chile, once again emphasizes the quality and accessibility to large shows and exhibitions, through its 2018 season. The new programme, announced on Thursday, October 19th, includes 20 national and international events, which seek to bring First level artistic experiences to all Chileans.
.
Within its new programmatic grid, CorpArtes will present two major concerts of Plácido Domingo: on January 11th at its theater, and on the 14th of the same month at the National Stadium of Santiago. The tenor performs in Chile 50 years after his debut in the country, along with the Bogotá Philharmonic Orchestra, the soprano Ana María Martínez and special guests. With this latest concert CorpArtes confirms its commitment to democratize culture and give a quality show at affordable prices for all Chileans.
.
An unforgettable event that will take place on January 14th, 2018, at 8:00 p.m., and that will seek to lead to the largest presentation yet of Plácido Domingo in Chile. The concert will take place in the most important coliseum in the country: Estadio Nacional, which will be able to receive more than 43,000 people. Tickets are available at www.puntoticket.com and can be purchased at unprecedented prices for this type of concert: from $ 5,500 to $ 35,750.
.
This will also be the occasion to celebrate Plácido Domingo's career -with a program that will include operas, operettas, zarzuelas, as well as emblematic Broadway pieces and traditional songs from the Latin American repertoire-, and 50 years since his debut in Chile, at the early in his career, the year 1967. Since then, he has become one of the world's icons of lyric, garnering awards and recognitions, including 12 Grammy awards and two Emmys, in addition to having an unattainable collection of records. He has participated in over 100 recordings of complete operas, directed more than 500 concerts, played 148 roles and performed more than 3,900 performances, among others.
.
In this opportunity, Plácido Domingo will be accompanied by one of the most sophisticated lyric sopranos of today, the Puerto Rican Ana María Martínez, with whom he has performed in numerous concerts, forming a lyrical couple of recognition worldwide. Also by the Philharmonic Orchestra of Bogotá, set with 50 years of history and currently the main symphonic group of Colombia, which will be directed by the American teacher Eugene Kohn. Both Martinez and the Philharmonic Orchestra of Bogotá have been winners of a Grammy Award throughout their careers. In addition, it will have the presence of an outstanding figure of Chilean music scene.
.
The choice of Plácido Domingo as the figure of this concert, addressed to all, is not accidental. The Spanish tenor, who has shone on the most important stages of the world, has contributed strongly to bringing classical music to audiences, with multitudinous presentations in stadiums and parks, many of them televised. Legendary are already the concerts of "The Three Tenors", along with José Carreras and Luciano Pavarotti, with whom he toured around the world, and presentations such as the closing ceremony of the Beijing Olympic Games (2008), which had an audience television estimated at two billion viewers.