Alzira, first coproduction of Gran Teatro Nacional of Perú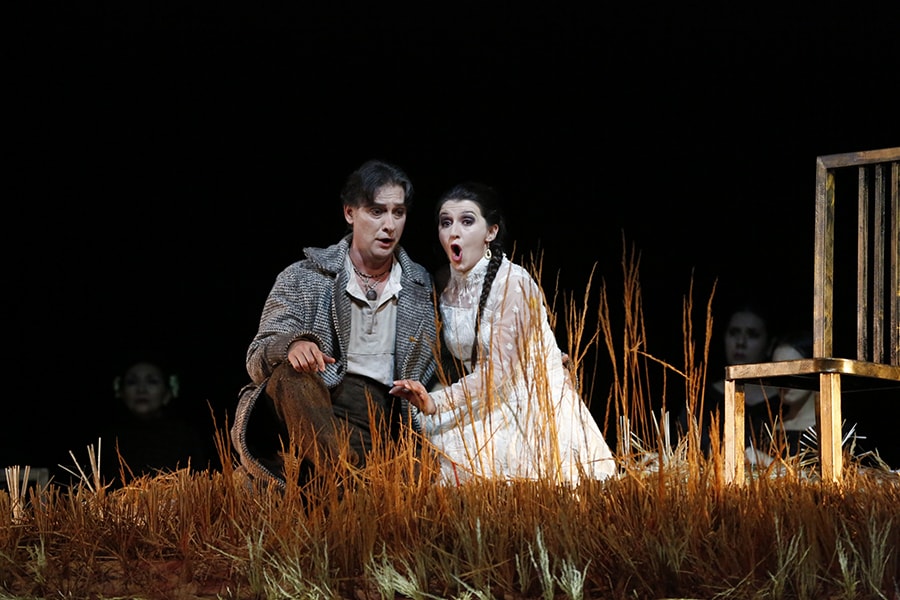 The co-production of Gran Teatro Nacional of Lima, the ABAO (Bilbao Association of Friends of the Opera) and the Royal Opera of Wallonie – Liége of Belgium, began to take place during the first World Opera Forum in Madrid last April and will be presented until November 18th at the Lima stage
In the framework of the celebrations for the Bicentennial of the Independence of Peru, the Ministry of Culture together with Gran Teatro Nacional of Lima present the opera Alzira (1845) by the Italian composer Giuseppe Verdi, from November 9th to 18th.
The Peruvian artist Jean Pierre Gamarra performs the stage direction of this performance and the musical direction is in charge of the renowned Spanish director Oliver Díaz. The main roles are played by the Argentine soprano Jaquelina Livieri (Alzira), the tenor Juan Antonio de Dompablo (Zamoro) and the Lima baritone Jorge Tello (Gusmano), together with a large number of singers that make up the National Choir and musicians of the National Symphony Orchestra.
It is important to note that for the first time, Peru is co-producing an opera with European institutions, in which the Teatro Nacional de Lima of the Ministry of Culture of Peru, the Royal Opera of Wallonie-Liége of Belgium and the ABAO (Bilbao Friends Association) participate. of the Opera), theaters in which Alzira will be presented in 2020.
The work, with a libretto by Salvatore Cammarano and inspired by the novel "Alzira and the Americans" by Voltaire, takes place on a plain next to the Rímac river. The putting of Alzira sustains a dialogue between the history of Peru without rigorous verisimilitude and historicism that uses the anachronism and appears on the stage with an essential poetry that is confronted with a pure creature and a civilization that corrupts it, a period of conflict between the aristocratic government and the indigenous people. The abstract space represents a piece of land desecrated and violated, just like its protagonist. This Alzira is about a dialectical battle between European America and the American landowner, the struggle for supremacy, and the tragic destiny of a woman in a world guided by the obsessions of man.  
ABAO ABAO
The Bilbao Association of Friends of the ABAO Opera, is an essential agent in the Basque and state cultural sector, and stands out for its international projection, with a schedule at the height of the main theaters and a project of solid activities that are reflected of the transcendence of the institution and the remarkable economic weight of the opera in its environment.
ABAO-OLBE programs all its activities always preserving excellence, and presents each year a complete and balanced cultural proposal that supposes a commitment with society, with a program that includes 47 functions and supposes a scope superior to 90,000 spectators.
The Bilbao Association of Friends of the Opera is a private non-profit organization with a sustainable and highly efficient management model, which offers stability, solvency and commitment, through a work plan to which a committed group of partners contribute, patrons and private sponsors that with their support, endorse the continuity of the Opera Season in Bilbao.
For more information and ticket sales, click here.