Bajo la Lupa: Interview with soprano Sor Graciela María de los Ángeles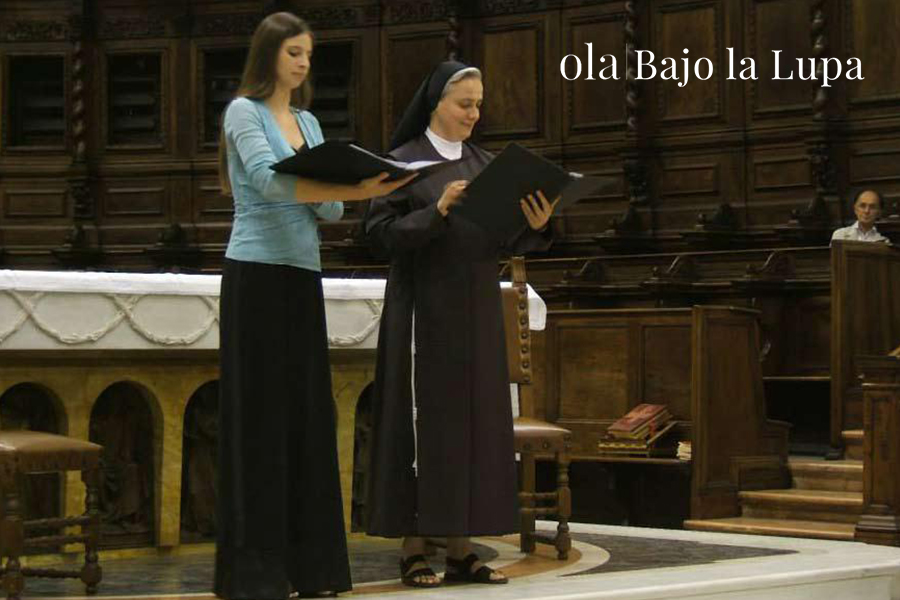 Interview with the soprano Sor Graciela María de los Ángeles
.
By Ximena Sepúlveda
.
 How did your love for singing wake up? 
.
As a girl I directed a youth choir in my parish and my mother, who in her time had discovered several artistic talents in my family and being herself a painter, when she heard me sing, told me that she saw a natural imposition in my voice and why didn't I go to the National Conservatory of Music in Mexico City, to help me keep it and learn to sing better. I took into consideration a bit superficial, but when i went the inscription had already been closed. I continued my studies as a clinical laboratory and already worked in hospitals. The following year I enrolled in the career of Opera Singer and Concertist, without knowing that it was the opera lyric and thinking about doing it as a hobby. It was at the Conservatory that I loved to hear sing my colleagues and so I slowly more and more involved in it. My teacher was Prof. Enrique Jaso, who always believed in me and gave me much of the repertoire that his mother, Mendoza, sang as a soprano coloratura.
.
Did your family agree with your performance on the boards? Did they support you or did you have to fight for it? 
.
After my mother discovered me, she supported me a lot and the problem was that when she started singing and finding a success that nobody, not even me, was expected, my mother changed her attitude with me: she was very demanding and never adulterated me. Deep down he was afraid that he would fall into the vain glory, in the superficiality of a young woman who was lost overnight in the vanity of the world and what the artistic environment offered him, that is, quite the opposite of the Christian values ​​he had given me. She always prayed for me, even if I didn't know, so that God would protect me, save me and accompany me in life and my career.
.
What can you tell us about your operatic career? 
.
Many beautiful things. I liked to sing and I had great satisfactions in the theater stage where I performed. From the first award in the National Competition "Carlo Morelli" to the debut in Fine Arts in 1991 with the main role of Lucia di Lammermoor, which led me to receive several awards from Mexican critics. So I started a fast and very successful career, without even having dreamed it. I had the opportunity to perform several symphonic concerts and countless lyric concerts. Truly the stage operas were few: Lucia, Musetta in La Boheme, Adina in the Elixir of Love, both with Ramón Vargas, until the Clorinda in La Cinderella Rossini, etc. My career was very fast, overnight I received an unexpected success and, as I said before, I lived beautiful things and met wonderful people who always supported me and respected me. Before me a new world, full of bright prospects for the future and an international career, confirmed by teachers of high levels opened. It was so that one day I decided to leave Mexico and go to Austria, exactly to Salzburg, to complete my studies and to compete internationally. However, the more did Ifor my career and was looking more success, increased in me an empty… a thirst for something bigger. It was exactly in the debut of Lucia, when I experienced the need to get to have more than infinite minutes of applause from a standing audience that filled Fine Arts, the Temple of Art. It seemed that something inside told me: -Go beyond what you hear, what you see- It was not possible that at 24, I had already done everything in life. The applause was not the whole. Thus I began the search for something that I not did know it was, or where to look for it. 
.
Have you ever been in love?
.
Of course I was in love! I am a woman equal to the others, I had my boyfriends and a great desire to get married and have children. I lived a normal emotional life with yearnings of responsibility and motherhood; the same as now as a living religious but in a different dimension. I wanted to fall in love with a beautiful soul, to love me with a great eternal love, to be able to give my life for me. At least I would never have married! Because our vocation, that of all people, is to love and generate love; but I never found the person to fill my desires, and see that I searched a lot, my heart was made for another kind of love. The consecrated person, who belongs to no one, does not belong to a man in order to be of everyone, to give his life for all mankind. I hope I explained myself well.
.
Did you feel the call of God at an early age, or did it fall like a fulminating ray?
.
As I said before, it was in the gaps that, although I had everything, it did not fill me, because I was not a happy or accomplished woman, although externally I was not missing anything and nobody had noticed this. My mother told me that I had realized in my life all the dreams of the girls of my age, and it was true externally, for the world and according to the world but the truth is that I had everything and had nothing. I continued my studies at the Mozarteum in Salzburg and continued doing concerts in Europe. I returned many times to Mexico and came to sing even in Cairo and Morocco, but my emptiness was never filled. Until one day, I providentially arrived in Assisi in Italy, on a tourist trip and I found myself in the Franciscan sanctuaries, which are places of Grace, there I finally got down on my knees and asked God to help me because I could not help because of sadness and the emptiness of my heart, and it was there in the Porciúncula, where I received the grace of the divine call and exactly in a vocational experience where, thanks to hearing the Word of God, the scales of my eyes dropped and I began to understand the reason for my emptiness, the reason for my search in song and love and the possibility that the Lord would have created for something different; to be his wife, yes, a consecrated one … In this way I started a path of vocational discernment in Asís and every time I had my interview with a Franciscan father, I traveled from Austria to talk to him and finally I could find myself. Yes, the Lord called me forever and ever. My life changed: I knew the fullness and joy that had not given me even the greatest success in Fine Arts. Yes, my life changed and I left the race, although God allowed me to continue singing, but now for His Glory and not mine. I dedicate myself to the service of many people and especially of many young people who frequent these holy places in Assisi and in the world. Just in September we came to Mexico with a team to talk and sing to young people, that Love is possible, because it was always my wish that the Grace of the holy places of Assisi one day will reach my homeland. And so the dream came true.   
.
Did you have to do many studies before ordering and what convent did you enter?
.
I belong to the Franciscan Sisters of Santa Felipa Mareri, a saint from the time of San Francisco and Santa Clara. Since 1200, we were Poor Clares for seven centuries and now we have been called to the life of evangelization, without losing our contemplative origins. In religious life I made the gradual passages made by all religious in the world: Postulate, novitiate, First Profession and Perpetual Profession. The studies that I carried out were those of Sacred Theology, necessary to have an intellectual and religious formation to train the novices and to work in the Youth and Vocation Ministry.
.
Did they let you continue as a lyric singer or did they demand a lot of humility, telling you  the wings?
.
God never cuts anyone's wings and always respects the freedom of man. The Gospel invites you to put the talents at the service of the Church and the world. My religious Institute I knew it well, and they never forbade me to sing, moreover, my sisters themselves organized me evangelization and concerts charity for our mission in Albania. 
Of course, my repertoire changed a bit. People who go to a concert should be aware of what they see and what they hear. A religious sing especially Oratorio, because it cannot contradict what the eyes of the public see. Although in some less official concerts I added some opera aria, because I have fun and enjoy a lot with Bel Canto!
.
Humility is always necessary for those who sing, for those who are successful in life and career; Humility is needed in the Church, for whom it commands, knowing that it is only a service. In order to be happy and full, man must always walk the path of humility.
.
 It's been a long time in your artistic life, but you still sing sacred music in public, dressed as a religious. Now, perhaps you dedicate yourself to the Oratory, an excellent field that requires the same technique as opera. Do you consider Requiem of Verdi as an Oratory and have you ever sung it?
.
Requiem of Verdi  I like very much. I never sang it as a soloist, and I think it is an Oratory as content, although the style is of a great lyric-symphonic opera.
.
As I said before, yes I sing Oratorio, but I do not dedicate myself to eso. I dedicate myself to be religious, because I'm sure that what God called me to his call, and make my life a song. When I met the Porciúnculaand a sign that said: "Here San Francisco lived and died singing" and then I said to myself: "This is what I want and crave and what I want to imitate." I understood that my life could be like the rehearsal of the Great Concert that, in heaven and only by the mercy of God, we will sing forever before His blessed Presence.
.
Have you sung the Pope?
.
Before being a nun, I sang to Pope St. John Paul II, but at a time of prayer called Vespers, where I sang the antiphons, but at that time I was very far from the Church, it was when I began my career. Assisi sang chorally for Pope Benedict XVI and in that same year, on August 4, in the Basilica of Santa Mariaíto Angels in Portiuncula, Pope Francisco, where I went and to visit this holy place, a place of Forgiveness and Mercy.
.
What advice can you give to young singers who do not yet know what engage and perhaps the Oratorio would be a good way? Your life is a wonderful example of the Lord's designs.
.
You say that my life is an example of the divine designs, for I tell you, the readers and all the young people, that each life is and can be a wonderful example of the Lord's designs. It is enough that we are a little more attentive, because all the goods we have, all Good is a gift from God and we are all called to thank for each moment and every beautiful thing we have, such as life, health and song. I would tell young people to always strive to realize their dreams and desires. Let them strive, because God blesses our efforts, and may not allow anyone to create obstacles to what they believe. And I invite you to always be humble and to sing what you like best and to thank God in every moment for your gifts.   I invite you to never hide your talents under the carpet, but to make them available for the good of humanity, for their beauty and the beauty of art will also save the world.