L'italiana in Algeri, one of Rossini's most hilarious operas returns to Liceu of Barcelona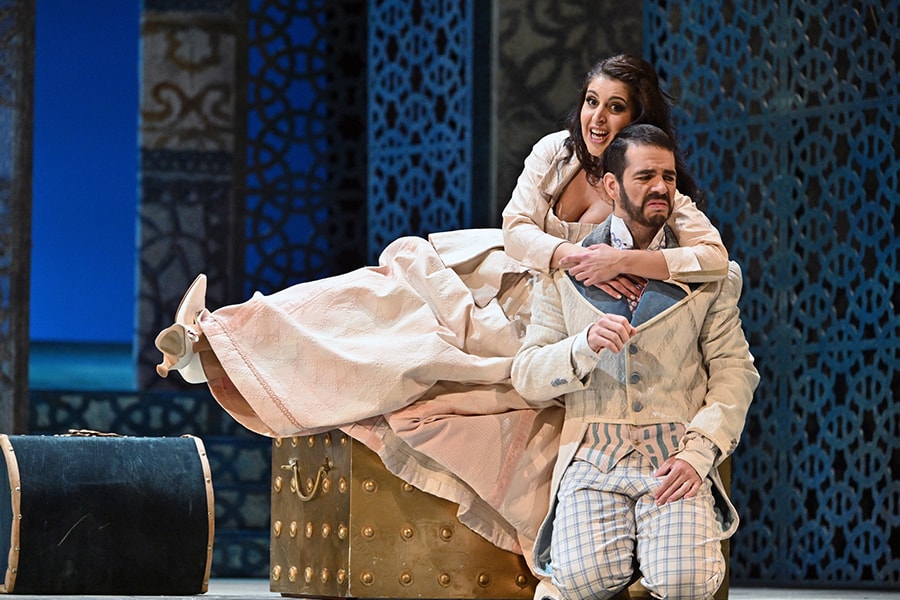 It has been 36 years since this 'dramma giocoso' was not seen in the Liceu and now returns to commemorate the 150th anniversary of the death of the Italian composer. With the musical direction of Riccardo Frizza and the stage direction of Vittorio Borrelli, the opera buffa will be presented until December 23th
The Gran Teatre del Liceu premieres one of the comedies of the season, L'italiana in Algeri, in commemoration of the 150 years of the death of the Italian composer Gioachino Rossini. The regista Vittorio Borrelli poses in his debut at the Liceu a colorful and colorful montage, which will be on the line from December 13th to 23rd. Nine performances in which we can enjoy the imaginative spirit and the vibrant Rossini music under the baton of maestro Riccardo Frizza, who returns to the Liceu with a cast of specialists in this type of repertoire.
The public of the Liceu can enjoy two casts full of debuts at the Teatre. Discoveries such as the mezzo-soprano Varduhi Abrahamyan, the bass-baritone Luca Pisaroni or the tenor Maxim Mironov, three voices that are highly valued internationally and that will set foot on the Liceu for the first time. The three will alternate in the roles of Isabella, Mustafà and Lindoro with Maite Beaumont, who debuted role, Simón Orfila and Edgardo Rocha, which also premieres at the Teatre. The rest of the voices, well known by Liceu spectators, complete a luxury cast: Giorgio Caoduro and Manel Esteve as Taddeo, Sara Blanch as Elvira, Lidia Viñas-Curtis as Zulma and Toni Marsol as Haly.
L 'italiana in Algeri is a work that plays the letter of the liberation of the woman through its protagonist, Isabella, able to put everything in its place before the rudeness of Mustafà. Rossini got, at age 21, a total triumph with this comic farce in two acts. In spite of being so young, the Italian musician consolidated his personal style, as legitimate heir of the opera buffa of the XVIII century. Great arias like Isabella's 'Cruda sorte' and some splendid concertantes -such as the final onomatopoeic ending of the first act- are some of the highlights of this hilarious Rossini menu.

Rossini's opera is a dramma giocoso in two acts and libretto by Angelo Anille. The absolute premiere was on May 22nd, 1813, at the San Benedetto Theater in Venice. Two years later he arrived in Barcelona, ​​at the Teatro de la Santa Cruz, on August 29th, 1815, and at the Liceu he would not arrive until December 23rd, 1869. Some Christmas dates he would repeat at his last performance on December 18th. of 1982. Total representations in the Liceu: 13th.
For more information and to buy your tickets click here.