María José Fabara in La Flauta mágica de los Andes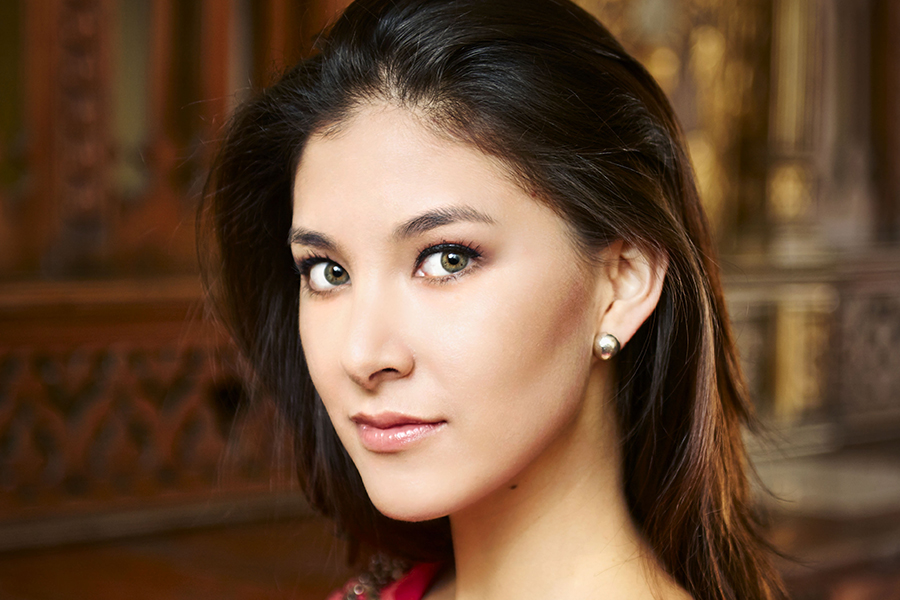 Interview with the Ecuadorian soprano resident in the United States, who returns after four years to the Teatro Nacional Sucre to play the role of The Queen of the Night in The Magic Flute of the Andes, an original adaptation of Mozart's classic opera, this time exploring the Andean cosmovision which opens this June 14th, 2018.
.
María José Fabara studied singing at the Orquesta Sinfónica Juvenil del Ecuador Foundation and at the National University Institute of Arts in Argentina. She later obtained her Bachelor's Degree in Music Education from the Pontifical Catholic University of Ecuador and her Master's Degree in Opera at Wichita State University in the United States. She was part of the Lyrical School of the Fundación Teatro Nacional Sucre, during which time she played the roles of Lauretta in Gianni Schicchi, Despina in Così Fan Tutte, Lisette in La Rondine, Wendla in Spring Awakening and María in West Side Story. In addition, as a soloist soprano, her collaboration with La Casa de la Música in Cantata No. 5 by J. S. Bach, and with the Orquesta Sinfónica de Loja in the Requiem by W. A. ​​Mozart stands out.
.
She has received master classes with Masters Stefano Vizioli, Richard Gordon, Gerard Martin Moore, among others. For two years she has been preparing under the tutelage of renowned American singers Samuel Ramey and Alan Held. In her time in the United States, among her most outstanding roles are: Héro in Béatrice et Bénédict, Servilia in La Clemenza di Tito, Adina in L'Elisir d'Amore, and Susanna in Las Bodas de Figaro. Currently, she also teaches singing at the University of McPherson in Kansas, United States.
.
How does it feel to participate in the world premiere of an opera with a more Andean and Latin American vision?
Happy and honored to be part of this new proposal, which is not only innovative but also important, as it marks a starting point for future contemporary projects where our roots take center stage. This represents a professional challenge, because in addition to the opportunity to play such a relevant character of Mozart's opera, it is a very big responsibility to do it with quality.
.
What were your motivations to return to your roots?
Being away from home makes one value more intensely what is left, so the desire to return was never lacking. Once I finished my Masters in opera, I started the auditions process and, fortunately, the opportunity that Chía Patiño opened at the Teatro Nacional Sucre was presented. Returning to my country to contribute with this entity in which I grew professionally and received the impetus to continue looking to improve my art, is a big part of my motivation, since I feel that my process and my work have been valued.
.
What do you think is the biggest difference between the development opportunities for Latin American lyric singers with the North Americans?
In the United States, the demand for new proposals is growing, which keeps an active audience and opera singers have different spaces to perform, both in traditional repertoire and with new music that responds with its more contemporary realities. This affects directly, not only in the job offer but also in the preparation spaces. As a result, there is a medium where artistic activity is constantly developing, which in turn demands organization and cohesion between artists.
.
In Latin America the spaces are a little more limited, probably because it has not been understood that we must start by understanding our audiences and generating new ones, which means supporting our singers and composers more.
.
What is the value that you think the creation of operas with Latin American roots have?
The most important value and contribution of these creations is generating and developing new audiences. The artistic spaces correspond to the cultural tendencies, that is why in certain spheres it is said, wrongly, that the opera is limited to the elites and adult audiences.
.
The contemporary also includes new audiences and this must be considered at the moment of conceiving a work. Throughout its history the opera has responded to that demand and there is no reason to think that now this must be different. This is an art full of different levels and brings together various creative processes. Understanding that our cultures have the advantage of being a fusion of the western and the indigenous can help us find many more colors, besides exploring and delivering that very particular something that represents us. The moment in which this feeling is common, the audiences will undoubtedly be identified.