Last Mozart's opera, La clemenza di Tito, arrives at Liceu in vision of David McVicar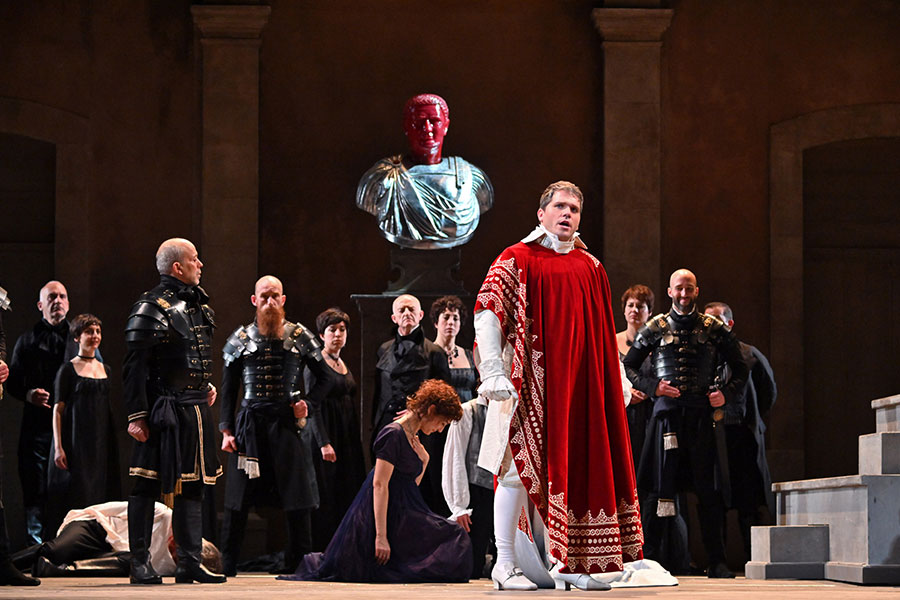 A theatrical and monumental production that recalls previous successes of British director David McVicar as the 'Andrea Chénier' of the 2017/18 season. Composed to celebrate the coronation of Leopold II, this title directed by Philippe Auguin contains some of Mozart's most refined moments and arias.
Last opera of Wolfgang Amadeus Mozart, La clemenza di Tito, arrives on the stage of Gran Teatre del Liceu with a theatrical and monumental production of renowned director David McVicar created for the Festival d'Art Lyrique d'Aix-en-Provence. The teacher Philippe Auguin will direct three luxury deals that along with The Symphony Orchestra and the Choir of the Liceu will alternate in two bands of functions during the months of February (days 19, 20, 22, 23, 25 and 27) and April (17, 26, 28 and 29). Some of the best Mozartian voices will be played by Tito Vespasiano (Paolo Fanale and Dovlet Nurgeldiyev), Vitellia (Myrtò Papatanasiu, Vanessa Goikoetxea and Carmela Remigio), Servilia (Anne-Catherine Gillet and Sara Blanch) and Sesto (Stéphanie d ' Oustrac and Maite Beaumont) among others. 
In 1791, and in full composition of The Magic Flute, Mozart was commissioned to write an opera that celebrated the coronation of Leopold II as king of Bohemia. Released in Prague, the last serious opera of the Mozartian catalog is placed in the context of a drama set in the Rome of the first century AD The clemenza di Tito explains the conspiracy of Vitellia, daughter of Vespasian, and her lover Sesto to assassinate and overthrow to Titus, the new emperor – who, known for his betrayal, prefers to show clemency and forgive rather than go down in history as a bloodthirsty monarch.
The French musical director Philippe Auguin takes the baton of this title that contains some of Mozart's most refined and sweet moments. From the overture to the end, great musical moments stand out, such as the Aryan in which Sesto accepts the assignment to assassinate Tito in the first act, "Childbirth, ma tu ben mio"; or the quintet with chorus that concludes the first act, "Deh conserve, oh Dei." In the second act, two great moments stand out above the others, the elegant Aryan in which Tito shows his clemency, "Be all'impero, amici Dei", or the confession of Vitellia's betrayal with "Non più di fiori ", Aryan full of vocal ornaments and colorature vertiginous.    
La clemenza di Tito is a serious opera in two acts with music by Wolfgang Amadeus Mozart and libretto by Pietro Metastasio and Caterino Mazzolà. It premiered for the first time on September 6, 1791 at the National Theater in Prague. He arrived at the Gran Teatre del Liceu almost two centuries later, on December 14, 1963, where he was last represented on October 19, 2006 and has been done only 25 times.