Meet the winners of the 20th Maria Callas Brazilian Singing Contest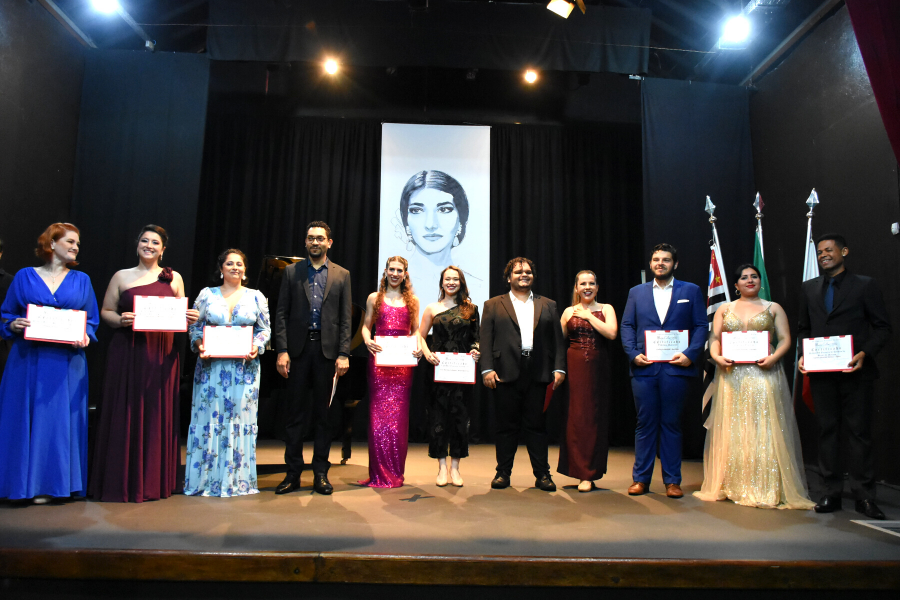 The twentieth edition of the Maria Callas Brazilian Singing Contest had 98 candidates, mainly Brazilians, as well as Argentines, Chileans, Colombians and Mexicans.
Between January 2 and February 18, the singers presented themselves with a video recorded for the edition of the contest. There were 75 Brazilians representing 9 different provinces as well as the Federal Capital (Brasília). And, Latin Americans added 4 countries with 23 singers among Argentines, Chileans, Colombians and Mexicans. Once again Mexico surpassed the other nationalities with 7 representatives.
For the semifinal, 43 singers were selected who performed in person at the Sérgio Cardoso Theater in São Paulo and the final was held at the Mário Lago Hall in the city of Jacareí with 16 singers.
The event included extra activities such as master classes, conferences and exhibitions held in the two Brazilian cities.
Prizes are offered in two categories, male and female, and Mexican soprano and baritone Fernanda Allande (24) and Carlos Arámbula (30) received a prize of 5,000 reais (US$1,000) each. The second prizes offer 3,000 reais (US$600) for the Mexican mezzo-soprano Itzeli Jáuregui (28) -who also won the 2023 Amazonas Opera Festival award- and the Brazilian tenor Guilherme Moreira (26). The third prize, endowed with 2,000 reais (US$400), went to the Brazilian baritone Isaque Oliveira (30) and was shared by the Brazilian mezzo-soprano Julia Martins Solomon (25) and the Argentine soprano Candela Gotelli (24).
The jury was chaired by Luiz Fernando Malheiro (artistic director and regent of the Amazonas Philharmonic Orchestra and artistic director of the Amazonas Opera Festival – FAO) and included Brazilians Carlos Rauscher, Fabiana Crepaldi, Robson Tirotti and professor and librettist Jorge Coli. In addition to the artistic entrepreneur José Velasco (Spain), the chief director of the Ópera Actual magazine in Barcelona, ​​Fernando Sans Riviére (Spain), the director of the Opera International Magazine in Milan, Sabino Lenoci (Italy) and the Argentine mezzo-soprano Cecilia Diaz .
The Callas Festival – Maria Callas Brazilian Singing Contest is organized by the São Paulo Opera Company and the Jacareí Friends of the Opera Association with the sponsorship of the Secretary of Culture and Creative Economy of the State of São Paulo through Friends of Art, Jacareí City Council through the Cultural Foundation of Jacareí "José Maria de Abreu". In addition to the support of the Consulate General of Italy in São Paulo, the Italian Institute of Culture of São Paulo and the Consulate General of Greece in São Paulo.
Winners
Male First Prize
Carlos Arámbula (Mexico), baritone
Female First Prize
Fernanda Allande (Mexico), soprano
Second Female Prize/Amazon Opera Festival Prize
Itzeli Jáuregui (Mexico), mezzo-soprano
Male Second Prize
Guilherme Moreira (Brazil), tenor