Interview with the Argentine soprano Oriana Favaro: "Making art of life"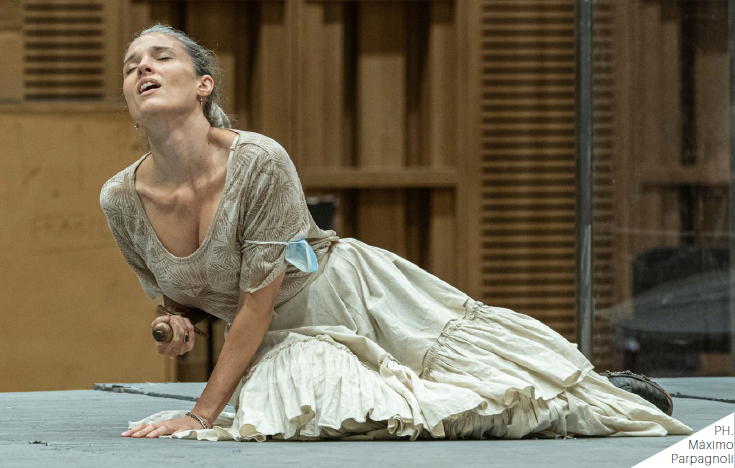 The interview was conducted live for MusicaClasicaBA's Instagram. The public took the opportunity not only to greet her, but also to ask her various questions. We share here part of the talk that Música Clásica 3.0 had with Oriana Favaro.
By Maxi Luna. Published in Classic Music Magazine 3.0
Before beginning her career as a professional singer, Argentine soprano Oriana Favaro studied piano for more than fifteen years – although she never considered herself a pianist – and she obtained a Bachelor of Arts in History from the University of Buenos Aires. She has played the most prominent roles of her string in the most important theaters in the world, and dabbled in popular music and literature, among many other things.
Oriana you will soon be in Altri Canti de Monteverdi. There have already been two postponements due to the issue of the pandemic, but in June it is supposed to finally be released, right?
I'm praying that we can put this show together in person, with the audience in the room and not have to stream or video. Of course, if that was the only condition it could be done, we would all do it. But it is definitely not the same.
The exchange with the public is a fundamental part of the show. What can you tell us about the play, are they madrigals staged right?
I'm going to tell a little bit because I have the desire that this show can be taken to the public, in person or via streaming, and people can enjoy it without me "spoiling" it (laughs). They are series of madrigals for different singers and instrumental groups, with which a show divided into three moments has been put together with themes that run through them and they have been given a scenic context to be able to tell what is being talked about.
In addition, there is a great cast, the musical direction of Marcelo Birman and the stage setting by Pablo Maritano, one of the best stage directors of his generation …
I met Pablo in 2009, at the Opera Estudio of the Argentine Theater of La Plata, I have worked a lot with him and I love him. The stagings of him always face them from the musical and from the literary, from the text. He is an incredibly trained person.
I really like the direction of actors that he does and also the multiple interpretations that he leaves open. While there is of course a goal, it is very interesting because different readings can be done. It is a luxury to work with him and with the colleagues who have touched me, with the musical direction of Marcelo Birman and with interpreters specialized in Renaissance and Baroque music, very important people here in Argentina.
How were the rehearsals?
Beautiful rehearsals. In addition, rehearsing again, standing on a stage, being able to interact with your colleagues, even if we were keeping our distance, respecting the protocols, chinstrap, alcohol – which is not fun (laughs) – is beautiful. Being able to hear them sing up close, concert, is beautiful.
How is your process when it comes to bringing a character to life?
On the one hand, I do a study of the work, I inform myself, read, search, find out, and then there is a part in which I open the doors for the music and the text to enter, for the work and the character to "do" with me. I like to feel and think that I give it my materiality, my body, my voice, my interpretation, my expression, that is the most fun for me. At the same time there is a factor of the unpredictable. It is not all reading, history, numbers, dates and rational understanding, it is to give myself to making music do with me what it wants.
Tell me about your beginnings, your first contacts with music…
I was 5 years old and I remember that day as a photograph in her memory, a brief scene of her, in which I looked at my mother and said: "Mommy, I want to learn to play the piano." And I don't know if she was on the radio or elsewhere, but I heard Beethoven's "Para Elisa", and I wanted to learn to play it. He didn't know what she was, what her name was, or anything. I didn't stop playing the piano until I was 20 years old, when I was already studying my Bachelor of Art at the UBA. For me the piano was a love, I am not saying that it has ceased to be, but I always said that I played the piano but I was never a pianist.
And when do you get to singing?
With the song something different happened. I come from a house where both my parents and my two brothers, my grandmothers, sing or sang very well; tuned, cute, they were very musical. And I thought that everyone was like that. Several people asked me if I sang and I answered no. In my house everyone sang well and I thought it was something that happened to everyone.
After a few years of those comments, I found out and was contacted by a teacher and finally started taking classes. It was as if I had been hit on the head with a baseball bat and thrown into the stratosphere. In fact, I remember that during study breaks for college I went to study singing. I would take 20 minutes of rest that would be 40 or an hour. And my mother yelled at me from below so that she would not stop studying the things of the faculty. She evidently saw better than me that strong things happened to me with singing.
I remember my first professional experience at the San Juan Opera, a short but beautiful role in "Dido y Eneas". It was the first time I had stepped on a stage to perform in an opera, I had done some concerts, staged things, but nothing with a plot behind, with a dramatic continuity. There I had an epiphany, because at one point I felt a light coming from above and I understood and said: "This is my place."
In 2009 I was in two more operas (at the Avenida Theater, playing Frasquita in Carmen and then Pamina in The Magic Flute and I said "enough, it's over." There I left my work in art history and started working as I think one is born and they throw you a puzzle of five thousand pieces inside the box without assembling. Perhaps some parts are better assembled, others are completely disassembled and you have to dedicate your life to assembling these pieces and understanding who you are. .
What did the Opera Estudio del Teatro Argentino de la Plata mean in your training?
I had been thinking for a long time "I want to be paid to study" and they looked at me with the face of "poor kid, he went crazy" (laughs), and when I entered the Opera Estudio it was just that: they paid me to study, to go up there and learn the roles. That was the beginning, so it was very important to me. Marcelo Lombardero was the artistic director and Alejo Perez the musical director.
The truth is that I was a complete neophyte in opera, I didn't have much idea who they were, and I always say that that state of innocence favored me. I had a very meaningful first experience, I had a cover of Lady Macbeth, and there was one rehearsal in particular that was really adrenaline-pumping. He played a short but very committed role, very complex musically and also on stage, because that character was in a situation of abuse on stage. That rehearsal was really very good. I remember they called me a day after the premiere and they told me: "There was a problem so tomorrow you will sing." I, who had not rehearsed with the orchestra, could not believe it.
That day they summoned me earlier, we reviewed the role at the piano to make sure I was with the right notes and that's it, I had to leave. I think about that moment and I still feel the adrenaline. Although he had the work assumed, he did not know what could happen because with the orchestra everything is different. Plus the costumes, the choir, the audience, but it was spectacular. That experience meant for me to understand that if there is something that I like, it is that adrenaline that the stage gives you, what is happening at that moment.
The rehearsal gives you the mental security to say "I know what I have to do, I know what the difficult part is vocally, here I have to be attentive, here I can relax" because if something unforeseen happens later on stage, you already have your practice, you have your experience; but that gap between the known and the unsuspected that can happen, hallucinates me. There is something in your biography that is constantly repeated: vocal and stage ductility …
How is this ductility achieved?
I do not know how it is achieved, it is not a formula that I have as if it added two plus two and it gives me four. I like to be respectful with the work, I have no idea what the composers who are not alive wanted to do. It is impossible to know, but I let the work pass through me, transcend me.
I never accept things that I cannot sing, I believe that one can interpret everything as an actor. Perhaps an actor could perform 10 years from now better than what he is doing now, but vocally I take on the roles that my speech apparatus can sing. Of course there are moments more delicate and dangerous than others, but that are within what I can address. For example, I would love to be called to do Tosca but I cannot sing that, I would go on stage terrified and I would be thinking about surviving the show and not 100 percent in my role.
Do you have a favorite role or opera?
My favorite opera, my favorite role is the one I'm doing at the moment or the one I'm studying to do. Of course there are musical numbers or scenes that I like more, but the truth is that I always fall in love with what I am doing, I always find it beautiful and I end up loving music. Even Powder Her Face (Thomas Adès, 1995), which was terrible to prepare, long, difficult, you had to review things before leaving because it was very complex, but if they told me tomorrow "We are going to do shows" I say yes, they come out. Dracula's fangs. Everything I've done I liked, that's the way it is.
Let's now turn to Hernán Cattaneo (electronic DJ) and his symphonic project 'Connected' at the Teatro Colón, how was that experience you were part of?
I had made some songs with another DJ, who is also a music producer, Oliverio Sofía. And I suspect, because I never asked him, that it was he who showed Hernán the work and that is why he called me to do a song. They sent me the base and I wrote a lyrics and sang a melody. At the same time, this show was being developed in the Colón for Cattaneo to make his music with a symphony orchestra. So when it was done they called me to participate with various themes and it was a total enjoyment.
Opera singers are used to having to go out and sing with the highest level of perfection possible. The musical and artistic preparation that we have is enormous and singing electronic music, without any intention of detracting from it, does not have a requirement comparable to opera, so it is pure enjoyment.
The truth is that the work of the electronic music music producer is an amazing job. That's my job in my next life or this (laughs).
What do you think of the complaints that arise at this type of event at the Teatro Colón?
I can speak exclusively about what happened with "Connected" and one of the premises that was always maintained was to be absolutely respectful of the decibels that are allowed in the room so as not to structurally damage the theater. I'm not going to get into the prejudices of others, but I think fanaticisms are bad in any order of life.
I believe that the doors of the theater can be opened to shows that are respectful of the infrastructure and that musically also have a sense of being there. In addition, the spectators were in their seats, at most standing, clapping as any opera spectator applauds.
We continue on the theme: you were also invited to a recital by Los Violadores (Argentine punk rock band, formed in Buenos Aires in the early 80s). That really surprised me, how did it happen?
It all happened traveling by boat to Uruguay when I was going to sing an opera and my little daughter, who at that time, 2016, was four years old with me. In the same boat was Stuka (a member of the band) whose hair was painted purple and my daughter was dying to know if she was a rocker. So she approaches him and asks him – at that moment she didn't get the letter r so she was very sweet the whole situation – "Are you doquedo?"
This is how we started chatting and got connected. Then, for a very important show in 2018 at the Gran Rex for her 30 years, she invited me to sing with them. I had never sung with a rock or punk band on stage, with that monstrous sound. It was amazing, you have to give them the tastes in life.
Totally. Anyone who likes music knows how to enjoy a lot of different genres. Some time ago you also started reciting poetry on your YouTube channel and you are about to put out a book. What can you tell me about this side of you?
I'm at a time when I still don't know whether to edit a book in physical format or to do something online… it seems to me that instead of editing a book I'm going to put my texts online. I think it would be the best alternative like that, once I read my text and I am satisfied enough, I publish it and I don't have to talk to an editor or anything.
The thing about reading came about because I was reading a book that is wonderful, which is "The Magic Lantern", a kind of Ingmar Bergman autobiography, in which he tells an anecdote that I read and was fascinated. I said to myself: "It can't be, this is incredible, the whole world has to know about it." So I read it as I read it to myself and it was well received, and since I like to read I started doing it as an activity. Writing is something that started when I was a girl, I started writing poetry with rhyme and then free verse.
In 2019 I was already wanting to write things a little longer. I was on a plane traveling and I was falling asleep when an idea floated up, so I woke up, grabbed the computer, typed it, and the story came out. Then I sat down to work on it of course, to correct things, to modify details, and that was my first story, which I have not read yet.
To finish I wanted to ask you something much more personal: I saw a video with your very cute daughter, in which they are singing "Stand by me", what do you like to share with her?
We have a wonderful relationship, we are two fires, we are both very intense. They have been able to tell me that she is the reloaded version. She is very clear about certain things in her life, I wish I at 9 would have had the clarity that she has. We love each other deeply and so we fight too. We like to go for a walk, chat, and play music and dance at night. She loves to read too.
I always say, with all the seriousness in the world, that my most important job and my motivation is to train my daughter, that she be a happy child, that she can become a good person, a full woman, who learns to know herself, to respect herself, to find what makes her feel alive, to support her, even if it means that she is going to live in Siberia. Traveling is one of the things we love to do the most together. I like to teach her that she is free and that everything she wants in her life, with desire and work, she will have.
There is some advice for the singers that start …
Actually out there is something that can serve anyone. Life is day to day. Try to build the life you want to live, don't settle in, don't accept what you don't want. If you want to be an artist, get involved in that, if your blood boils, your heart beats stronger and you feel short of breath when you do something, when you feel passion for something, do it without fear. You have to be loyal and not get carried away by what others tell you. Make art of life. Listen to yourself. We all know the truth that we have inside.