Latin American coproduction of Rise and Fall of the City of Mahagonny arrives at Teatro Mayor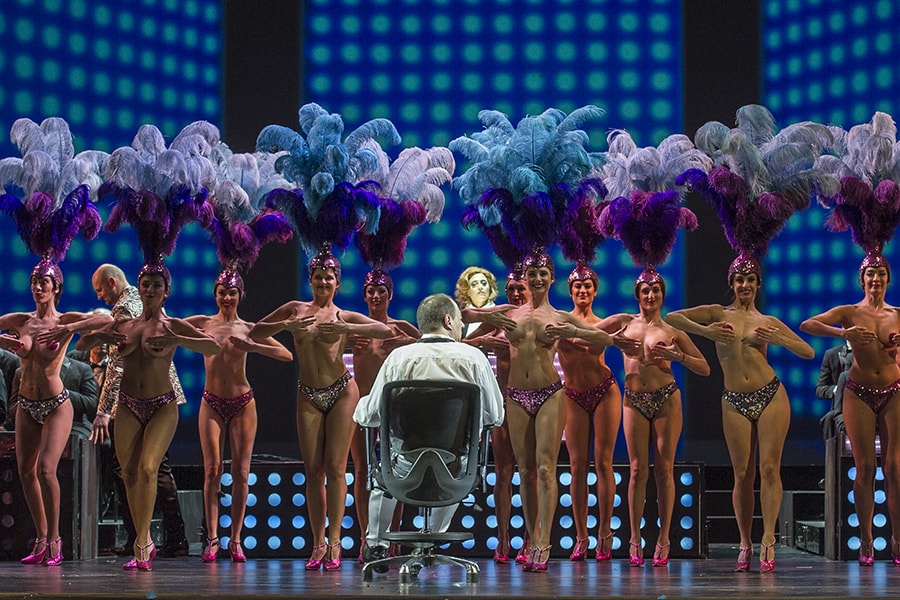 The co-production between Teatro Colón of Buenos Aires, Municipal de Santiago and the Teatro Mayor Julio Mario Santo Domingo of Bogotá, comes to the latter with Stage Director Marcelo Lombardero in three unique performances
.
Rise and fall of the city of Mahagonny, opera in three acts with music by Kurt Weill and libretto by Bertolt Brecht, arrives at the Teatro Mayor Julio Mario Santo Domingo with a great montage in a musical theater format that simulates a great television show. This opera, released in 1930, is a fierce criticism of today's society, where everything is possible while you have money to pay for it.
.
Escaping justice, Leokadja Begbick (The Widow), Moses (The Trinity) and Fatty (The Accountant) are stranded in a desert area, near rivers that, they say, can be extracted gold. La Viuda, leader of the group, founds a city to take advantage of that alleged wealth. Mahagonny will be the paradise of pleasure and leisure. There, they create the tavern "Here everything is allowed", where they come to work Jenny, girls and miserable people from all over.
.
Misery begins to threaten Mahagonny because networks do not catch gold. A hurricane will apparently arrive at the place and the Widow puts up posters with prohibitions. Jimmy understands that the rules limit happiness and with his money he buys the Widow the right to do what he pleases and to impose his own laws. From this moment the foundations of this trap city will begin to falter and the misfortune comes life of Jimmy and his friends.
.
Rise and fall of the city of Mahagonny, written between 1927 and 1930, is a fierce critique of capitalism. Almost a hundred years later it has the same, or even more, things in common with society, where without money you can not do anything. Consumerism, greed, greed and the pursuit of pleasure are recurrent themes in this opera that place the characters on a plane of permanent dissatisfaction very similar to that suffered by any person in our days.
.
According to Marcelo Lombardero, Stage Manager of the assembly, "this is a great metaphor for today's society because Mahagonny's own men represent the current average man." Jimmy and his friends decide to go to this city of pleasure and sin to spend all the money. gold they won after suffering 7 hard winters working in Alaska. "At present, we could say that society is deceived by working all year to, in a month of vacation, spend all their money and thus be able to say that they are happy. But in reality it is leaving the money earned in the same hands for which we have worked throughout the year, "concludes the director.
.
Rise and fall of the city of Mahagonny is presented at the Teatro Mayor Julio Mario Santo Domingo with around 150 people on stage. It has the musical direction of the Chilean Pedro Pablo Prudencio and stage direction of the Argentine Marcelo Lombardero. The Bogota Philharmonic Orchestra, the Youth Philharmonic Choir of the OFB, the Bogota Philharmonic Choir and an outstanding cast of Latin American soloists: Evelyn Ramírez (Leokadia), Pedro Espinoza, (Fatty), Hernán Iturralde (Moses), Gustavo López Manzitti (Jimmy), María Victoria Gaeta (Jenny), Homero Pérez Miranda (Joe), Javier Felipe Cevallos (Tobby), Andrés Felipe Orozco (Jack) and Juan Fernando Gutiérrez (Bill).
.
Buy your tickets in the following link.