With Rigoletto by Giuseppe Verdi, Teatro Colón begins its lyric season 2019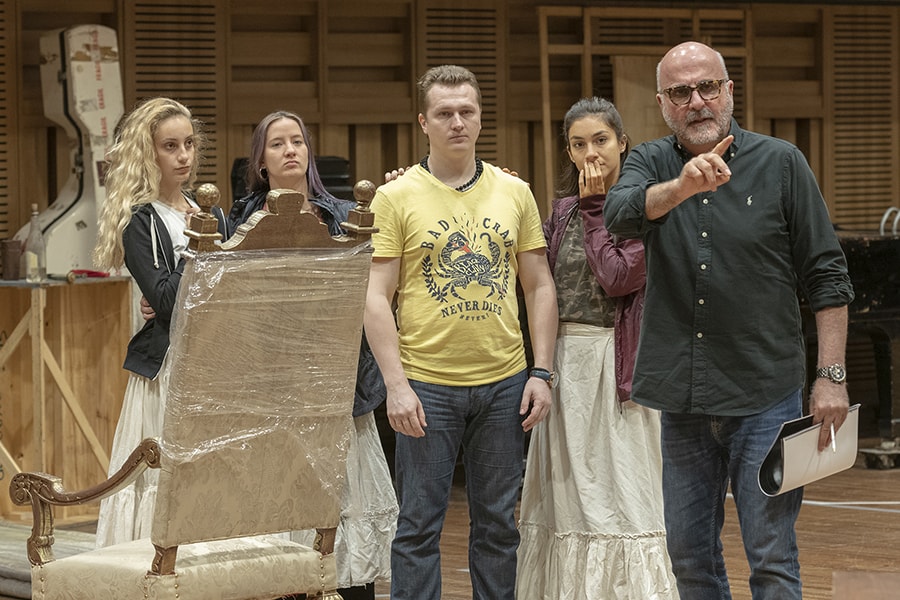 This new production of Teatro Colón de Buenos Aires will present eight performances from this March 12th, under the musical direction of Maurizio Benini and stage direction by Jorge Takla.
Rigoletto, the three-act opera by opera Giuseppe Verdi, will open the 2019 season of Teatro Colón starting on Tuesday, March 12th at 8:00 p.m. This version is a new production of Teatro Colón and will have the musical direction of maestro Maurizio Benini, at the head of the Resident Orchestra of Teatro Colón and stage direction by Jorge Takla.
The eight programmed performances will take place on Tuesday 12th, Wednesday 13th, Friday 15th, Saturday 16th, Tuesday 19th, Wednesday 20th and Friday 22nd March at 8:00 p.m. and Sunday, March 17th at 5:00 p.m.
Rigoletto was presented atTeatro Colón for the first time in 1908, the year of the inauguration of the current building. Then, went on stage in 33 official seasons being the last in 2002.
ABOUT JORGE TAKLA
He studied architecture at the Ecole des Beaux-Arts and theater at the Conservatoire d'Art Dramatique (Paris). He acted and directed at the La Mama Theater in New York from 1974 to 1977. In Brazil, his native country, Takla directed and produced more than 120 shows including theater, musicals and operas.
In opera he directed Dream of a Summer Night (Britten), Tosca (Puccini), Don Quichotte (Massenet), The Rake's Progress (Stravinski), Candide (Bernstein), The Merry Widow (Lehar), La Traviata (Verdi) , The Marriage of Figaro (Mozart), Cavalleria Rusticana (Mascagni), I Pagliacci (Leoncavallo), The Tales of Hoffmann (Offenbach); La Boheme, Madame Butterfly and Il Tabarro (Puccini), and other titles.
He was director of the Theater Division of the CIE-Brazil from 2002 to 2004 where he produced "Beauty and the Beast" (Disney), "Chicago" and other works.
He was in charge of the Teatro Procópio Ferreira from 1983 to 1992 and holds the title of Paulistano Citizen and Grand Officer of the Order of the Ipiranga.
ABOUT MAURIZIO BENINI
He is a regular guest at the most prestigious opera houses in the world: Metropolitan Opera in New York, Opera in Paris, Wiener Staatsoper, Royal Opera House in London, Royal Theater in Madrid, National Opera of the Netherlands in Amsterdam , Opernhaus in Zurich, Opera of Monte Carlo, Capitol of Toulouse and La Fenice in Venice, just to name a few.
After studying Composition and Orchestral Direction, he made his directorial debut at the Teatro Comunale di Bologna with Il Signor Bruschino de Rossini; and in the Teatro alla Scala was in 1992 with La Donna del Lago, where he has directed numerous titles since.
The Italian maestro was principal conductor of the Filarmonici of the Teatro Comunale di Bologna between 1984 and 1991, of the Wexford Festival from 1995 to 1997, of the Municipal de Santiago de Chile until 2006, and is the principal guest conductor at the Teatro San Carlo in Naples (2011 ).
Upcoming commitments include: Manon and Maria Stuarda in the MET; Il Trovatore, Il Pirata and Norma in Madrid; La Cenerentola in Tokyo; Nabucco in Amsterdam; and La sonnambula in Zürich.