Hablemos de ópera: Discover Gerardo Kleinburg's online talks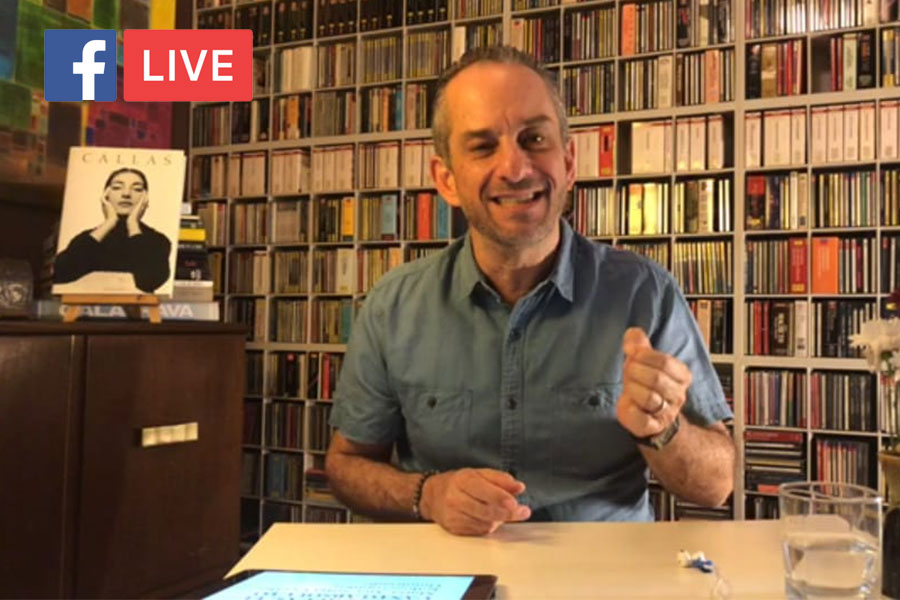 Hablemos de ópera is an operatic outreach project of  mexican Gerardo Kleinburg, former Director of the Cervantino Festival and former Director of the National Opera Company, producer and specialized opera critic.
The program will be broadcast live weekly and will be shared on OLA social networks from Mexico City.
Committed to digital transformation, OLA will begin to broadcast Hablemos de Ópera program live with the conduction of Gerardo Kleinburg, through its different digital platforms. The program will feature interviews and dialogues with prominent Latin American and international singers. 
Hablemos de ópera is a program that has been on the air for 5 years and is made up of countless and permanent conferences, courses and talks. These cover such topics as: opera history, auditory training, operatic production, operatic analysis, and entire cycles on specific themes and composers. 
Check the programming of the following weeks on our social networks, and stay tuned for the next formats that the live program will have.
Follow her fanpage Hablemos de ópera
ABOUT GERARDO KLEINBURG
He has developed a professional job, as a music and operatic critic in national and international media. He was named by the magazine Proceso the best Mexican music critic and covered for 13 uninterrupted years the Salzburg Festival.
In 1992 he received the International Prize for Musical Criticism from the Salzburg Festival, for his criticism of the opera The Magic Flute, presented at the Festival during 1991, the year of Mozart's bicentennial.
He was, at 28 years old, the youngest critic to receive this award. Likewise, he was the first non-European critic to win this award and the first Spanish-speaking critic to obtain it.
At 27 he became the youngest general and artistic director of the National Opera Company in the history of Mexico. He was also director of the Cervantino International Festival.
He has been the general and artistic director of the National Opera Company of Mexico who had the longest position in an uninterrupted manner: 10 years. During that his management presented more than 300 opera performances.
He participated in countless SIVAM projects and, together with said organization, was responsible for the return of Plácido Domingo to the Mexican operatic stages after a very long absence.
He made dozens of young Mexican singers debut, including Rolando Villazón.
He had permanently in all his seasons with the great Mexican stars such as Ramón Vargas, Francisco Araiza, Rolando Villazón, Fernando de la Mora, among many others.
He brought back countless international operatic stars such as Plácido Domingo, Luciano Pavarotti, Juan Pons, Leona Mithchell and Eva Marton, Ainoah Arteta, Verónica Villarroel, Cristina Gallardo Domas, Pablo Elvira and Justino Díaz, among many others.
He premiered various operatic titles in Mexico, among which Elektra, Idomeneo, The Visitors, La clemenza di Tito, Wozzeck, Florencia en el Amazonas, among others.
"Hablemos de Opera", his operatic outreach project, is made up of countless and permanent conferences, courses and talks offered throughout the length and breadth of the Mexican Republic.
These courses cover topics such as: opera history, auditory training, operatic production, operatic analysis, and entire cycles on specific themes and composers.
He is the only operatic disseminator who systematically offers first operatic awareness talks to young people and adolescents in government educational establishments and in marginalized areas that have never had contact with opera, through his talk "The power and magic of the human voice "
He has taken this talk to places such as official high schools, marginalized areas, police academies, and to various male and female prisons and jails in the country.
His Facebook page Hablemos de Ópera already has more than 17,000 followers.
It offers the pre-broadcast talks that UNAM does from the Metropolitan Opera House and Covent Garden. Make the UNAM operatic podcasts.
It has an agency for the promotion and recruitment of artists, PROA, with which it has presented figures such as Renée Fleming, Joyce DiDonato, Dmitri Hvorostovsky and Philippe Jaroussky, among others, at the Palacio de Bellas Artes.
In December 2018 he presented together with Plácido Domingo the book "Zarzuela. Illustrated Synthesis "by Manuel Rajal, within the framework of the Guadalajara International Book Fair. He also held a public dialogue with Maestro Domingo regarding the life and work of Giuseppe Verdi.
During May 2019, he gave a series of operatic conferences, invited by Plácido Domingo, for the Los Angeles Opera at the Dorothy Chandler Pavilion. In addition, during this period he participated in the first educational event in Spanish. organized by this opera house in all its history.
In September 2019, he returned to the Los Angeles Opera to teach a series of workshops on La Bohème de Puccini. In the coming months, he will return to said venue to teach workshops on two other operatic titles.
On January 23, 2020, he gave the conference "Mozart and his friends" in Salzburg – the composer's hometown – and within the framework of Mozart Week. The event was held in the Archbishop's Palace where Mozart worked and in the Rittersaal (room where Mozart premiered a good part of his composite works in that city). In this way he became the first Mexican to give a lecture on Mozart in Austria.