Paolo Bortolameolli: Chilean director debuting at the Hollywood Bowl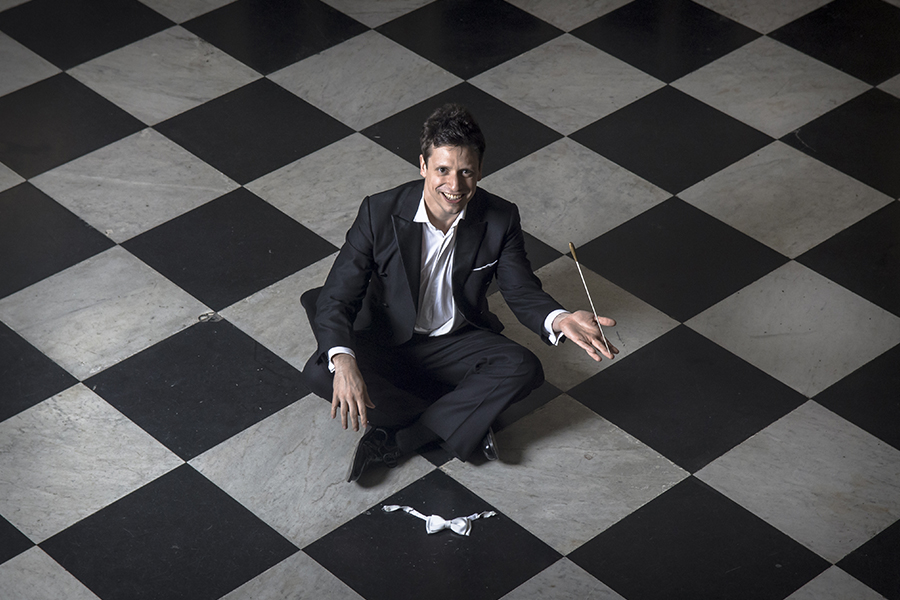 "Classical music is an absolutely valid language" affirms the renowned Orchestra Director who on August 2 debuts at the Hollywood Bowl
.
Paolo Bortolameolli, current assistant director of Gustavo Dudamel at the Los Angeles Philharmonic does not stop for a second. He began his studies of direction in Santiago de Chile and then made his debut in 2013 at the Municipal in front of the Philharmonic Orchestra of Santiago, presentation that delighted both the public and the critics, receiving a special mention by the Circle of Art Critics. He continued his career directing in different theatres in Latin America, Spain and the United States. He was a semifinalist in the Mahler Contest in 2016 and guest conductor of the Youth Orchestra of the Americas in 2017.
Noted for his charisma, closeness and interest in bringing music to different levels of understanding through work with audiences and new audiences, the Chilean director talked with Opera Latin America the day before its premiere at the Hollywood Bowl.
.
You are the first Chilean to make his debut at the Hollywood Bowl. What do you think the impact will be on your career?
The truth is that it is difficult to make a forecast about the impact that this concert may have. I believe that in some way it is the result of a prolific stay, in the time that I have worked with the Los Angeles Philharmonic. Just remembering back now, the first time I was in that hall was in January of last year, and everything that has happened since then has been super giddy. When I started as  Dudamel Fellow, then as official assistant, and now I am invited to participate in this concert. It's like my first important, official and artistic step in front of that orchestra, Gustavo himself had his first contact with the orchestra conducting at the Hollywood Bowl.
That has already put me on the radar, now people know who I am, the social networks of the Philharmonic are a super powerful tool, taking into account the importance that this orchestra has in the United States and in the world, then everything that they do and everything that has to do with it is known. I have seen this impact, I have already had conversations with other American orchestras to go direct as a guest next year.
All these things that had not happened before, in fact are happening and quite fast, and at the same time, the impact that this concert can have is like an escalation. Each new milestone in some way has its resonance quite clear. I hope it has a high impact, so I'm enjoying it a lot, because really looking back has happened so fast and now tomorrow we are debuting in this important stage with this orchestra to which I have so much love.
.
What are your next projects in Chile and in the rest of the world? Do you have plans to direct opera soon?
The truth is that I have no plans to direct opera promptly, although I would love it since I like opera very much. I grew up listening to a lot of opera, their repertoire was always playing in my house. Especially my dad very fond of Carmen, and my mom always liked the opera, for this what was most heard in my house was opera.
Interestingly, I went for the symphonic side, which I enjoy greatly, but the opera is a repertoire that is in my head, for having listened to it since I was a child. So it's not because I do not want the truth, I love to direct opera, I also like the experience of directing opera, it's so complete, so rich, so varied, the process is so entertaining, working with so many people, working with so many cast , with so many areas simultaneously. It also combines a lot with my own taste with theater, drama and film. I love movies, I've wanted to be a film director since I was a child, I liked that thing of being involved in everything, in the script, in production, in postproduction, in editing, in the search for music. And in fact it is not far from the opera, in the transversal game of many simultaneous artistic areas.
.
The position of assistant director was renewed for your second year. How long can this be extended? How has it been this year of work with Gustavo Dudamel in an orchestra of such a high level as the Los Angeles Philharmonic Orchestra with the most important soloists and conductors in the world?
It has been renewed for another year, the truth is that the charge itself has no expiration date, nor does it have a deadline. You see, it's a very organic charge.
In Chile and in the rest of the world, the truth has been quite a year. I began my work as assistant director of the Los Angeles Philharmonic in important and big projects of his season, as this thing of the preparation of the Mass of Bernstein for its centenary, the project in conjunction with Teatro Cinema La Canción de la Tierra. I do not like to talk until things are a fact, but there is a high possibility that we see it as it is in Chile, so that the Chilean public can see this project so unique and I would be on the podium, which makes me immensely happy, with all the support of Gustavo himself in fact. Gustavo always thought that this had to be done in Chile, and his own words were that it was a project that I had to do, so tremendously honored with that, and I hope the news becomes official soon so that people can see this beautiful project that It was from the tremendous imagination of the Cinema Theater team, in the mix of this fantastic Mahler play.
But already in these last months, I have been moving a lot through Latin America. I was conducting the Sodre Orchestra for the first time, a nice concert at the National Auditorium of Sodre, I loved the experience and working with them. After that I spent three weeks working with the Young Philharmonic of Colombia, another tremendous experience that I greatly enjoyed with a large repertoire, the 10th of Shostakovich, two concerts, a Colombian play, fantastic. I was recently working with the Orquesta Mining, which is an excellent orchestra in Mexico that works at summer festivals, and is composed of musicians from the best orchestras in Mexico. A fantastic experience of a direct invitation from Maestro Carlos Miguel Prieto Principal Director of the Youth Orchestra of the Americas, which I met last year working on the YOA and I was invited to be the resident director of that orchestra.
Immediately after the Hollywood Bowl I direct in Chile in the Municipal of Santiago, in CorpArtes and Rancagua, we will do Mahler's No. 1 symphony with the National Youth Orchestra. I love always to work with the Youth, I like working with young people, I like the energy they have, I like the spirit, I like that desire to devour the repertoire with all the energy, also agrees that Gustavo was He has been working with them very recently and it was a tremendously inspiring experience for all the young people; so also with great enthusiasm to go.
Then I will be directing the Philharmonic of Buenos Aires for the first time, in a cycle called "My first symphony", which is the first symphony of each composer, where I have the No. 1 of Sibelius and the violin concert of Mendelssohn. I am still in Argentina, to work again with the Orchestra of the Symphony Orchestra of the University of Cuyo, where I repeat part of the program of the presentation at the Hollywood Bowl, which is the seventh of Dvorak, the symphony that I love.
I return to Chile to work with the Concepción Symphony Orchestra, an orchestra with which I have a fairly close relationship, I love returning to Concepción, I like to work with them. The very attractive and difficult program, a challenge but rich program with the symphonic dances of West SIde Story in the centenary of Bernstein, a Chilean play "The revolution will be with cumbias or will not be" and finally "The wonderful mandarin" by Béla Bartók, tremendous symphonic work. Then one week in Talca, where I will work with the Symphony of the University of Talca, so I'm going to meet new young people, happy to work with them. Then I travel to Madrid to open the Season of the Santa Cecilia Classical Orchestra, which is part of the Excellence Foundation, which has its own music season with concerts in the national auditorium of Madrid, a spectacular room. It's my second time working with them, last year and now I was invited again to open the concert season, which is an honor making the sixth of Tchaikovsky as a main course.
And I finish my year in Hong Kong, I'll be there for three weeks doing Nutcracker. This is for this year, but every day new challenges and confirmed projects begin in January.
.
What role do you play the artist in a contemporary society, more connected and more demanding in the field of social responsibility? Has this role changed in recent years?
I honestly believe that it is an essential responsibility, the artist is the spokesman of art and art is the universal and most transverse language par excellence that has been in the culture since the origin of civilization. From the first paintings in a cave, the first ancestral songs of the tribes to connect with spirituality, music, theater, in fact art has always been there. Always in some way, has had a transcendental connotation, both for the spiritual and to say what can not be said in words, art is our language, the language of our species, and the artist is who carries that language.
In today's societies, the city is so big that we are somehow losing our capacity for contemplation, which I think is a danger because maturing as a society, as a civilization has to do with a process of reflection and contemplation, and that is being lost. . The artist is being left aside, as an accessory, as a plus, since it is the opposite. It is the moment in which art should connect us and make everything we are doing have a meaning and direction.
That's why I think that it is very important to connect with what is happening and clearly it also has a social responsibility issue, because there are so important changes that can be achieved through art. You see a child's reaction to art and how that somehow changes his perception of how to deal with the rest, his sense of empathy, his sense of collaboration, the development of his sensitivity. In other words, art should be an obligation should be what we do every day, because not necessarily make or consume art will return to all artists, that is not necessary, but to have contact. I think it is tremendously important, and that is why artists today play, and we should all play, a role from the responsibility of what we are supposed to do and what we should do.