The summer colony 2020 at Teatro Colón opens its registration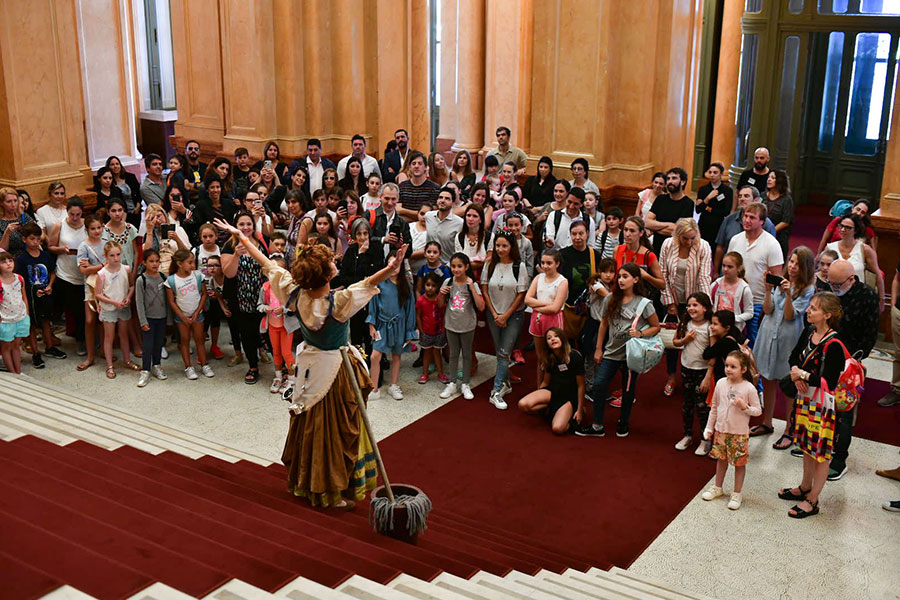 For the second consecutive year, Teatro Colón opens its doors this summer to girls and boys between 6 and 13 years to have a week of experiences and recreational experiences carried out by a staff of professionals composed of teachers, artists and stage designers
From next Monday, January 13 and until Friday, February 7, Teatro Colón will hold the second edition of its summer colony entitled Fantastic Beings in Nature and aimed at girls and boys between 6 and 13 years.
The Colony of Teatro Colón is transformative because it opens an artistic, recreational and interdisciplinary space. A five-day immersion in the expressive language of the body, dance, music and song, but also exploring the stage specialties such as: scenery, costumes, characterization, assembly and photography that make the essence of Teatro Colon as a theater of production.
An unforgettable week in the time of all childhood, an experience and transformative. A colony that enhances sensitivity, joy, collective creation, links, diversity and inclusion based on artistic proposals.
Registration will be face-to-face at Teatro Colón, entering Libertad 621, from Monday to Friday from 10:00 a.m. to 5:00 p.m. Consultations and reports: (11) 4378 7366 from Monday to Friday from 10:00 a.m. to 5:00 p.m. or write to the following email address: vacaciones.teatrocolon@buenosaires.gob.ar
To download the registration forms, regulations and file medical, it will be necessary to enter www.teatrocolon.org.ar.  (See registration fees in the detail at the end of the newsletter).
.
Pedagogical approach
The Colony offers two workshops proposals among which each participant must opt ​​at the time of registration. The singing and movement area with dance, song and musical initiation workshops. The scenography area with workshops, scenography and photography.
Both areas will work on concepts of artistic direction, writing, dramaturgy and illustration, construction and design of theaters.
Finally they will prepare a collective show for the open class with families.
GROUPS
6 to 9 years / Singing and movement
6 to 9 years / Scenic workshops
10 to 13 years / Singing and movement
10 to 13 years / Scenic workshops
.
WORKSHOPS
Singing and movement area:
Musical initiation + Singing: Music and singing workshop where children will explore the possibilities inherent in their own voice as an expressive instrument. They will perform rhythmic and vocal exercises and execute small choral pieces. The objective is the collective song that adds as a gear to the idea of ​​building the language of the Opera.
DanceDance:workshop aimed at acquiring a greater awareness of the body "in motion", in relation to others and with the space in which we act. The approach focuses on exploring the expressive possibilities of the body and space. The objective is the collective dance that adds as a gear to the idea of ​​building the Ballet.
.
Scenic area:
Scenic Workshops: Through the game, we will deal with some of the Theater Theater workshops with specific teachers in the field such as set designers, characterizers and costumes.
Crafts workshop: Tools, Makeup and Characterization, Costumes.
Scenography workshop: Drawing and painting of curtains / scenographic techniques.
Photography workshop: The point of view and look will be worked on when capturing a snapshot that crystallizes a moment, a movement, a scene.
.
Workshops that share both areas:
Artistic / Regie managementworkshop: Construction and assembly workshop of the different artistic experiences and disciplines explored and experienced in the other workshops. The objective is the collective construction as an idea for the realization of a work either Opera or Ballet.
Object / Teatrine Realization
The 120 participants will be given an individual kit with the materials to make their own theater during the week.
The kit will contain:
– Insert wood support
– An openwork and printed piece of the Teatro Colón mouth.
– Two backgrounds and two legs for each boy or girl to design their own scenery.
Creative Writing: Literary workshop of listening and composition with writers specialized in contemporary children's literature will give free rein to Fantastic Beings curious to be written and described in texts made with the boys and girls of the colony. The invited writers will be: Eduardo Abel Gimenez, Nicolás Schuff, Melina Pogorelsky and Juan Lima.
Illustration Workshop: Four leading illustrators will be the masters with whom the fantastic Beings in nature will come to life drawn that they will print on sheets and strokes. The guest illustrators will be: Maria Elina Mendez, Mariana Ruiz Johnson, Cristian Turdera and  Vanessa Zorn.
Yoga: During the five days of the colony, all participants will collectively take 20 minutes of practice in the foyer of the Teatro Colón before starting the workshops. The 120 children will be guided by 3 teachers from the Colonia team and will be accompanied by a musician for each occasion. A small series with exercises and breathing positions will be dictated.
Guided tour: On Monday of each week the group will conduct a treasure hunt guided by Pearl, articulating actress, and the teaching staff with musicians and singers. They will visit different spaces of the Theater, where they will know their architectural heritage, the tasks, trades involved and stories of the world of one of the most important production theaters in the world. At the end of the girls and boys in the Colony of the Teatro Colón, they will find the treasure: their Artist Books. Each one will take their own to make a creative record of their experience in the colony.
Artist's book: Many writers, plastic artists, musicians and filmmakers always carry a notebook to write or draw their ideas.
A notebook with trigger proposals that fit notes, findings, reflections, doubts, occurrences, agendas, drawings, chronicles, models, dreams and reflections.
Perla / Actress articuladora: Perla will be the guide of boys and girls who through play and humor will favor the construction of possible internal and external worlds. Work on the feelings of each girl and boy while creating so that she can be encouraged, exposed and enjoy her work.
.
ACTIVITIES CALENDAR
Weekly module
Week 1: January 13 to 17, 2020.January
Week 2:20 to 24, 2020.
Week 3: January 27 to 31, 2020.
Week 4: February 3 to 7, 2020.
.
Schedule from Monday to Friday 8:30 a.m. to 1:00 p.m.: Workshops / spaces:
8:30: Entry (Monday: Institutional welcome) – Golden Room
9:00: Yoga practice – Foyer
9.30: Class I (Singing – Dance / Scenic) – Rehearsal rooms July 9 and Bicentennial
10:30: Recreation-game free – Internal courtyard / rehearsal rooms
10:40: Class II (Singing – Dance / Scenic) – Rehearsal rooms July 9 and Bicentennial
11:30: Brunch with mini concert – Dining bar
12:10: Special classes
12:50 : Closing of the day with Pearl
13:00: Departure – Foyer Tucumán / Foyer Viamonte
.
Monday: Guided tour-Main Hall.
Tuesday: Theaters / Mini concert
Wednesday: Illustration / Dramaturgy
Thursday: Theaters / Mini concert
Friday: General rehearsal and Open class – Bicentennial Hall.
.
The Teatro Colón will provide a healthy snack for each girl and boy at the brunch with a mini concert in the dining bar.
Benefits: With the payment ticket of the Colonia de Vacations of the Teatro Colón, the boys and girls become part of the Boys Club of the Teatro Colón through which they will obtain benefits that will be communicated by the Teatro Colón throughout the year .
.
COST AND MODALITY OF REGISTRATION
Registration date: from Wednesday, December 11.
Registration place: Foyer of the Teatro Colón, entrance through Libertad 621 street.
Registration hours: Monday to Friday from 10:00 a.m. to 5:00 p.m.
Price: $ 6500 per person and 10% discount for siblings
 .
Registration is subject to vacancy availability. To download the registration forms, regulations and medical form, you will need to enter www.teatrocolon.org.ar.