OLA & Opera XXI 2020 virtual meeting: Concludes with a high participation and new challenges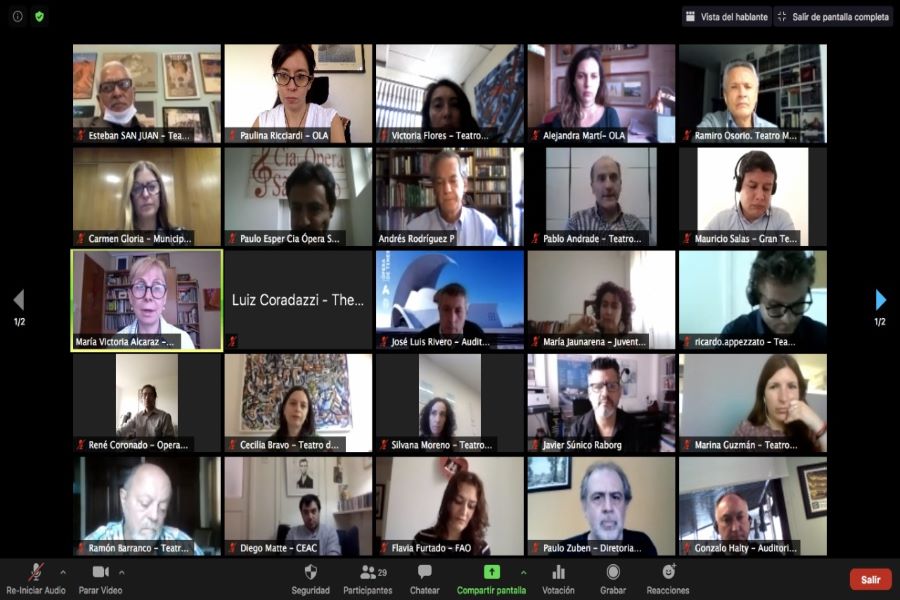 A successful Ibero-American Meeting between OLA & Ópera XXI Theatres resulted in nine days of talks, which included technical and marketing forums
During the OLA Assembly, Carmen Gloria Larenas, director of Teatro Municipal de Santiago was appointed to join the board of Directos of OLA.  It was also announced that the 2021 Meeting will be held at Teatro Colón in Buenos Aires at the end of 2021.
With more than 150 participants from 50 institutions from different countries around the world, this month concluded the Ibero-American Meeting of Theaters 2020. A meeting that the Ópera Latinoamérica (OLA) holds annually, but this time jooined forces with the Spanish theatres through an alliance with Ópera XXI. On this occasion, the new member of the OLA board of directors, Carmen Gloria Larenas, general director of the Municipal Theater, was welcomed, and it was also announced that the 2021 meeting will be held at the Colón Theater in Buenos Aires, if the conditions sanitary allow it.
"As a network, we believe that this first meeting with Spanish theatres was very timely due to the circumstances that the performing arts are experiencing worldwide. Therefore, having known and exchanged experiences from both continents prepared us for a 2021 with greater challenges. In addition, we welcome Carmen Gloria Larenas, who we know will be a contribution to the board of directors and we hope that we can meet all the theaters again in person at the Colón Theater in Buenos Aires ", said Alejandra Martí, Executive Director of Ópera Latinoamérica .
On the other hand, the advances of Escena Digital were presented, in particular the artists section, which was opened with a 6-month free offer and already has 80 members. This strategy has had very good results, managing to create a community around the professionals of this lyrical genre.
Virtual meeting
Considering the particularities of this year and making use of digital tools, the meeting took place virtually with exclusive meetings for members and others open to the public through the Ópera Latinoamérica YouTube channel.
The panels were made up of representatives of Spanish and Latin American theatres, who covered the following topics: The future of opera as a social and educational function; Performing arts in digital; Theaters a safe space and the opera an art of today a contemporary art.
The event included -in addition to the traditional annual assembly of members- the third Technical Forum and a meeting of the Communication and Marketing Committee. Both committees were made up of the technical and communications directors of the network's theaters.