Albert Boadella and Martina Cabanas present ¿Y si nos enamoramos de Scarpia? in the Teatros del Canal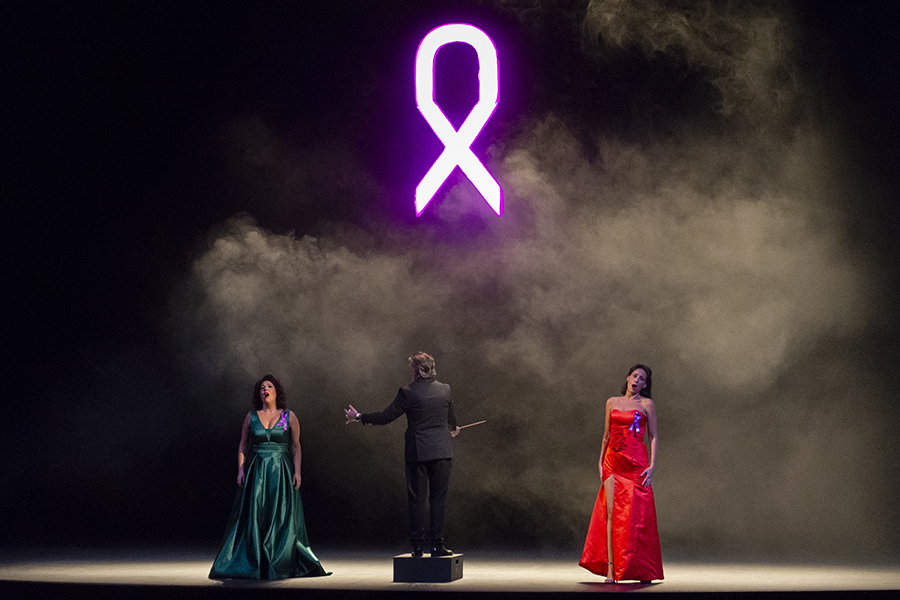 An ironic and scathing vision of the intricate relationships between genres through opera with the stage direction of Albert Boadella and under the baton of Manuel Coves, arrives from November 6 to 15 to the Green Hall of the Teatros del Canal of the Community of Madrid. 
The Teatros del Canal Present ¿Y si nos enamoramos de Scarpia?, a lyrical brawl by Albert Boadella and Martina Cabanas, a production that is part of the programming of the Clece Stage for the Teatros del Canal and will be in the Green Room between November 6 and 15, 2019.
The brightest arias of the lyric serve as an excuse for the struggle between an orchestra conductor and the two sopranos who rehearse the repertoire for tomorrow's gala. The verbal and musical confrontation between the three is based on operatic arguments. Arguments that, according to one of the parties in dispute, present the female characters under a false and anachronistic concept. Which is interpreted from the feminist side as a vexation of modern and liberated women.
In ¿Y si nos enamoramos de Scarpia? are interpreted fragments of La Bohème, Madama Butterfly, Carmen, Gianni Schicchi, Aida, Otello, Rusalka, Don Giovanni, The Bunch of Roses, La Traviata, Les contes de Hoffmann, La Tabernera del Puerto, Samson et Dalila, etc..
If you want to receive this and other information in your email, subscribe to our newsletter here.
Cast and artistic team
The teacher: Antoni Comás
María: Carmen Solís
Ana: María Rey-Joly
Albert Boadella: Stage and stage director
Manuel Coves: Musical director
Bernat Jansà: Lighting
Dolors Caminal: Artistic advice
Martina Cabanas: Assistant director
About Albert Boadella
(Barcelona, ​​1943) Spanish actor and theater director, one of the most relevant directors and controversial of the Spanish scene. Prolific author, his works, full of irony, acidity and demystifying elements about institutions and customs, have always aroused the controversy, without leaving the viewer indifferent.